Smartphone notifications are a crucial component of our everyday lives. By alerting us to new emails, calls, texts, and app updates, they keep us connected to friends, family, and the world. In the meantime, suppose you haven't received any notification on your phone about an upcoming meeting. If someone made a payment with your credit card and you weren't notified, what would you do? Notifying the right people at the right time can make all the difference in either scenario.
It has been reported by several iPhone users that notifications are not working or not showing up after updating to iOS 17. Well, that's the reason why we are here. In this article, you will learn about some of the potential fixes that will help you resolve the iOS 17 Notifications Not Working or Showing. Therefore, let's get started with the guide.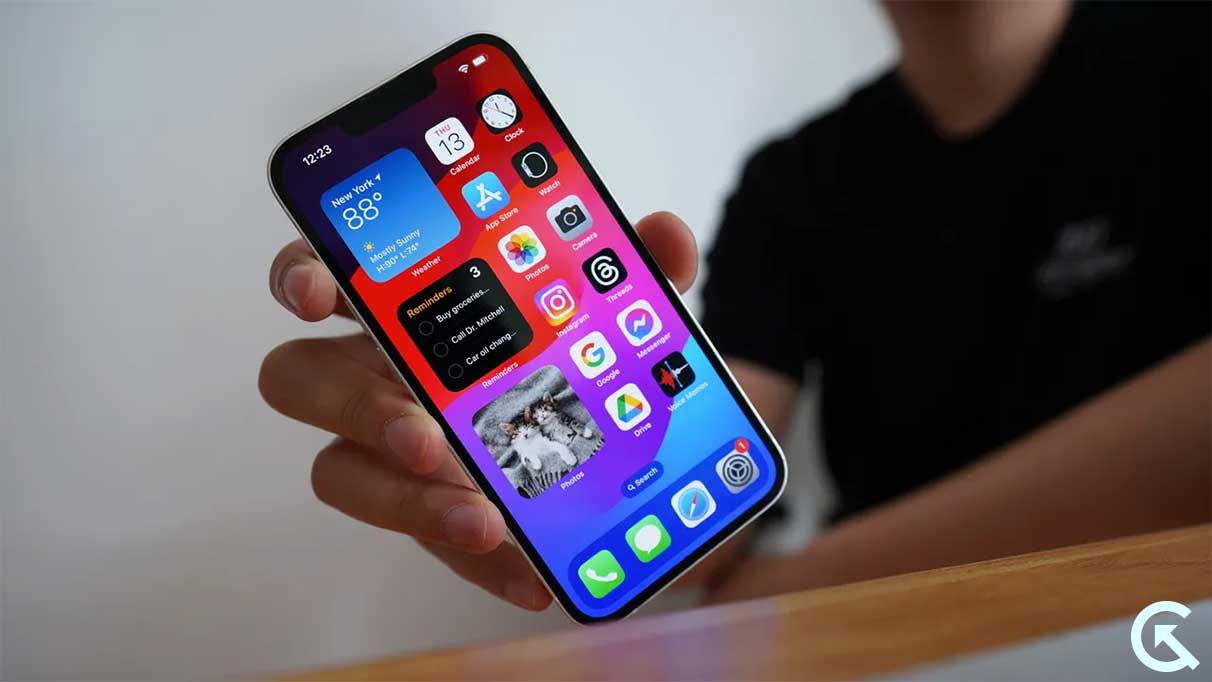 How to iOS 17 Notifications Not Working or Showing
So, here are some available fixes that you can try in order to resolve the iOS 17 notifications not working or showing errors:
Fix 1: Force Restart Your iPhone
It is sometimes necessary to force restart a misbehaving iPhone in order to cause it to make sense. Here's a quick rundown:
Initially, quickly press and release the "Volume Up" button.
Immediately press and release "Volume Down".
Afterward, press the "Side" button until you see the Apple logo.
Fix 2: Check App Notifications Settings
Apple's iPhone allows you to customize notification settings for every application. In order for an app to display notifications, you must grant permission to it. This permission can sometimes be disabled by mistake whenever an app asks for it, resulting in missing notifications. Make sure notifications are enabled by opening the Settings app and clicking Notifications. To enable notifications for an app, select it and select Allow Notifications.
You'll find different types of alerts here. Moreover, on the lock screen, in the Notification Centre, and as banners in drop-downs, make sure these notifications are enabled. In addition, you have the option of choosing between a temporary banner and a permanent banner. If you choose the former, the notification will be automatically hidden from your screen, whereas if you choose the latter, you will have to remove it manually. The only thing you need to do is make sure at least one of the three alert types is enabled.
Fix 3: Check Your Internet Connection
It is also possible to miss notifications due to a poor internet connection. Make sure you reset your network settings if you're not connected, or the connection is spotty. To get started, follow these steps:
Go to "Settings".
Select "General".
Select "Transfer or Reset iPhone."
Click on "Reset".
Select "Reset Network Settings".
Fix 4: Disable Focus or Do Not Disturb Mode
There is a chance that the Do Not Disturb (DND) mode is turned on if you don't receive any notifications on your phone. It helps you focus on other things when you don't want to pay attention to this feature. By enabling it, you won't be disturbed by the notifications. You can see the different Focus modes in the Settings app on your iPhone by tapping Focus.
These modes include Do Not Disturb, Personal, Work, and Sleep. For now, I recommend turning them off to determine whether they are the source of your iPhone's problems. You can whitelist multiple apps and contacts if you want to keep Focus mode enabled without missing out on notifications. When you turn off distractions such as gaming or social media alerts, you are still able to text or call your friends. To add exceptions to Focus mode, follow these steps:
Navigate to Settings > Focus.
Choose a Focus mode.
There are two options under Allowed Notifications: People and Apps.
To avoid missing calls or texts from friends and family, select the People option. You can also select Everyone. Thereafter, click on the Apps option and select the apps you want to display notifications for.
Fix 5: Turn Off Do Not Disturb Mode
If you receive silent notifications, Do Not Disturb mode is probably to blame. You can turn this feature on or off to mute calls, alerts, and notifications on your iPhone. You can easily disable Do Not Disturb by following these steps:
Go to Settings.
Select Focus.
You can do this by hitting Do Not Disturb. If it's on, toggle it off.
Fix 6: Update Your iOS 17 Version
Your iPhone should be updated not only to take advantage of the latest features but also to make sure that any existing bugs are fixed. It is as simple as following the instructions on the screen to update to the latest iOS.
Click on Settings.
Go to General.
Click on Software Update.
Thereafter, you can download and install an update if one is available.
If you reboot your device after installing the update, you should no longer experience notification issues.
Fix 7: Turn Off Notification Summary
iPhone users have been able to bundle non-urgent notifications into Notification Summary since iOS 17, allowing them to be shown at specific times. You might miss immediate alerts if you have this feature enabled. To turn it off, follow these steps:
Navigate to Settings.
Click Notifications.
Toggle off Scheduled Summary.
Fix 8: Turn Off Scheduled Focus Modes
It's possible that schedule focus modes are blocking your notifications without you even being aware of it. You can turn off these preset modes by following these steps:
Go to Settings.
Select Focus.
Select any scheduled Focus mode. The next Schedule can be toggled off from the Schedule section.
Fix 9: Reset All Settings
You might need to perform a complete settings reset if you have tried everything else and are still experiencing problems. However, be aware that your saved settings will be erased. Here's how:
Go to "Settings".
Click on "General".
Choose "Transfer or Reset iPhone" from the drop-down menu.
Click on "Reset".
Click "Reset All Settings".
Tap "Reset All Settings" to confirm your decision.
So, that's all we have for you on how to fix if the iOS 17 notification is not working or showing an issue. We hope that you find this article helpful. For more info, comment below.