iPadOS 16 is the 4th edition and one of the major software updates for the iPadOS operating system that runs on Apple iPad devices. It's the successor version of iPadOS 15 and Apple announced at the WWDC 2022 event that the official stable release by October 2022. Currently, iPadOS 16 Beta users are taking the hands-on experience with some obvious bugs and stability issues. Meanwhile, multiple users are facing the iPadOS 16 Not Charging iPad issue.
If you're also one of the victims to encounter the same kind of issue then don't worry because it's quite common for the beta version releases. Once the official stable version releases in a few weeks, most known bugs or issues will be completely fixed. Talking about the iPadOS 16 features, it includes expanded Live Text, Family Sharing, editing Photos, improved Mail & iMessages, improved News, and more. But some reports are claiming charging issues.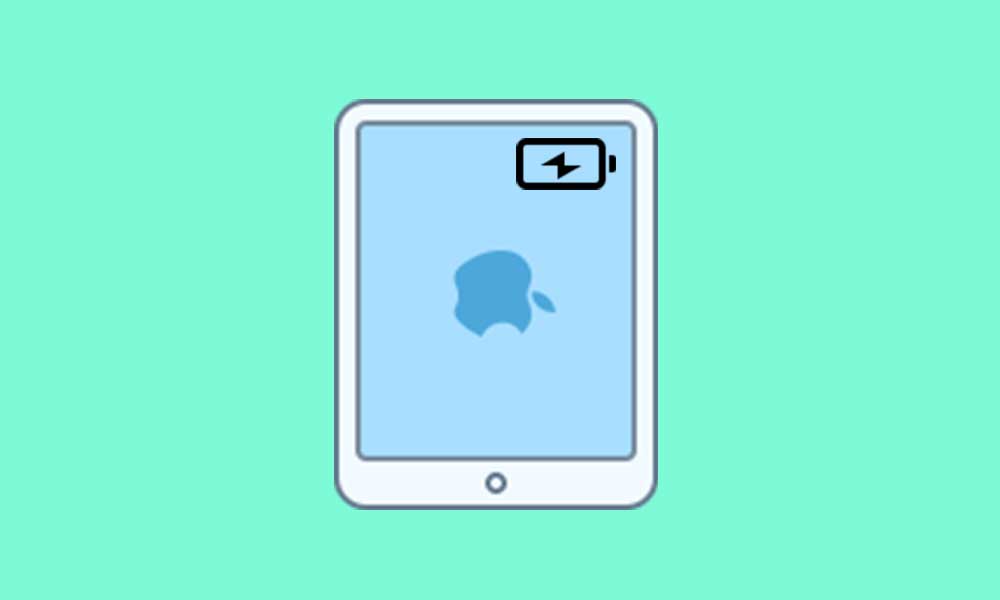 Fix: iPadOS 16 Not Charging My iPad
As per affected iPad users, the device doesn't charge at all or slow charging than expected after updating to the latest iPadOS 16 beta version. The specific issue wasn't there with the iPadOS 15 stable build previously. In that case, we're assuming that most probably any bug within the iPadOS 16 beta build is causing such an issue. Luckily, we've shared some possible workarounds for you that should come in handy. So, without further ado, let's get in.
The chances are also high that somehow your charging accessories are physically damaged or not compatible enough which has been conflicting right now after updating to the new software version. Whereas insufficient power delivery to the iPad can also trouble you with charging. Sometimes temporary system glitches on the iPad may also cause such an issue after updating to the new software version. In some cases, overheating issues can also do this.
1. Check If Battery is Actually Charging or Not
If in case, the battery in your iPad doesn't charge properly or charges more slowly than normal then make sure to check if the battery is actually charging or not. After leaving the device in charging for around 30 minutes, you should be able to see the progressed battery level percentage on the status bar or the lock screen. Whereas whenever your iPad is charging, you'll see a lightning bolt on the battery icon to understand it's charging. If not, go to the next step.
2. Use Compatible or Certified Charging Accessories
Try using compatible or certified charging accessories because any third-party or local charging accessories might not work properly. For longer usage, your iPad may get damaged internally. So, keep that in mind.
3. Use a Valid Power Source for Charging
Make sure to use a valid power source for charging your iPad because any kind of loose connectivity to the power source/adapter may occur slow charging or not charging at all. If you're using a Windows or Mac computer then use a USB 2.0 or later port for faster and convenient charging. Also, make sure that your computer isn't in sleep mode which may stop the power transfer to the connected iPad for charging. Otherwise, the wall power outlet is best.
4. Force Restart Your iPad
You should manually force reboot your iPadOS 16 running device to clear out temporary system glitches or cache data issues completely. Sometimes a normal reboot might not work well for all users. So, you can follow the steps below to do it:
For iPad without a Home button:
Press and quickly release the Volume Up button > Press and quickly release the Volume Down button.
Now, press and hold the Power/Side button until your iPad restarts. (placement will depend on the iPad model)
For iPad with a Home button:
Press and hold both the Home button and Power/Side button together until you see the Apple logo.
Now, release both buttons, and wait for the system to boot up.
5. Check for Physical Damage of Charging Accessories
It's also highly recommended to check for physical damage to the charging accessories something as cracks, breakage, bent prongs, and more. If there is an issue with the hardware damage of the accessories or even the charging port on the iPad then make sure to visit your nearest Apple service center for repair or replacement. If your iPad isn't under warranty then you may have to spend extra bucks.
6. Try Using a Different Charging Cable and Adapter
You may try using a different charging cable or the power adapter to charge your iPad because sometimes the existing charging accessory may not work properly due to any kind of unknown issue. Generally, the stock iPad charging adapter offers 20W charging support which may take additional time to charge the iPad. If you're feeling that your iPad charging is slow enough then you can get a compatible higher wattage charging adapter for fast charging.
7. Ensure Your iPad isn't Overheated or too Cool
Make sure that your iPad isn't getting overheated or becomes too cool which may affect the battery health as well as the lifespan. So, if your iPad is too hot or cold then keep it under a normal temperature for a couple of minutes to get it back to the normal mode. Then you can try charging your iPad once again.
8. Check for iPadOS Updates
The chances are high that Apple has recently released a new update for your iPadOS version to fix some bugs and general improvements. But somehow you haven't updated it yet. If you didn't enable automatic updates on your iPad then make sure to follow the steps below to turn it on.
Automatic Update:
Go to the Settings app > Tap on General.
Tap on Software Update > Select Automatic Updates.
Enable Download iPadOS Updates and Install iPadOS Updates.
Once turned on, the iPad will automatically download and install the available update overnight. But it requires your iPad to have sufficient battery charge and it should be connected to the active Wi-Fi network. Before installing the update, iPadOS will notify you about the same.
Update Manually:
If in case, you've enabled the automatic software update option on your iPad and still there is no update visible then you should manually check for the available iPadOS updates. To do so:
Go to the Settings app > Tap on General.
Tap on Software Update > If there is an update available, tap on Download and Install.
Wait for the updating process to get completed. It should take a couple of minutes.
Once done, your iPad will automatically restart, and boot into the iPadOS system.
Note: If there is no update available, then the screen will show the currently installed version of iPadOS, and says 'iPadOS is up to date'.
Update via your Computer:
You'll require a USB cable and a computer to easily connect your iPad.
For Mac:
Make sure to update your mac to the latest version.
In the Finder sidebar on your Mac, select your iPad after connecting it.
Click on General at the top of the window > Click on Check for Update.
If an update is available, click on Update.
Wait for the updating process to get completed.
Finally, your iPad will reboot automatically.
For Windows:
Ensure to install the latest version of the iTunes app on your Windows computer first.
Connect your iPad to the PC via a USB cable > Launch iTunes.
Now, click on the iPad icon near the top left side.
Click on Summary > Click on Check for Update.
Click on Update to install an available update.
Wait for the updating process to get completed.
Finally, your iPad will reboot automatically.
9. Try Charging iPad in Switched Off Mode
You should try charging your iPad after switching it off for around an hour continuously and then check if the battery level is increased or not. Sometimes conflicts with the third-party software on the device may trouble you a lot. If your iPad is still not charging or the charging status is showing but the battery level isn't increased then make sure to visit the nearest Apple service center as soon as possible. There might be some issue with the software or battery.
10. Try Charging with the Reverse Side of the Cable
You can also try charging your iPad with the reverse side of the lightning/Type-C cable to check for the issue because sometimes one side of the cable connectors might get scratched or damaged to fit into the port properly. Reversing the charging cable and then connecting it to the iPad should start charging immediately and you will get better results. It happens with so many iPhone and iPad users so nothing to worry about it.
11. Ensure to Clean the Charging Port Gently
Make sure to cross-check the visible dirt or moisture inside the charging port on your iPad. You really can't avoid dirt particles to get into the charging port which is quite natural. If there is some dirt visible, you should use a paperclip or a sewing needle with some cotton to clean the charging port gently. Don't put so much pressure or don't make any scratches inside the charging port to avoid physical damage. If you're not confident to clean it, try an air blower.
12. Restore iPad from iCloud or iTunes Backup
Sometimes you may need to restore your iPad to recover the system from the iCloud Backup or iTunes Backup. However, do keep in mind that this method will completely reset the iPad system, and you might lose some data if not properly backed up. So, make sure to take a full backup before performing this method.
Please Note: This method will only apply if you've previously backed up your data on iTunes or iCloud. If there is no previous backup made then you can skip this method.
Restore iPad with iTunes:
Open iTunes on your computer > Now, connect your iPad to the Windows or Mac via the USB cable.
Connect iTunes to the iPad and the device will get detected.
Next, click the iPad icon from the left pane > Click on Restore Backup.
Follow the on-screen instructions to complete the restore process.
Once done, your iPad will boot into the system automatically. It'll take some time so please be patient.
Finally, your device will boot into iPadOS, disconnect the iPad then complete the initial setup process.
You're good to go.
Restore iPad with iCloud:
Go to the Settings app on your iPad > Tap on General.
Scroll down to the bottom of the page > Select Transfer or Reset iPad.
Tap on Reset > Select Erase All Content and Settings.
If prompted, enter the device passcode to confirm the task.
Your iPad will restart automatically > It may take some time to complete.
Once the iPad boots into the system, go through the initial setup process.
Next, sign in to your Apple ID > Here, you'll have to select Restore from iCloud Backup.
Once the backup data is selected to restore, confirm the task to proceed.
Wait for the process to complete> Finally, your iPad will reboot again to load the backup.
You're good to go.
13. Contact Apple Support and Visit Service Center
If none of the methods worked for you, then make sure to contact Apple Support or visit your nearest Apple Service Center to get technical assistance. Sometimes internal hardware damage or invisible physical damage to the charging port on your device or even the dead battery can cause charging-related issues. If in case, your device is under warranty, then you'll get a repair or replacement. Otherwise, you may need to spend extra bucks.
That's it, guys. We assume this guide was helpful to you. For additional queries, you can comment below.