When you pull your iPhone from your pocket, you may encounter an error message: "iPhone unavailable". It's perplexing and seemingly without a solution. So, what triggers this "unavailable" lock screen, and how do we rectify it? Let's delve into how to address the 'iPhone Unavailable' issue for iPhone 14 Pro and 14 Pro Max.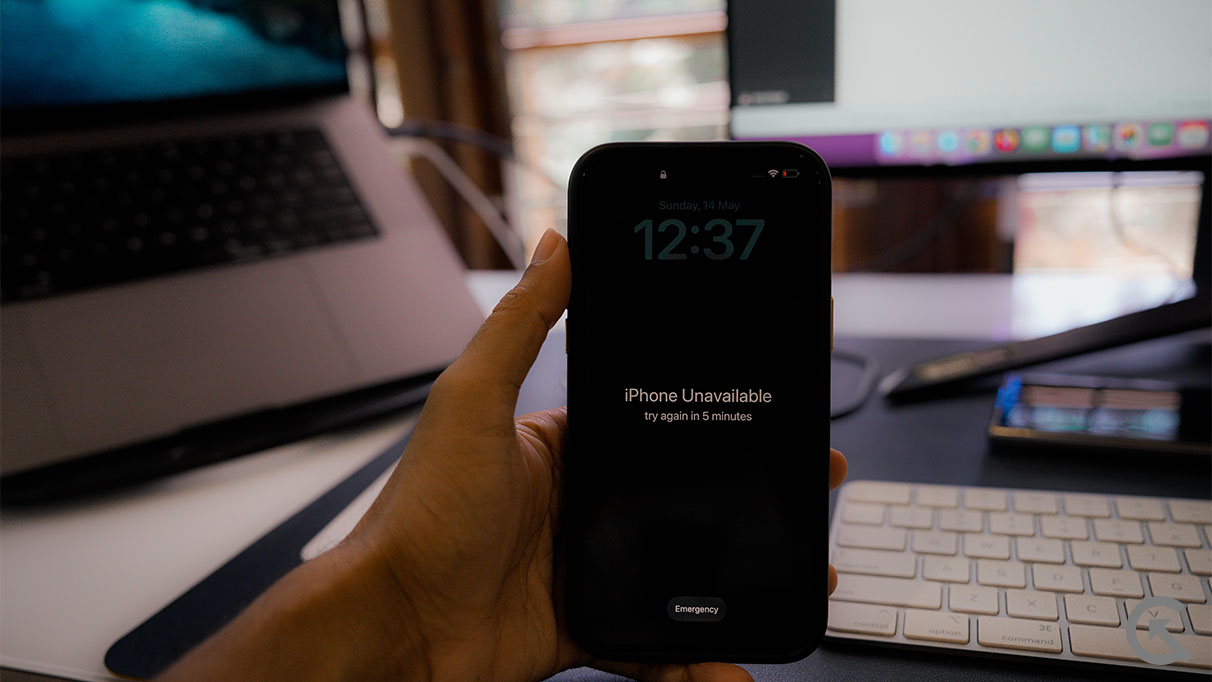 Upon seven unsuccessful attempts to unlock the iPhone, the device's screen-erasing feature activates to safeguard your data. You're then required to input your Apple ID and password to unlock the device's screen and restore it to factory settings.
If you persistently enter the incorrect code, your iPhone will deactivate to prevent unauthorized access. Consequently, an 'Unavailable' message will display on the screen, alongside a 'Security Lockout, try again in 15 minutes' message. Simultaneously, an 'Erase iPhone' option will appear in the lower right corner.
This option will fully reset your device, eradicating all personal data, including the forgotten passcode. This allows you to reconfigure your iPhone.
To bypass the 'iPhone Unavailable' screen on iPhone 14 Pro and 14 Pro Max, follow these steps:
Persistently enter your passcode until the Security Lockout screen emerges. The 'Erase iPhone' option should now be visible in the bottom right corner.
If you've simply forgotten your iPhone passcode and the 'iPhone Unavailable' prompt hasn't appeared yet, try inputting it five times from your smartphone's lock screen.
Continue to input the code when prompted to 'try again' to reveal the 'Erase iPhone' option.
Click on the 'Erase iPhone' button in the bottom right corner.
On the subsequent page, a notice will inform you that selecting 'Erase iPhone' will delete all files and settings from the locked-out device. To confirm, tap 'Erase iPhone' again.
To sign out of your Apple ID, input your password (not the screen passcode).
Click on 'Erase iPhone'. Wait for your device to reset to factory settings, eradicating all of your settings and data. Once complete, you can either commence your iPhone's setup anew or restore your data and settings if a backup is available.
If an 'iPhone is disabled' error appears on the screen instead, your device may be running an iOS version 15.1 or earlier. In this case, you'll need to try other methods mentioned in this post.
Use Apple's Suggested Recovery Mode
What if your iPhone displays an 'unavailable' message, but there's no 'Erase iPhone' option? In this case, you should try another method recommended by Apple — the Recovery Mode integrated in iTunes or the Finder app.
Start by opening iTunes or Finder (for macOS 10.15 and later) on your computer.
Connect your iPhone to the computer while it's turned off. The procedure to enter recovery mode varies among models.
Once successfully connected, a message box will appear, offering you the 'Restore' or 'Update' options. Here, select 'Restore'.
A subsequent dialogue box will inform you that restoring your iPhone will completely erase all your media and other data.
Choose 'Restore and Update', which will allow the computer to download the latest version of iOS for your device. Once the procedure is complete, you can access your iPhone.
'Find My iPhone', a built-in function of iCloud, enables you to locate and erase your iPhone or any other Apple device remotely, provided the device has 'Find My iPhone' enabled and is connected to the internet. iCloud allows Apple users to store their data on the cloud and synchronize their iPhones.
First, log in to 'iCloud Find My' using the same Apple ID you used to set up the locked iPhone. You can access iCloud from an iPad, Mac, PC, or any smartphone with a browser.
Wait a few seconds, and an automated map location will display all your devices linked to the same Apple ID.
Select 'All Devices' from the top menu, then choose your unavailable iPhone from the list.
Next, click 'Erase'. A warning will appear, indicating that all your files and settings will be permanently removed from the device.
Click 'Erase' again to confirm your selection.
The system will initiate the erasure of the phone, removing the unavailable screen. Your iPhone will then restart, resembling a brand-new device. You can then access it again without the passcode. Use 'Find My iPhone' similarly to reset an iPad that indicates 'unavailable'.
To avoid encountering the 'unavailable' screen on your iPhone in the future, choose a password that's easy for you to remember but difficult for others to guess. Try to keep your iPhone within your sight to prevent unauthorized attempts that might disable it. Regularly backing up your iPhone is also a smart move, especially if you frequently change your passcode, as it can prevent data loss.
In conclusion, encountering the "iPhone Unavailable" message on your iPhone 14 Pro or 14 Pro Max can be a bit disconcerting, but it is not an insurmountable issue. The error message is primarily a security feature activated after multiple unsuccessful attempts to unlock the device. With the methods outlined above, including using the "Erase iPhone" option, Apple's Recovery Mode, or iCloud's Find My service, you can successfully navigate past this challenge and regain access to your device. Remember, the best way to avoid such issues is by choosing a memorable yet secure passcode and ensuring your device is always within your sight to prevent unauthorized access attempts. Regularly backing up your data can also safeguard you from potential data loss. In this way, you can enjoy the extensive features of your iPhone 14 Pro or 14 Pro Max without any interruptions.