Photographs taken with Portrait Mode are focused on the subject and blurred in the background, a feature first introduced in the iPhone 7. After so many years, the Portrait mode continues to improve with every new iPhone release. But, when it comes to the new iPhone 14, 14 Pro, and 14 Pro Max, the Portrait mode is currently causing problems for them.
That's right, you heard it right. Some users are complaining that the Portrait Mode is not working on iPhone 14, 14 Pro, and 14 Pro Max, due to which they are not able to take good photos. But now, no more worries as we have some fixes to this problem. So, for those who are facing this, make sure to read the guide until the end.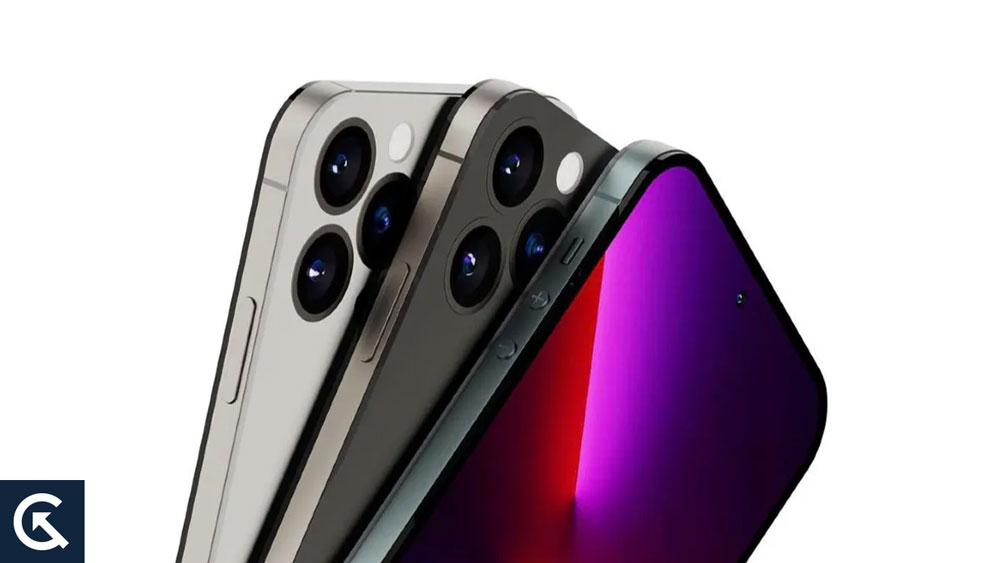 Why Is iPhone 14 Series Portrait Mode Not Working?
Generally, there is an issue to blame if your iPhone's portrait mode doesn't work. Hardware issues are usually more difficult to resolve and are usually not your fault. Software issues are usually the easiest to resolve. It should not be impossible for you to figure out why you are unable to use this feature. It is possible that your iPhone's Portrait mode is not working for three reasons.
There is a problem with your iPhone's support for the feature.
In low light, you are using the feature.
There's too much distance between you and the subject in portrait mode.
How to Fix Portrait Mode Not Working Issue on iPhone 14 Series
So, here are some fixes that will help you resolve the Portrait Mode not working issue on iPhone 14, 14 Pro, and 14 Pro Max:
Fix 1: Force Restart Your iPhone
It is possible for such issues as described above to occur when there are any technical faults within the iPhone. It has been reported that forced restarting an iPhone has easily fixed this problem. Using the steps below, we will show you how to force restart your iPhone.
It is necessary to press the volume up button once and release it in order to force restart your iPhone.
To do this, you need to hold down the volume button and then release it.
Once the process has been completed, you should see the Apple logo on your iPhone screen once you press the power button.
If the problem still persists, try restarting the iPhone and checking if the issue is resolved.
Fix 2: Maintain The Right Distance From The Subject
You should maintain a certain distance from your subject when using portrait mode on the iPhone. If you want to use the iPhone, make sure your subject is at least two to eight feet away from it. Follow the prompts in the camera app when you click a Portrait mode photo. To see the portrait effect on the screen, move forward or backward if the screen indicates you're too near or too far.
Fix 3: Click Photos in Good Lighting
In the iPhone's portrait mode, the artificial bokeh in the background is created by depth information captured by the cameras. This information becomes difficult to determine when there is not enough light for the camera to create a depth map.
It is for this reason that portrait mode works best in good lighting. You can take night mode portrait shots with the iPhone 14 Pro or iPhone 14 Pro Max if you have the LIDAR scanner on the back. Alternatively, if you have any other iPhone, you may want to use portrait mode in daylight or in areas with plenty of light.
Fix 4: Enable Portrait Zoom Preserve Settings on Your iPhone
In order to do so, you'll need to launch your iPhone's Settings app.
Scroll down the settings menu and tap the Camera option as shown below, then scroll down and find the option.
On the Camera page, click the Preserve Settings button, as shown in the screenshot below.
To enable Portrait Zoom, click on its toggle button.
Fix 5: Set Appropriate Aperture Value
Ideally, any iPhone camera app should have an aperture value between 1.6 and 2.8. Apertures that are outside of this range will not function properly. By following the steps below, you can set the correct Aperture range on your iPhone.
To begin, you must launch your iPhone's Camera app.
In the camera app, change the mode to portrait once it is open, as shown below.
You will find an upward arrow-like icon in the centre of the screen once the camera is in portrait mode.
At the bottom, you will find the camera settings option.
On the bottom right side, click the f symbol once the options are available.
Using the aperture slider, adjust the aperture to somewhere between 1.6 and 2.8.
You'll notice that you can capture images in portrait mode after you have set it properly.
Fix 6: Clean The Camera Lens on Your iPhone
If your camera lens is dirty, you are likely to take bad pictures or, in this case, you won't be able to use the portrait effect. Therefore, cleaning your camera lens(es) before taking a picture is a good practice. You are likely to get fingerprints on your phone's camera lens over time. Afterwards, if the rear or front cameras need to be cleaned, use a soft microfiber cloth and take an image in portrait mode.
Fix 7: Don't Include Too Many People In The Frame
With portrait mode, a single subject or, at most, a couple of faces are best positioned in the frame. In portrait mode, you may not get the best results if you have many people standing or sitting at different distances within the frame.
Even if it does, it might not be accurate. Due to the camera's inability to determine what part to focus on, some faces may appear blurry in the photo. Instead of using the Portrait mode on your camera when taking group pictures, it's best to use the standard camera mode.
Fix 8: Update iPhone to The Latest iOS Version
Your iPhone can be updated to the latest version of iOS if none of these methods resolve the problem. There is a possibility that a particular software version restricts the camera's functionality. If you are experiencing such problems on your iPhone, you may be able to fix them by updating the software.
On your iPhone, go to the Settings app and select General.
Click on Software Update.
You will see a notification if there is a new update available. Install the software and wait for it to finish.
Sum Up
So, that's all we have for you on how to fix Portrait Mode is not working on iPhone 14, 14 Pro, and 14 Pro Max issues. It's our hope that you find this guide helpful. For more info, comment below and let us know.