Are you stuck while transferring data from your old iPhone to your brand new iPhone 15 Pro and 15 Pro Max? This guide has something for you. As we know, the iPhone 15 has just launched, and we say what a launch. There are thousands of people standing in queue to get the new iPhone. But, those who already purchase have reported some issue. Most likely the iPhone 15 Pro and 15 Pro max users. They encountered an issue due to which their iPhone 15 Pro and 15 Pro Max data transfer failed or not working. Well, don't need to worry as we have some solutions. So, let's check them out: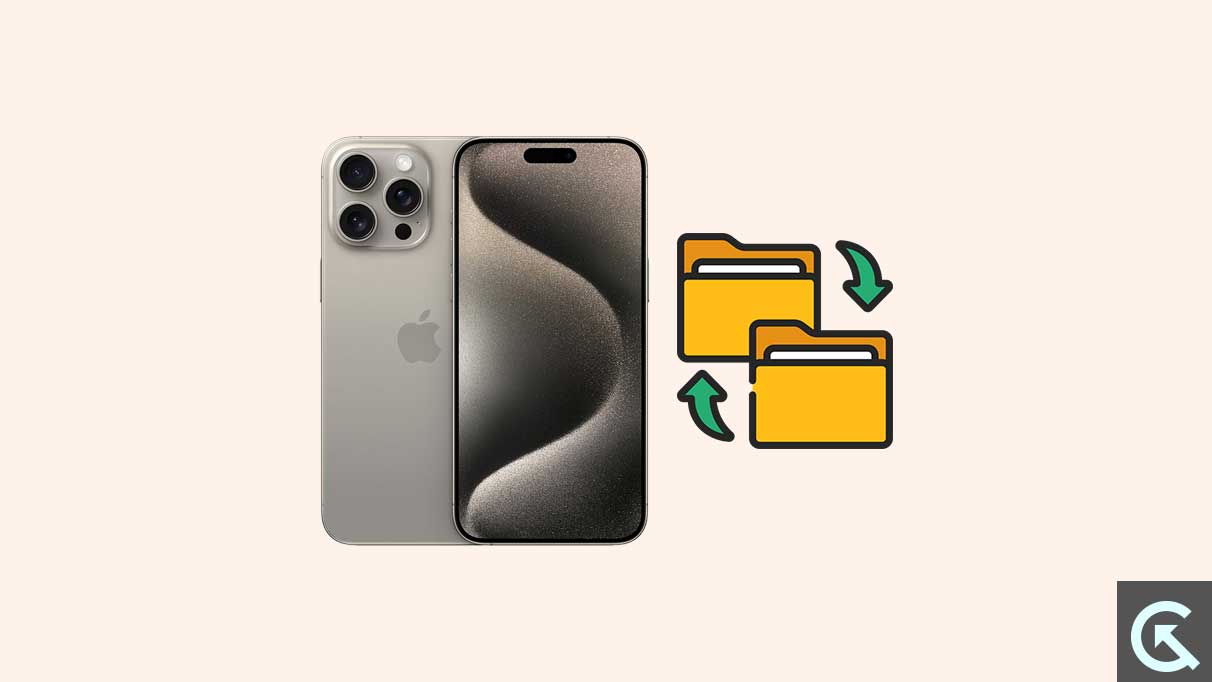 Why Transfer Directly from iPhone Not Working
What is the reason why my old iPhone won't transfer to my new one? If iPhone transfer does not work, there are many reasons for it. Here are some of the most common causes:
Poor network connection: Stable networks are required for data transfer. It is possible for iPhone transfers to fail due to a poor network.
Low battery level: When your iPhone's battery is low, you will also be unable to transfer files from one iPhone to another.
System Issues: Problems with the system can affect data transfer work and ultimately result in failures.
Fix: iPhone 15 Pro and 15 Pro Max Data Transfer Failed or Not Working
Now as you know about the reason behind the issue; therefore, it is now more easier to resolve it. So, let's check out the potential fixes that you must try in order to resolve the iPhone 15 Pro and 15 Pro Max data transfer failed or not working issue:
Fix 1: Update iPhone OS Version
If you encounter the error "Unable to Complete Data Transfer," updating the iPhone's operating system can often fix it. Follow these steps to update the iOS version on your iPhone:
On your iPhone, go to Settings.
Select General.
Click on Software Update.
Tap Download and Install if an update is available.
If there is no storage left for the iPhone update, please check whether iCloud storage is full or not enough space is available.
Fix 2: Turn Off/ON Airplane Mode
It may be challenging to transfer data if your Wi-Fi or cellular connection isn't performing at its best.
Tap on the airplane mode icon in the top right corner of your screen to enable/disable it on your iPhone.
Fix 3: Hard Reset Your iPhone
You may be able to troubleshoot the problem by force restarting your computer if a minor software glitch causes it.
Press the volume up button on your previous iPhone and release it. Next, press and release the volume down button.
Once the Apple logo appears on the screen, hold the Side button for a few seconds.
Fix 4: Disable Low Data Mode on Your Old iPhone
It helps you save battery life by pausing and/or turning off power-hungry features of your iPhone, including background activities such as downloads. You may notice your iPhone's data transfer process is being slowed if this power-hungry feature is enabled.
On your iPhone, go to Settings > Battery > turn off Low Power Mode.
Fix 5: Enable Wi-Fi Assist
When your iPhone's Wi-Fi connection is weak, Wi-Fi Assist seamlessly switches to mobile data, preventing unwanted interruptions.
On your iPhone, navigate to Settings > Cellular > Scroll down to the bottom and toggle on Wi-Fi Assist from the toggle menu.
Fix 6: Reset Network Settings
It may be necessary to reset the network settings if you are still experiencing data transfer issues.
Using the Settings app on your iPhone, go to General > Transfer or Reset iPhone > Reset > Reset Network Settings, and then enter the passcode for your device.
Fix 7: Enable Bluetooth on Your iPhone
You should check whether Bluetooth is enabled on your iPhone first if the transfer is not working. Using Bluetooth on both devices is necessary to keep the connection between your phones when transferring directly from iPhone. You can enable Bluetooth on an iPhone by tapping an option. By following the steps below, you can enable Bluetooth via the Control Center.
From your iPhone's screen, pull up and tap the Bluetooth icon. You will now be able to use Bluetooth.
It is also possible to enable Bluetooth in Settings as shown below.
To turn Bluetooth on, go to the Settings app > Bluetooth, then turn the toggle to the ON position next to Bluetooth.
Fix 8: Move Device Closer
To perform a wireless iPhone transfer, be sure to keep your old and new iPhone close together during the process. In that case, you can move the device closer in order to continue iOS transfer if the new iPhone transfer does not work. If you want your devices to remain connected during this process, keep your two phones side by side. You will be able to transfer your data without any issues since there will be no obstacles in between.
Fix 9: Check the Cable for Issues
For iPhone-to-iPhone data transfer using a cable, make sure the cable you use is strong enough and not damaged physically. To transfer data, the cable must be the one recommended by Apple. If you use a cheap aftermarket cable, you may not be able to transfer data from old to new iPhone. It is recommended that you discard such cables and replace them with official Apple cables before proceeding.
Fix 10: Reach out to Apple Support
If everything else doesn't work, there might be a problem beyond your control. To resolve this issue, it is best to contact Apple's technical support team. You might even be able to have them apply a solution directly to your device if they have a solution to your problem. Find out if Apple can help you fix the issues with transfer directly from iPhone by visiting your nearest Apple support center.
Sum Up
So, that's how you can easily fix the iPhone 15 and 15 Plus camera not focusing issue.. It's our hope that this guide has helped you. Meanwhile, in case you need more info, comment below and let us know.