Huawei is a Chinese telecommunication company which is making smartphones in 1997. It is one of the largest telecom infrastructures marketer in the world. Recently Huawei has launched their another flagship model in June 2018 with the name Huawei Honor Play. Huawei Honor Play starts at the base price of 19,999INR in India. Since there are no official waterproof ratings for the smartphone, so customers are looking whether this device can withstand accidental water splashes. As the device costs 19,999INR for the base model, so customers are eager to know about its waterproof capabilities. So let's start with our Huawei Honor Play Waterproof test.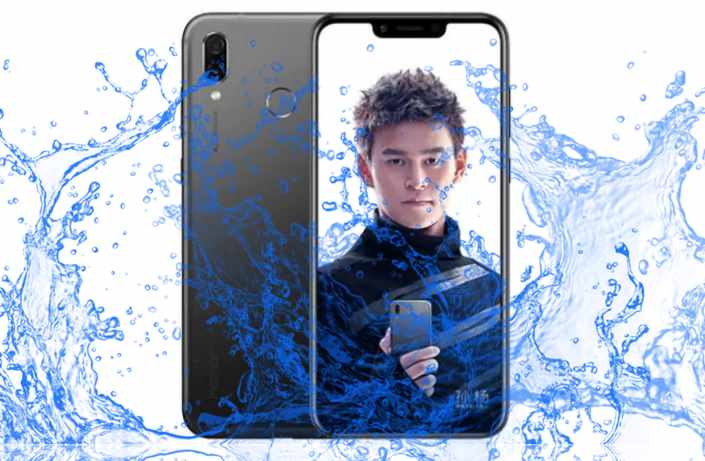 Before we start with our Huawei Honor Play waterproof test, let's get to know some of its specifications. It is powered by an octa-core processor which is coupled with 4GB of RAM. It comes with 64GB of onboard storage which you can expand up to 256GB via a MicroSD card. Talking about the camera department it is rocking a 16MP sensor it the rear and 16MP selfie camera. Huawei Honor Play comes with Android 8.1 out of the box.
Huawei Honor Play Splash Proof Test
In Splash proof test, we will test the device to withstand an accidental water splash to see whether the device survives in such condition. Since there is no official information on IP68 ratings about the Huawei Honor Play device, so it might not pass our splashproof test.
When we put some artificial water splash over Honor device, we did not see any kind of damage at all. The device seems to work fine under water. However, the touchscreen becomes unresponsive.
| | |
| --- | --- |
| Touchscreen | Flickers underwater |
| Camera | Works |
| Splashproof | Yes |
Huawei Honor Play

Rainwater test
In this test, we are going to suspend the device in artificial rain environment. This also mimics the showering conditions as well. Later on, we will see if the device withstands these conditions or not.
After testing Huawei Honor Play in artificial rain conditions, we observed that the device is capable of performing well. Since the device touchscreen stops responding to touches underwater, users can not make or receive calls. But hardware is fully functional at this point.
| | |
| --- | --- |
| Can you use the device in rainy conditions | Yes |
| Can you use the device while taking a shower | Yes |
| Any damage due to rain or water droplets | No |
Huawei Honor Play Washing Test
In this test, we are going to wash Huawei Honor Play with running tap water for 1 minute and check whether it survives or not.
Also read: Can Huawei P20 Pro survive Under Water?
| | |
| --- | --- |
| Water damage with hardware | Yes, water droplets goes inside the device |
| Touchscreen | Works perfectly |
| Speaker | Works perfectly |
I/O Ports Water Test
In this test, we try to check whether the water will go inside Huawei Honor Play or not
Also read: Is Xiaomi Mi A2 a Waterproof Device In a Budget
| | |
| --- | --- |
| Charging Point | No damage |
| Power & volume rocker buttons | No damage |
| Touchscreen | No damage |
| Speaker | No damage |
| Earpiece & Mic | No damage |
| Any other I/O port damage | No damage |
Huawei Honor Play DustProof Test
In this test we will try to mimic a situation where we will bombard dust and dibree particles over the device and will check whether the dust particles go inside the device or not.
| | |
| --- | --- |
| Dust inside the earpiece | Yes but functional |
| Dust in the camera lens | No |
| Dust inside the speaker | Yes, little bit |
The dust indeed goes inside the device speaker and earpiece but they are both functional.
Huawei Honor Play Water Immersion Test
When the device is immersed in water, water does not go inside the device.
| | |
| --- | --- |
| Official IP ratings (waterproof ratings) | None found |
| Splashproof test | Passed |
| Rainwater test | Passed |
| Dustproof test | Passed |
| Water Immersion Test | Passed |