Xiaomi is known for making quality smartphones in a budget segment Their last flagship with stock android, and a dual-camera setup was a huge hit. So Xiaomi is planning to launch another version of it with the name Mi A2 and Mi A2 Lite. Since both the device have the same hardware, the specs are pretty much the same. Since most of the customers of Xiaomi are looking for the best smartphone under a budget, so users want to know whether Mi A2 is waterproof or not. If you're seeking the same answer, then keep reading as we are going to do Mi A2 Waterproof test today.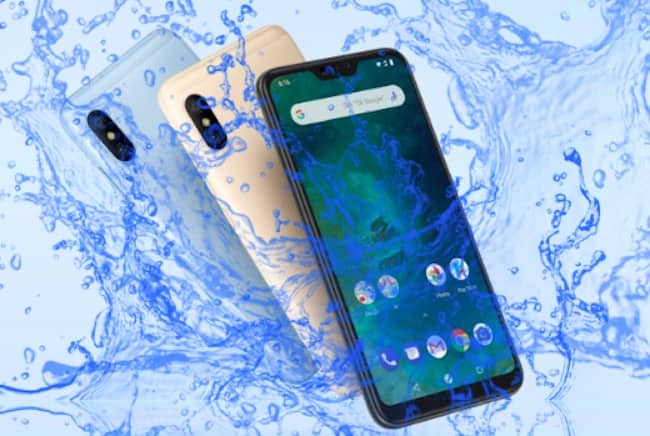 Before proceeding with the Mi A2 waterproof test, let's get a sneak pic at its specifications. It comes with a beautiful display of 5.84 inches with a small footprint, thanks to its notch. The display resolution is 1080×2280 pixels. Mi A2 is powered by Snapdragon 625 chipset and can be bought with different configurations of 3GB or 4GB RAM options. Similarly, you are free to choose the 32GB or 64GB onboard storage option besides the fact that it has a dedicated microSD card slot.
Xiaomi Mi A2 Splash Proof Test
In the Splash proof test, we will test the device to withstand an accidental water splash to see whether the device survives in such a condition. Since Xiaomi Mi A2 does not have any kind of proper IP68 waterproof ratings, it might or might not survive this test.
So when we subject Xiaomi Mi A2 to artificial water splash, the device's screen starts to flicker and stops responding. This is followed by a couple of seconds of ghost touches as well. However, after cleaning the device with a microfiber cloth, everything came back to normal. From this, we can conclude that the device touchscreen cannot operate underwater.
| | |
| --- | --- |
| Touchscreen | Flickers a lot, fine after cleaning |
| Camera | Works |
| Splashproof | To some extent, Yes |
Xiaomi Mi A2 Rainwater test
In this test, we are going to suspend the device in an artificial rain environment. This also mimics the showering conditions as well. Later on, we will see if the device withstands these conditions or not.
After testing Xiaomi Mi A2 in artificial rain conditions, we observed that the device stops responding to touches. However, no damage was observed. This proves that the device is not built to operate under rainy conditions. Users are advised not to use this device in the rain as it might harm your device.
| | |
| --- | --- |
| Can you use the device in rainy conditions | No, the touchscreen becomes unresponsive |
| Can you use the device while taking a shower | No |
| Any damage due to rain or water droplets | No |
Xiaomi Mi A2 Washing Test
In this test, we are going to wash Xiaomi Mi A2 with running tap water for 1 minute and check whether it survives or not.
| | |
| --- | --- |
| Water damage with hardware | No damage |
| Camera | Works perfectly |
| Speaker | Works |
I/O Ports Water Test
In this test, we try to check whether the water will go inside Xiaomi Mi A2 or not.
| | |
| --- | --- |
| Charging Point | No damage |
| Power & volume rocker buttons | Works |
| Touchscreen | Flickr sometimes under water |
| Speaker | Works |
| Earpiece & Mic | Works |
| Any other I/O port damage | None found |
Xiaomi Mi A2 Water Immersion Test
When the device is immersed in water, water does not go inside the device. However, the touchscreen becomes completely unresponsive to the user.
| | |
| --- | --- |
| Official IP ratings (waterproof ratings) | None found |
| Splashproof test | Passed |
| Rainwater test | Failed |
| Water immersion test | Passed |