As we all know, Samsung is known for making budget and flagship devices. But this time, it has done something very unique by bringing up the Samsung Galaxy M31. With a kind of flagship specs to a budget-oriented device. And since it has flagship features. So Galaxy M31 might come with IP68 waterproof ratings. Samsung Galaxy M31 is the latest addition to the M series, an online-only segment focused on budget-oriented customers. And customers want to know whether the new Galaxy M31 is waterproof or not.
Talking about the Samsung Galaxy M31, its main highlight is the mammoth-sized battery of 6000mah. When discussing waterproofing, we must know that Samsung plays a big role in the smartphone industry in this part. It is known for producing some very capable waterproof devices like the S9 Plus and S10 Plus, but they come under a premium. So today, we will conduct Samsung Galaxy M31 waterproof est to check whether it is waterproof or not.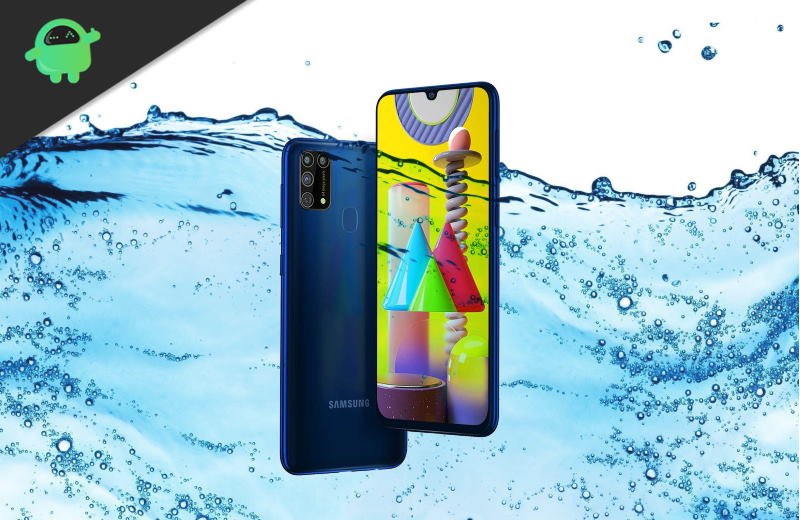 Is the Samsung Galaxy M31 a Waterproof device in 2020?
Waterproof smartphones are fascinating as they have an IP or ingress protection code that makes them dust and waterproof and durable. With waterproof smartphones, people don't need to worry about water getting into the phone by mishandling, which can be caused anytime. Also, purchasing a waterproof device unlocks many benefits, like taking out in the rain and underwater photography, which is becoming a new trend. The IP68 rating is the best protection a smartphone can have. However, it is important to note that this IP testing is with freshwater, so we can end up with different results if using saline water. As our official sources didn't confirm the waterproofing of the device, we had to test it ourselves.
We have checked with the official sources of Samsung Galaxy M31, but no official waterproof or splashproof ratings are there. So we will conduct our very own Samsung Galaxy M31 waterproof test to find out the results.
Samsung Galaxy M31 Device Specifications
The Samsung Galaxy M31 is a dual SIM device and supports dual VOLTE. It has a 6.4inch Super AMOLED FHD+ screen with a screen-to-body ratio of 81%. Colors appear very punchy with high contrast. It also has a Corning Gorilla Glass 3 protection on top. The Smartphone runs on the latest Android 10 and One UI 2.0 on top of it. Talking about the processor, it has an Exynos 9611, where 4 cores are clocked at 2.3 GHz based on A73 architecture. And another 4 cores at 1.7 GHz based on A53 architecture. It has a total of 8 cores. It comes with a dedicated MicroSD card slot with the sim tray.
Now, talking about the cameras of the device, it has a quad-camera setup where the primary sensor is of 64MP there is an ultra-wide-angle lens of 8MP, a 2MP macro, and 2MP sensor for depth-of-field effect. It also supports 4K video recording. There is a 32MP selfie shooter which is rare in this segment. It is available in two variants, one with 6GB of RAM and 64GB of storage and another with 128GB of storage, there is no change in RAM. Interestingly the smartphone works on the storage of UFS 2.1, which is ultra flash storage, and thus, the day to day processing speed is optimal. It also has our lovely 3.5mm earphone jack and surprisingly comes with NFC. The fingerprint sensor is on the backside above the branding which is easy to reach and works quite fast.
With a large 6000 Mah battery, it also comes equipped with a 15W fast charger which is found in box. Other than this, all necessary sensors are present on this device like the gyroscope, compass and Ambiente light sensor.
Samsung Galaxy M31 Waterproof Test
Since there is no official IP waterproof rating for the Galaxy M31 smartphone, it simply means it is not waterproof. However, we will still conduct a waterproof test which will comprise of all waterproof, splashproof, and dustproof tests. After the test, we will look at the result that if it is waterproof or not.
warning
The below waterproof test's results are purely based on individual/team observation. These tests will only give an idea of whether a device is waterproof or not. We recommend users not to try this test at home, as it might damage your device.
| | |
| --- | --- |
| Display | Working correctly |
| I/O Ports | Earpiece distorted with water damage |
| Camera & Speaker | Splashproof to some extent |
So we have done a comprehensive waterproof test with the Samsung Galaxy M31 to that the device is waterproof or not. Firstly we fill a bowl to half with freshwater and dip the smartphone in that for about 30 seconds. And to our surprise, we see that everything is working perfectly well. After this, we went on for a long test of 2 minutes.
| | |
| --- | --- |
| Underwater selfies | No |
| Talking in rain/shower | To some extent, Yes |
| Can withstand accidental water splash | Yes |
| Waterproof | No |
Now we found that the screen has stopped working, but the display was still on. It didn't show signs of water seepage inside the screen, and also, the device didn't heat that would have resulted in a short circuit. After 1-1:30 hours of drying the device, we found out that everything started working just fine as before.
Conclusion
Since the new Samsung Galaxy M31 doesn't come with any IP certification ratings. Further, not getting information from official sources, we decide to test it ourselves. To our surprise, the smartphone passes somehow with flying colors.
| | |
| --- | --- |
| Galaxy M31 waterproof ratings | None found |
| Splashproof | To some extent (non-official) |
| Dustproof | Passed |
| Waterproof | Failed, the screen got blank |
However, while purchasing this device, you should keep some factors in mind. That this device doesn't come with official ratings and the test results can be different from the device to the device. Also, the device will not get damaged by splashes of water, so stay relaxed. Though our device, which we had for testing, had some issues. So we can say that the new Samsung Galaxy M31 Waterproof device is not official since it is not waterproof.