The Flip 5 is certainly worth the asking price if you're going to be taking a weekend trip or just starting your weekend in the backyard with the Flip 5. JBL's Flip series are known for their toughness if there is one thing they are known for. Similarly, the new JBL Flip 5 started out splashproof and eventually made the switch to being completely waterproof.
However, even though it is one of the best speakers available now, it still has some flaws. Recently, some users reported that they are facing an issue with their JBL Flip, as it won't turn on. That's the reason why the out team decided to provide a guide to help you resolve this problem. So, in case your JBL Flip is not turning on, make sure to use the fixes mentioned below.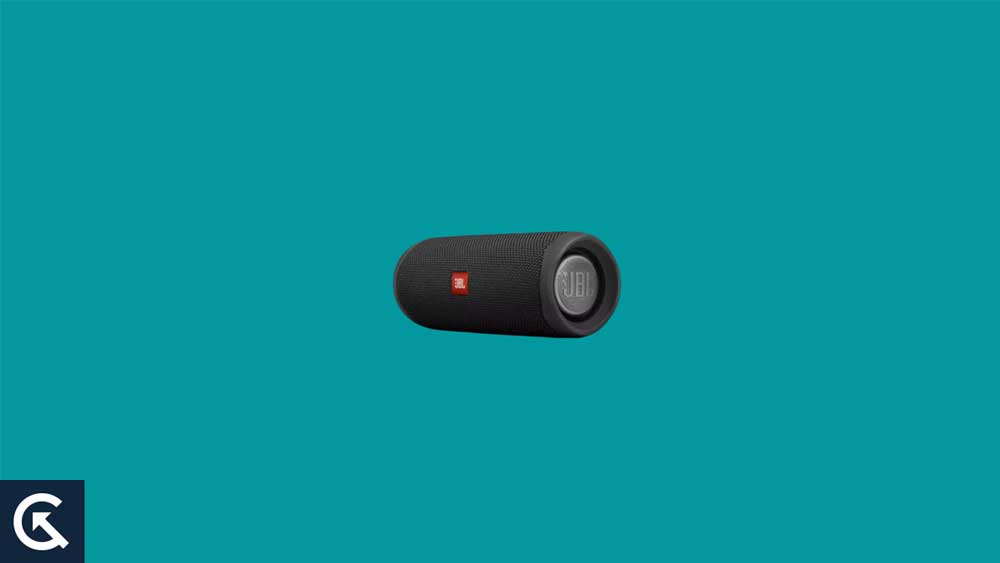 How To Fix JBL Flip Won't Turn On Issue
If you have a JBL Flip on your home and find that it won't turn on, then you must check out these fixes, as all the methods we have mentioned below has the potential to resolve this kind of error.
Fix 1: Reboot The Device
Your Flip may not be charging properly because of a random bug that prevents your speaker from working properly, causing this problem. The problem appears to have been resolved for many users after rebooting their JBL Flips.
Nevertheless, we recommend power cycling your speakers instead of rebooting them since that will break their working state and give them a fresh start. Perhaps you should try this and see if it helps.
Fix 2: Clear The Charging Port
When the internal components of a JBL speaker are continuously exposed to dirt or debris, it causes it to fail. The speaker won't work properly if the charging port is dirty.
If debris or dirt is in the charging port, blow it until it is cleaned out. Removing dirt with a toothpick or another sharp instrument is not recommended.
Fix 3: Battery Issues
In the same way that other electronic devices are susceptible to problems with charging, JBL clips are no exception. The battery may still be salvageable if you try a new charging port or unit before concluding that it is beyond repair.
It is common for the battery's charge to decrease due to rectifiable adapter issues. Alternatively, if a battery is damaged, you can find an authorized dealer who can offer a replacement. In JBL Flip, batteries can be replaced; therefore, it wouldn't cause any strain on the device during the replacement.
Fix 4: Configuration Problems
There is a pre-configured setting included with the JBL Flip. It remains possible, however, that your configuration settings could affect how long the battery will last. It is possible that there could be an issue within the configuration due to the fact that the software can have external bugs.
When you notice charging issues that are caused by configuration problems, you'll have to restore the JBL's default settings to resolve the problem. It only takes a few seconds to reset the device if you hold down the multi-functional button.
You can release the button once the LED has turned on. Also, you can reset the Bluetooth pairing on the device so that it is safe to use and that it can charge.
Fix 5: Factory Reset on JBL Flip
The first step in troubleshooting is to perform a factory reset or hard reset. After removing the Bluetooth speaker's data, its default settings will be restored. Follow these steps if you are experiencing problems with your JBL Flip:
Ensure that the speaker is connected to the charger and then disconnect it. If it is disconnected, it will not be able to charge.

Connect the speaker to the power source. Using the power button, turn it on.

To playback, hold volume + and press power at the same time. When the speaker has been paused for 3 seconds, it should restart.
Fix 6: Faulty Charging Cable
If your JBL Flip 4 battery doesn't charge, the charger or its cable are some places you need to check first. Your JBL will experience inconsistency when charging when the micro-USB charging cable is affected by a hardware issue.
You can switch to another cable if the cable is confirmed to be defective. There are times when a cable's end or corners might be wobbly, resulting in battery and charging problems. To solve the issue, it is crucial to replace the device in either scenario.
It shouldn't be difficult to replace or locate an issue with these cables since they are subject to generic wear and tear.
Fix 7: Charging Port Problems
Aside from the speaker itself, the charging port in your JBL Flip 4 goes through a lot of wear and tear as well. In addition to accumulating dirt from its surroundings, the device can also become unchargeable if it accumulates too much dust.
To clean the charging port gently, use a safety pin and don't use too much pressure if you notice some debris. Nonetheless, if the port is flooded, you can use a hairdryer to dry it up.
Fix 8: Faulty Circuit
It is also common for JBL Flip to experience hardware or circuit damage. Whenever the circuit is down, the battery won't be able to charge properly since it receives its primary power from it. To ensure that your JBL clip isn't turning on for such a reason, you can review the circuit.
You need to seek professional assistance to fix the JBL Flip speaker and the circuit power if the circuit seems faulty.
Fix 9: Outdated Software
Sometimes you may need to review the software when all external components seem to be in good working order. Whenever you ask yourself, "why doesn't my JBL speaker work?" you should never rule out the possibility that outdated software may also cause charging problems.
For the device to gain its charging lifespan, ensure that it has the most recent software without bugs and has been reset.
Fix 10: Go To Service Center
You should reach out to your nearest service center whenever you cannot fix an issue yourself. It is recommended that you raise a complaint first with JBL support. Once that has been done, take it to your nearest service center for repair. However, if you're lucky and your device is under warranty, you may be able to claim a free repair.
Also Read: Fix: Logitech G920, G923, G29 Not Working on Need for Speed Unbound
Conclusion
No one can beat the JBL Flip speakers when it comes to sound quality and price. When it comes to its highly stylish exterior as well as the convenience of listening to music wherever you are, JBL hits all the bullseyes. We all get nervous when we notice our JBL Flip not turning on, which is why some of us break out into a sweat.
Fortunately, now you know how to fix it and all the possible reasons for it! To resolve the issue, one needs to understand the root cause and implement a solution to fix the problem. So, that's how to fix the JBL Flip won't turn on. We hope that this guide has helped you. For more info, comment below and let us know.