JBL Go is an ultra-portable Bluetooth speaker with a robust sound quality and IPX waterproof design. You can stream high-quality wirelessly from your smartphone with its Bluetooth capabilities. Despite its small size and high audio quality, the Go is immensely appealing. You can easily carry it in your bags wherever you go, and you can use it continuously for 6 hours on a rechargeable battery.
Consequently, one of the most demanding JBL Go series speakers are Go 2 and Go 3. But, the users of these speakers aren't happy as they are complaining that the JBL Go 2 and Go 3 are not charging, due to which they don't use the speakers for a long time.
However, on an investigation, our team found some fixes that have the potential to resolve this type of problem, which we have mentioned further in this article. So, in case you are facing this issue, make sure to perform the fixes we have mentioned below: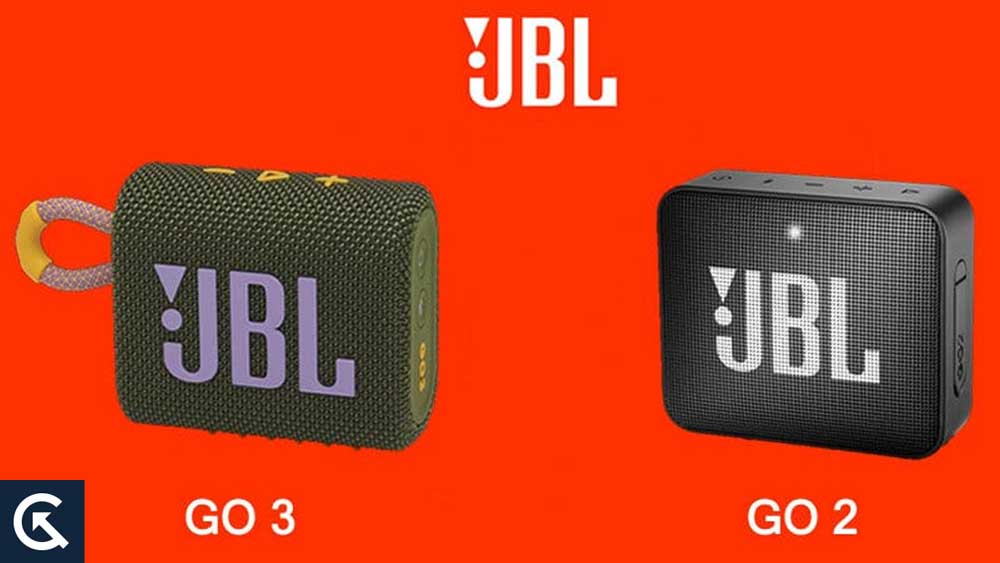 Why Is My JBL Speaker Not Charging?
A damaged battery usually causes it, but several other factors can cause it. Software problems are more common than hardware problems when it comes to charging failures. In addition to these factors, the following can also lead to a failure of charging:
Battery damage

Micro-USB cable with a fault

Faulty config settings

Faulty charger port

Circuit fault
How To Fix JBL GO 2/3 Not charging
The Go 2/3 Bluetooth speaker might not charge when you cannot charge it. If the battery runs low, the speaker cannot be used, which is particularly annoying when it runs low on power. Here are some troubleshooting steps you can follow to resolve the issue.
Fix 1: Reboot The Device
There is a random bug preventing your JBL Go 2/3 from charging properly because the speaker does not work properly. Many users have reported their JBL Go 2/3 have been fixed after rebooting them.
However, we suggest power cycling rather than rebooting your speakers since that will break their working state and give them a fresh start. If this helps, perhaps you should try it.
Fix 2: Factory Reset on JBL Go 2/3
It is first necessary to reset the device to factory settings as part of the troubleshooting process. This procedure resets the Bluetooth speaker to its default settings after removing the data stored on it. In most cases, this occurs when a device is malfunctioning.
Make sure the device is turned on. Press the power button to do this.

You will need to hold down the Play + Volume up buttons at the same time. Hold this position for about 10 seconds.

You need to turn on the device. It is possible to press the power button to accomplish this. Now that the device is in pairing mode, it should be ready to pair. Check if the speaker can be charged.
Fix 3: Clean The Charging Port of JBL Go 2/3
Dirt and debris can get inside the speaker if the rubber cover is left open on its port while being used outdoors continuously. Charging the device if the port is clogged with dirt is impossible. You can clean any dirt or debris found in the Bluetooth speaker's charging port by blowing into it or using a toothpick until the dirt is gone. Once you have done that, you should be able to charge the Bluetooth speaker.
Fix 4: Replace the Charger
In the event that the charger you are using does not work, the speaker will not be able to be charged. Several reasons can make a charger cease to work, including damaged cords or faulty circuits in the adapter. If you are having trouble charging the speaker, try using a different wall charger and charging cord. Try charging your speaker with the charger that came with your Android phone if it has a micro USB port.
Fix 5: Defective Battery
If the speaker's battery is damaged, it will not be able to be charged. It is likely that replacing the battery will fix the problem if this is the cause. You should have this serviced by a service center.
It is possible to damage a battery by repeatedly overcharging it or exposing it to constant heat conditions, such as leaving it outside in the sun.
Fix 6: Defective Circuit Board
It is possible to damage a speaker's internal circuitry if water gets inside it. In this case, you will need to take it to a service center for repair. So, simply hover over to the nearest service center of JBL and ask them to resolve this problem for you. They will surely help you resolve the problem.
Fix 7: Configuration Problems
In most cases, the JBL speakers will be preconfigured. Thus, there is less chance that the configuration settings will have a negative impact on the charging process. It is important to use the latest software and to ensure that the settings are correct since the software is prone to bugs.
If all other methods have failed and you are experiencing charging problems, you should consider resetting the speaker. You will be able to restore the default settings of the system in order to resolve the software-related charging issue by doing this.
The multi-function button can be pressed and held down to reset your device, depending on its model. It is safe to release it once the LED starts to glow. You can also reset the pairing settings on your Bluetooth device to make sure they are set correctly. Afterward, you can plug it back in, and it will be restored.
Be sure to check the user manual that comes with your particular model for instructions. There will be differences between models in the configuration settings. You can engage power by connecting the power cord to the power receptacle and pressing the standby button for five seconds once the device has been reset.
Conclusion
With anything designed to be portable, battery problems are extremely inconvenient, and JBL speakers are an excellent brand. This is especially true when you are attending an event or simply spending time with family or friends. You suddenly stop playing your music way earlier than dawn! So, that's all we have for you on how to fix JBL Go 2 and Go 3 not charging. We hope that this guide has helped you. Furthermore, in case you need more info, comment below and let us know.