Luca Galante is the developer and publisher of the 2022 roguelike shoots 'em up video game Vampire Survivors. The first paid DLC for the indie bullet-hell rogue-lite Vampire Survivors is called Legacy of the Moonspell. The second paid DLC for the indie bullet-hell rogue-lite Vampire Survivors is called the Tides of Foscari. Players will have to acquire unique characters and weaponry in both games.
However, it isn't easy to unlock everything, so the developers have given cheat codes that you can use for them. If you are someone who is looking for the cheats in Vampire Survivors, then don't worry because we are here with a guide that will let you know about them. In this guide, we have mentioned all the cheats that you can use in Vampire Survivors for June 2023. We have mentioned the cheats for both the DLC: Legacy of the Moonspell and Tides of Foscari. So, read the full guide to know about all of them. And now, let's check out the guide without wasting any time.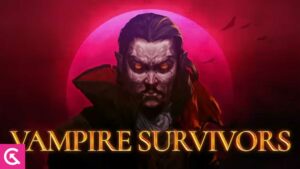 How You Can Unlock The Secret Menu In Vampire Survivors?
By defeating the Sketamari, you can find the Forbidden Scrolls of Morbane in The Bone Zone. From your starting position, head south until you run into the unique foe rolling a ball of bones. It is simpler to find the Sketamari if you have the Milky Way Map, where it will show up as a question mark.
The symbol for the Yellow Sign, the second to final relic in the collection, can be clicked seven times. By doing this, the hidden menu will momentarily become accessible for the remaining time of the play session and a notice stating "You are now a magician!" will display on the tooltip. You must carry out this action each time the game is launched until Sketamari is killed and the Forbidden Scrolls of Morbane have been collected.
List of All Spells (Cheats) in Vampire Survivors for June 2023
Below down we have provided a list of all cheats in Vampire Survivors DLC: Legacy of the Moonspell and Tides of Foscari. So, continue reading the guide to know all the spells (cheats).
List of All Spells (Cheats) in Vampire Survivors Tides of Foscari DLC
ablasphemousmockery = Unlock Red Death
accidenti = Unlock Krochi Freetto
animeismypassion – Maruto + Eskizzibur
basicwitch – Genevieve + Shadow Servant
bioparco = Unlock Dommario
carramba = Unlock Bianca Ramba + Carréllo
crystalmakeup = Unlock Christine Davain
deusexmachina – Luminaire + Prismatic Missile
dotgogreenacres = Unlock Green Acres Stage + Hyper Mode
earrivatolarrotino = Unlock Big Trouser + Candybox
eggseggseggs = Unlock Glass Vizard
exdashexoneviiq = Unlock Exdash Secret Character
faschiuma = Unlock Clerici
fettinepanate = Unlock Boon Marrabbio
foldinthecheese = Unlock Minnah
happybirthday – Sammy
highfive = Unlock Gains Boros
honesty = Unlock Moongolow Stage + Hyper Mode
icanhearthecriesofcaptainplanet = Unlock Great Gospel
ihaveseenitihaveseenitihaveseenitihaveseenitihaveseenitihaveseenitihaveseenit = Unlock Yellow Sign
iwillneverletyouforgetaboutme = Unlock Leda
languorino = Unlock Sir Ambrojoe + La Robba
leadmetothecheese = Unlock Milky Way Map
lhovistoio = Unlock Cosmo Pavone
noneladonna = Unlock Arca Ladonna
oopsistoleoneagain – Keitha + Flash Arrow
peakgamedesign = Unlock Boss Rash Stage
pinociampino = Unlock Peppino
randomazzami = Unlock Randomazzo + Arcana VI – Sarabande of Healing
relaxenjoylife = Unlocks Il Molise Stage + Hyper Mode
reset = Unlock O'Sole Meeo + Celestial Dusting
rottingpizza = Unlock Bone Zone Stage + Hyper Mode
secondevolution = Unlock Gyorunton + Bracelet
souloftheparty – Rottin'Ghoul + Party Popper
spellsomething – Eleanor + spellstring
spellwhatever – spellstream
spellwhichever – spellstrike
spinnn = Spins the screen for 720 degrees clockwise
strongestcharacter = Unlock Poe Ratcho
superladonna = Unlock Lama Ladonna
teleportustomars = Unlock Mindbender
thankelrond = Unlock Magic Banger
theworldeater – Je-Ne-Viv
thisshouldhavebeenunlockedbydefault = Unlock Grim Grimoire
thistooshouldhavebeenunlockedbydefault = Unlock Ars Gouda
timecompression = Unlock Sorceress' Tears
tramezzini = Unlock Toastie Secret Character
vivaladonna = Unlock Porta Ladonna
yattapanda = Unlock Yatta Cavalio + Cherry bomb
Spells (Cheats) in Patch v 0.10
everything – Unlocks all weapons
everywhere – Unlocks all stages (and their Hyper modes)
ilbagatto – Arcana I – Gemini
ilcarro – Arcana VII – Iron Blue Will
ildiavolo – Arcana XV – Disco of Gold
ilgiudizio – Arcana XX – Silent Old Sanctuary
ilmatto – Arcana 0 – Game Killer
ilpapa – Arcana V – Chaos in the Dark Night
ilsole – Arcana XIX – Heart of Fire
laforza – Arcana VIII – Mad Groove
lagiustizia – Arcana XI – Waltz of Pearls
laluna – Arcana XVIII – Boogaloo of Illusions
lamorte – Arcana XIII – Wicked Season
lapapessa – Arcana II – Twilight Requiem
lappeso – Arcana XII – Out of Bounds
laruota – Arcana X – Beginning
lastella – Arcana XVII – Lost & Found Painting
latemperanza – Arcana XIV – Jail of Crystal
latorre – Arcana XVI – Slash
limperatore – Arcana IV – Awake
limperatrice – Arcana III – Tragic Princess
randomazzami – Arcana VI – Sarabande of Healing (this spell exists for months, and it worked by being typed in the main menu)
Spells (Cheats) in Patch v 0.11
leremita – Arcana IX – Divine Bloodline
ifeellovevenus- Concetta Caciotta
quandolodicelui- Divano Thelma
waitreaction – Gallo
thetwoassassins – Giovanna Grana
iwanttoseeitagain – Enter Holy Forbidden
feldschlacht – Poppea Pecorina
flymetothemoon – Pugnala Provola
allatonce – Queen Sigma
paradigmshift – Zi'Azzunta Belpaese
Spells (Cheats) in Patch v 1.0
allatonce – Unlock Queen Sigma
andmars – Same as onjupiter but everything goes up
dootdoot – Unlock Seventh Trumpet
freezearrow – Unlocks Gracia'a Mirror
kalvasflam – Unlock Avatar Infernas and Flames of Misspell
kamiki – Play as O'Sole in Moongolow with dusting, jubilee and cherry bomb
notsureitsthunder – unlocks Scorej-Oni
onjupiter – Spawns you in your last map and every pickup and lightsource slides down
popthecorn – Spawns you with corn in Green Acres
recyclethetower – unlocks Tiny Bridge + Hyper
spoopyseason – Spawns you with Ramba/Mortaccio/O'Sole/Yatta in Bonezone
List of All Spells (Cheats) in Vampire Survivors Legacy of the Moonspell DLC
chevolano – Gab'Et-Oni and Mille Bolle Blu
elamadonna – Megalo Menya
ionicoionico – Mccoy-Oni and 108 Bocce
itsnotaneclipse – Syuuto and Summon Night vogue – Onna and Mirage Robe
shounenheroine – Miang and Silver Wind
takeashower – Megalo Syuuto and Night Sword
youngatheart – Menya and Four Seasons
Spells (Cheats) in Patch v 1.3
gottagofast – Unlocks Chaos Malachite relic
recycletheforest – Unlocks Bat Country + its Hyper mode
tengillesbalm – Unlocks Apoplexy relic
Conclusion
This was all for the guide on the list of all spells (Cheats) in Vampire Survivors DLC: Legacy of the Moonspell and Tides of Foscari for June 2023. We hope that with the help of this guide, you were able to know about all the cheats and secret codes in Vampire Survivors. In this guide, we have also mentioned about how you can unlock the secret menu in the game. So, if you don't know then make sure to read the full guide.
Also, if you have any queries or questions, then feel free to mention them in the comments section below. So that, we can help you in solving those questions and provide you with a helpful guide on them. Moreover, for more such helpful guides on Vampire Survivors, do check out our website.