Many users report that macOS Sonoma does not recognize external monitors after updating. There have been issues with various third-party external display brands, including LG, Dell, Samsung, BenQ, etc. So, if you are facing this issue, then you are in the right heaven as we have some fixes to this issue. Therefore, if you want to resolve this, make sure to read and apply all the fixes one after the other. So, let's get started with the guide.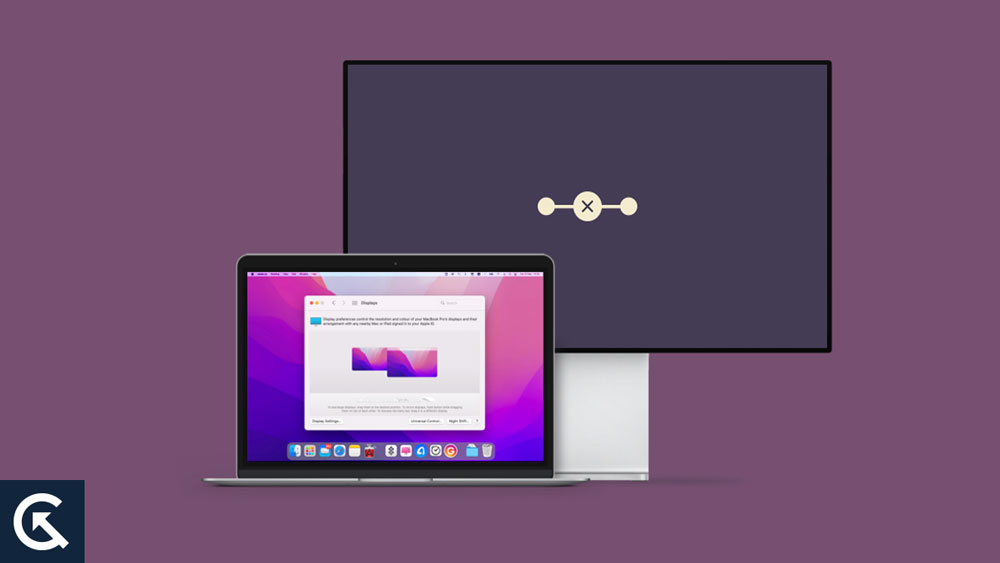 What to Do if Mac Doesn't Recognise External Monitor
It may be necessary to check if your Mac isn't recognizing your external monitor by checking whether cables or adaptors are damaged or if cables are loosely connected, checking the external monitor display settings and unplugging and replugging cables until your Mac is able to recognize the monitor.
Fix 1: Restart Your Mac Device
Using a simple hack, you can restart your computer to fix the macOS Sonoma update problem. Hopefully, it will solve the problem in a few seconds. In the drop-down menu of the Apple icon, click Restart. When the screen freezes, you can force the system to restart.
You can force the system to restart by pressing and holding the power button until it turns off. Once it has been powered on for a few seconds, press and hold the power button again. If the App Store needs to identify which processes need to be updated, restarting the system can be helpful.
Fix 2: Reset SMC
In case your Mac does not have a T2 chip, follow the steps below.
Shut down your Mac first – Click on the Apple logo and click on Shutdown.
For 10 seconds, hold down shift, control, option, and power buttons.
When you have waited 10 seconds, release the buttons and turn on your Mac by pressing the power button or touching the id.
You can use this method to reset your SMC if you do not have a T2 chip in your Mac.
Fix 3: Sleep and Wake Up your MacBook Pro or air
When your Mac goes to sleep, click on the apple logo in the top corner and then click on the sleep option. If your macbook pro or air has a trackpad or keypad, click on it and wake your machine after 30 seconds.
Now, check your external monitor with the mac display. It should work properly. In some cases, using the sleep and wake method will fix your issue of mac external monitor not working after an update, but if that doesn't work, you can try other methods.
Fix 4: Check Cables and Adaptors
Whenever you connect your mac to an external monitor, you might experience problems with the external monitor not displaying or not detecting properly if the cables and adaptors are damaged or loose.
Fix 5: Detect External Display
Click on the Apple logo and then on System Settings.
From the left side menu, select Display.
Place the detect display button in place of the night shift button by holding down the option key.
When Detect Display is displayed, click on it to wake it up.
The issue of the external monitor not being detected or not recognising will be solved once you detect and wake up the external display on your mac.
Fix 6: Reset SMC For MacBook Pro or Air With T2 Chip
Using the Apple menu, select Apple logo > Shutdown > Wait until your Mac shuts down.
You must hold down the Control + Option + Shift keys for 10 seconds before you can select touch ID or power button.
Wait for your mac to turn on after 10 seconds, then turn it on after 10 seconds.
Fix 7: Change screen resolution
If your external monitor does not scale well on macOS Sonoma or you want to customize the screen resolution, follow these steps:
Select System Settings from the Apple menu.
Press the Option key and select "Large text" or "More space."
Now, you should be able to choose from a variety of resolution options.
Fix 8: Update your Mac
Macs that don't detect external displays could also be a result of bugs in the current version of macOS. It is possible that the bug has been fixed in a newer release. If there is a new update available for your Mac, make sure you install it.
MacOS Sonoma not detecting external monitors can be fixed by checking for updates under Apple menu > System Settings > General > Software Update.
Fix 9: Update the hub driver or software
It is very likely that the driver for the USB hub or adapter that you use for your monitor does not work with the updated macOS yet, which means that Macs are not able to detect external displays on macOS Monterey, Ventura, Sonoma and other recent versions.
To see if a new driver or software is available, you should check the official hub website or the support page, such as DisplayLink Manager Graphics Connectivity (1.6). If there is an update for the driver, install it. MacOS Sonoma users may also find this useful in the event that the "Detect Displays" button does not appear.
So, that's all we have for you on how to fix the macOS Sonoma Not Detecting External Monitor. It's our hope that this guide has helped you. In the meantime, in case you need more help, comment below and let us know