Obviously it's different.
One of the most interesting new features of iPhone 12 and iPhone 13 is MagSafe – a magnet ring and wireless charging up to 15W. Including the upcoming iPhone 14 will certainly have these features. It could enable a whole new ecosystem of accessories including, stands, wallet cases, etc.
Lately, I've seen a lot of third-party accessories on Amazon that are advertised as "MagSafe Compatible," but you should be aware that this may not be the same as an actual officially licensed MagSafe accessory that Apple calls "Made for MagSafe." You should know that "MagSafe Compatible" is not MagSafe. Most of them are Magnetic.Let's look down.
"MagSafe Compatible" is usually just magnetic.
Many iPhone accessory manufacturers on Amazon place a ring of magnets when producing their wireless chargers. This is what most accessories labeled as "MagSafe compatible" are. But it is not the same as 'Made for MagSafe'.
Take the portable and simple Pexxus 3-in-1 magnetic wireless charging stand Although there is no 'Made for MagSafe' in the name, it is usually advertised as "MagSafe compatible". However, there is no 'Made for MagSafe'. It can make your iPhone 12 13 Pro/Max/Mini series stable suction on it, even if there is a phone case it will not affect, of course, there will still be thickness requirements.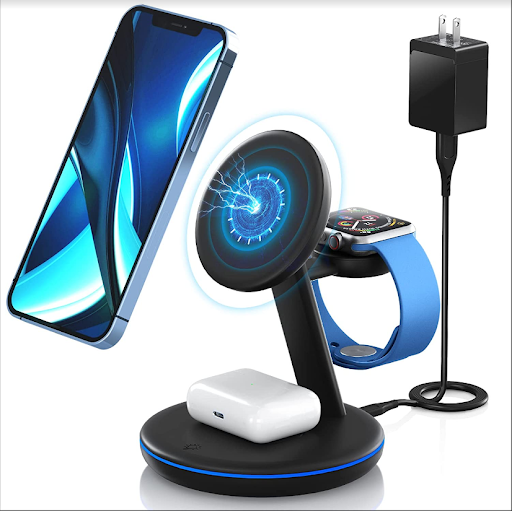 It looks great,also you can charge 3 devices at the same time.
You can call it'MagSafe compatible'
Source: PEXXUS
This is a solid Magnetic Wireless Charger. It charges quickly and continuously. Although it is not 'Made for MagSafe', it does not affect its own advantages.
What is the real MagSafe like?
MagSafe is a series of magnets placed around the iPhone 12's internal charging coil that senses other compatible accessories and aligns perfectly and securely in place. MagSafe will only connect to other accessories that are compatible with it, so there's no need to worry about other magnets interfering with or sticking to your phone.
True MagSafe devices incorporate a magnet ring that securely attaches your iPhone to the single-wire NFC antenna,Yep,just like Apple Magsafe Charger.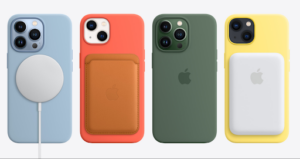 Apple officially authorizes MagSafe Charger.
You can call it'Made for MagSafe'
Most 'MagSafe-compatible' wireless chargers on the market are still slower than Qi wireless chargers.
While Apple's proprietary MagSafe section allows the charger to reach 15W capacity, all third-party modules are limited to 7.5W, which falls short of fast-charging standards.
Qi is the international standard of wireless charging, and the group called "WPC" (Wireless Power Consortium) is conducting specification development and promotion. First of all, let's introduce representative types, principles, and specifications of wireless charging. Choosing a Qi wireless charger is also a good option if you feel that most 'Magsafe Compatible' wireless chargers charge slowly.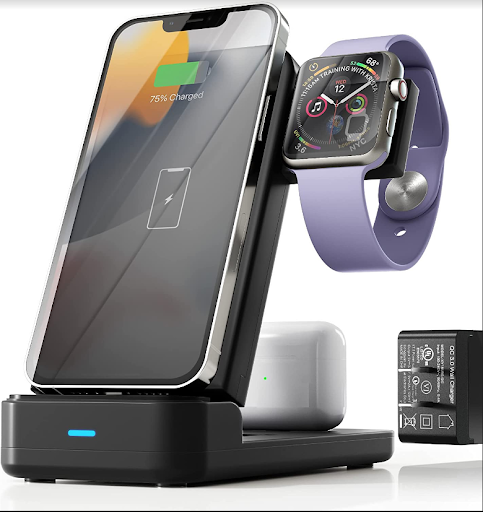 PEXXUS 3 in 1 Foldable 3 in 1 Wireless Charger Station,QI Enabled
Source: PEXXUS
Which one should you choose? 'MagSafe Compatible' or 'Made for MagSafe'?
Choose the 'Made for MagSafe' accessory if you're looking for a product that charges faster, or that involves Find My compatibility, such as Apple's wallet.
If you're into a wireless charger that can hold multiple devices to charge at the same time, and the price is what you want, it's the best. Even though it is not marked as 'Made by MagSafe', it can compete with 'Made for MagSafe'.
"There are a thousand Hamlets in a thousand people's eyes."–W.William Shakespeare