'Gigaset restarting and freezing problem' is one of the few problems that Gigaset users have reported on GetDroidTips. This is the reason why we chose to provide a complete list of all the problems that you might address with your Gigaset smartphone on our website and this restarting and freezing problem is one of them. It can occur due to many reasons and thus, we have curated the list of fixes keeping all the issues accounted so that whatever the reason would be, you will be able to get it to fix using these methods that you can use.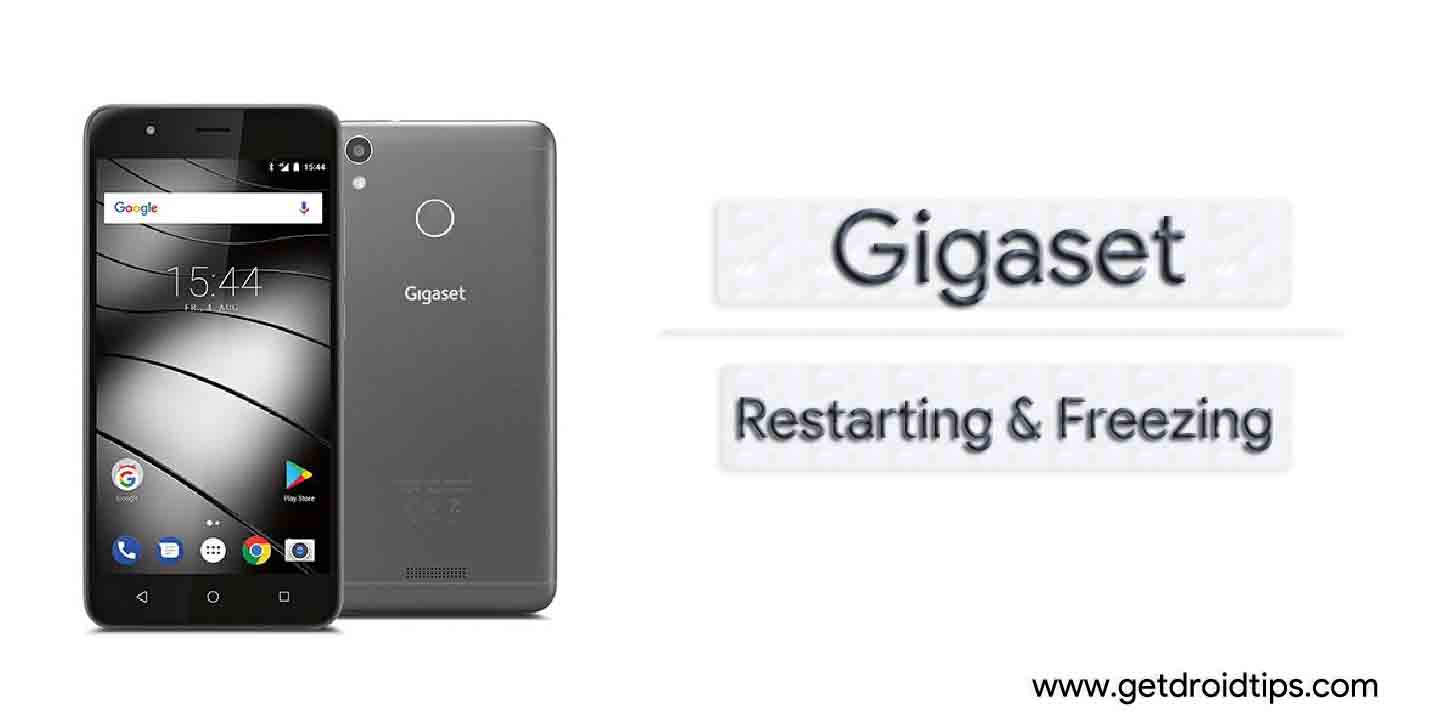 Restart the device
The phone is freezing too frequently or restarting itself abnormally or randomly, simply restart the phone. You can either select the reboot option when a dialog box appears after you long press power button or you can either tap on power down button so that the phone remains shut down for some time. Further, you can boot up the phone by pressing the power button for some time that must do the magic.
Stop all the applications
What to do if the screen is freezing or crashing too much? I must suggest you stop all the applications that you are using and those running in the background. The fact is, apps consume resources and the system suffers resource crunch when there are too many processes running simultaneously and therefore, it is ideal to release this hoarded memory by stopping an app for a moment. You can check out the recent list to close all the recent apps. You can also proceed to 'Settings >> Apps >> Running' to force stop apps that keep coming up repeatedly.
Scrutinize for app conflicts
It is a common sight that a new app is obstructing an older app or vice versa where it is actually creating app conflict. If the apps have been crashing too often after you downloaded a new game or app recently, get rid of the app or game immediately and verify if it makes any difference or not. If not, try uninstalling the app in descending order that is from new to old until you find the affected app.
Diagnose in safe mode
Similar to how you would scrutinize the phone for app conflict, you can dive into the safe mode to detect whether the problem is caused due to a pre-install app or third party app or even hardware components associated with the working of the phone. The method remains different from model to model since many smartphones simply have to press the power button and then select the mode to boot while others will have to press both power button and volume down button for few seconds to get started.
Uninstall apps that you no longer need
Even if you have a 64GB internal storage smartphone, what good does it makes having installed tens of apps in which, you barely use one? Thus, you must get rid of unwanted apps from the system or at least disable them so that they remain available on your phone but stay inactive when not in use. You can always reactivate the apps and disable them again as per your preference.
Check if the internal storage is deficient
If we are talking about of Gigaset restarting and freezing problem, no doubt internal storage can play a vital role. The ROM or better known as internal storage is where you can store all the photos and videos and apps with related data. But when you have low internal storage, the phone will behave inappropriately and therefore, it is recommended to free up the internal storage at least 1GB. For reference, you must free up the internal storage at least 1/1.5GB if you have a 4/8/16/32GB internal storage while for above 32GB of storage, you must keep 2/2.5GB empty allowing it to process smoothly.
Clear RAM
RAM or random access memory is used by the phone as a temporary storage unit until the app is running and then, the data is sent to internal or external storage to save. Now, you know that smartphones have limited RAM which is mostly 1GB/2GB and since smartphones are advancing now, there are 3GB to 8GB RAM options too but those are either for expensive or new smartphones which aren't applicable to all budget and mid-range smartphones. Thus, clearing the RAM used by apps is crucial as it frees the memory and optimizes the phone to work smoothly.
To clear RAM, open Settings and proceed to Apps.
Slide to 'Running' section and force stop the app. That must free the said RAM temporarily.
Wipe out cache files
To summarize, cache files are actually temporary data files created and stored by the system in order to process an app or service with less retrieval time. Although cache files work in system's favor, it is also related to corruption as these files can easily get corrupt or they can attract bugs that can render the app or system as whole useless or temporary knock it down. Therefore, it is highly advisable to delete cache files at least every day or alternate days to keep the system's performance at an optimum level.
Now, there are basically two types of cache files that are storage and app cache which has distinct procedure to delete it.
To delete storage cache, you'll have to go to Settings.
Open Storage and scroll to Cache Memory and delete the same.
To delete app cache, you'll have to follow this procedure for each individual app that you want to get rid of the cache files from but restrict it to those apps that you downloaded and not system apps.
Open Settings and proceed to Apps.
Now, you need to scroll towards Downloaded app list and click on any app that you wish to be optimized.
Tap on 'Clear Cache' and 'Clear Data' that will do the job. Repeat the procedure with all other downloaded apps to free up cache files.
Update all the apps installed
It is crucial to get all the apps installed on your phone updated. Although it is a default setting that app update automatically, calls it an error or something a user does, the auto-update is disabled. This leaves apps outdated since only a few people would actually care to go to the Google Play Store >> My apps and games >> Installed to check out available updates and perform it. It is better to update all the apps from time-to-time and if that's not possible, leave the phone on auto-update and that's all. You'll get the option to perform auto-update in the Play Store.
Upgrade/roll back firmware
Updating an app is imperative and updating the firmware is more crucial since it acts as a backbone for all the apps and other components to work properly. Thus, you must update or upgrade the Android OS whenever available. If you haven't received any update for a while or if the phone is out of support, you can choose to roll back or install a custom ROM that must do the job as well.
Perform overhaul to fix the issue
Restoring the phone to its original factory settings could possibly fix any bugs and issues that you have been facing off lately but remember, it is a factory reset and literally means that all the data ever stored on the phone will be erased. Thus, take a backup of the data first and then proceed.
There are basically two methods you can perform factory reset that is using the Settings app and other is through recovery mode. The non-invasive method requires you go open Settings app on your phone, navigate towards 'Backup and Reset' and select 'Backup' to take one. Now, you need to tap on 'Reset' button and enter the PIN or passcode that you use to unlock the phone and finally, click on 'Reset Everything' and that is all. This will restore the phone right away.
Another method revolves around booting into the recovery mode which you can enter by pressing the volume up and power button together for few seconds and then, releasing it when the Android logo appears on the screen. This will allow the phone to boot into recovery mode bearing the option to perform a hard reset. Once you are in the recovery mode, you'll need volume rockers to toggle across the menu and power button to select an option. Here, you need to select 'wipe data/factory reset' first and then 'yes – delete all user data' to confirm and there you have it.
Wipeout cache partition
If you want to wipe out the cache partition, you'll have to log into the recovery mode for which, the steps were explained in the previous method as well. Now that you have booted into the recovery mode, you'll need to select 'wipe cache partition' and 'yes' that concludes the procedure. Once the system has cleared cache partition, you can restart the phone to verify any difference.
Get help from the smartphone manufacturer
Still struggling to solve the problem? It's time to seek help from the smartphone manufacturer or its partnered service center to get the problem fixed. Note that you also report to a third party service center which is comparatively less expensive, however, involves risk of voiding the warranty period if you have and thus, must be refrained from if you want to preserve the warranty but want to fix the problem as well.