When it comes to restarting and freezing problem, countless reasons could apply since there are a number of factors that can affect the phone's reliability in terms of allowing the users to use the touch screen which is a no go in terms of screen freezing problem or when the phone restarts abruptly where all the details are lost and since it is abrupt or say random, you would never know when your phone will restart at any given time that will affect the phone's productivity and performance as well. This is the reasons why we at GetDroidTips received a tonne of request to resolve the said restarting and freezing problem on Highscreen android smartphones so here's a details troubleshooting guide that you must follow to the end.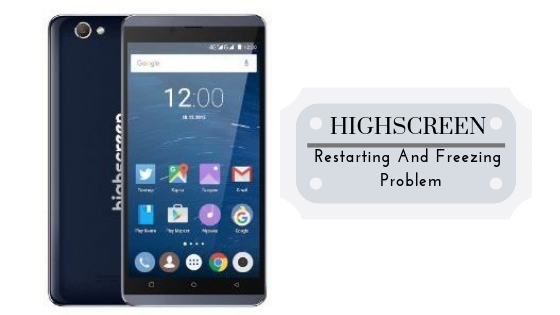 Methods To Fix Highscreen Restarting And Freezing Problem
Rebooting the system
Starting with this most advised method, rebooting the system will get you out of any software-related hassle because it works and it is effective in many cases. This is because the system gets overloaded or overwork when there too many things going around. This can actually cause the system to fail abruptly either causing a random restart or the screen could freeze just like that which means all your work is unsaved and since it requires a reboot to get it working, you wouldn't be able to save any work. Anyhow, you must reboot the system simply by pressing the power button and selecting 'Power Off'. Next thing to keep in mind is that if the screen is frozen, you can actually use both power plus volume up or down button to pull a force reboot that must do the job for now.
Close out all apps & services
Apps are a massive undertaking on a smartphone as these programs allow users to do stuff that would otherwise wouldn't be possible with a phone such as making million dollar transactions or talking to someone living thousands of miles away, etc. However, when you feel as if the screen could freeze which is ideal when the system has to work out with too many apps for a longer duration, you must purge all apps and services in use. It includes both background and foreground apps that you find under Settings → Apps → Running. Next, drag down the notification panel and you'll see all the ac.
Stop Google Play Services
Google Play Services is actually a service that enables all the apps pre-installed by Google's Android on your device. This app that you'll find listed under Settings >> Apps >> All >> Google Play Services consume a lot of data and creates abundant cache files that can go awry if corrupted. This is why we included this method in this guide where you can follow the method prescribed below to retreat to this app and press 'Clear Data' and 'Clear Cache' to do the same.
Get rid of unwanted launchers
The Android platform allows you to be creative and change the appearance of the device using launchers that mimic the interface of other OSes or skins such as OxygenOS, etc. However, most of the launchers may perform well but they execute issues with the phone as well. Most of the time when you press a number of buttons at once, it will freeze and eventually land onto the default launcher and this happens repeatedly whenever the third-party launcher is not able to execute tasks provided. This could trigger the screen to freeze as well so the solution here is to simply uninstall these launchers.
It's time to fix the app loopholes
AS said multiple times, we use apps to do a varied number of tasks and without it, the task wouldn't be plausible. However, it is common for users to install plenty of apps even though some of them wouldn't even open for the first time.
You already have a bunch of bloatware installed and then comes third-party apps which means the system has to impart resources to each app in use. This could trigger restarting and freezing problem without fail if too many apps are accessing the resources at once. The solution is to get rid of unwanted apps simply by uninstalling them via Settings tool. On the contrary, bloatware can be disabled if not uninstall via Settings → Apps → All where you find out bloatware that you won't need and disable it.
Remove memory card
No doubt that memory cards are efficient in storing tonnes of data in a chip that you can place on your fingertip. Even though these memory cards are efficient, the data could get corrupt due to a number of reasons. This could cause the smartphone to suffer since the card is still strapped to the phone and it is constantly transferring data or attempts are being made to retrieve data but to no avail. Just remove the memory card once and check if the phone works or not.
Are you using the original charger?
Unless you are using a not-looking-damaged original charger, the restarting and freezing problem that we are discussing here could be a result of using a third-party or incompetent charger that you bought or borrowed. Have a look if connecting the charger and screen freeze occur at the same time which is a clear indication that the charger is to be blamed. If it happens even with an original charger, either verify the fact by replacing the charger for reference or seek help from a service center.
Poor internet connection can trigger it too
It may not be directly related but poor internet connection can result in a sluggish and poor performance by an app which is dependent on the internet such as YouTube or PUBG, etc. This could trigger either of the restarting and freezing problems in some cases which is why we usually add this method along so that you can know.
Update all the apps/firmware
It is a common sense that outdated apps the firmware itself is problematic as it is vulnerable to bugs and malware and can easily get corrupted or can endanger user's privacy, security, or steal valuable and sensitive data and whatnot. This is why app developers send out updates every month or so that helps them strengthened walls against any potential intruders, fix bugs that could be exploited by bad actors, etc. The same goes for the firmware i.e. Android OS although it doesn't receive updates often and could end up receiving just one update a year or slightly more.
Clear cache & data
To put an end to the miserable Highscreen restarting and freezing problem, you must clear all types of cache files stored on your phone. It is quite reasonable that cache files are related to the problem in some way which is why you must do it.
Storage Cache –To clear app cache, open the app drawer and select the 'Settings' app where you must be able to see the menu. Search for Storage and tap on it and scroll again to search for 'Cache Storage'. Tap on it will give you a prompt to delete storage cache so follow through.
App Cache – Next method involves deleting 'app cache' which is a redundant procedure as you will have to repeat it for all apps listed. For that, you must retreat to the Apps section under the Settings app and scroll to 'Downloaded'. Now select an app and press both 'Clear Cache' and 'Clear Data' from the given menu and you are done. Repeat the same with other apps listed under the Downloaded section.
Wipe cache partition – This will remove any left traces of cache and junk files from the system as a whole. For this, you need to retreat to the recovery mode where you need to spot and select 'wipe cache partition → Yes' and let the system do the rest after which, you can reboot and check out if the problem is averted or not.
Wipeout storage to make room for more
As we are talking about restarting and freezing problem, you must know that lack of free memory in the internal memory can toss the system out of its daily work. The thing is that apps require resources to operate and it uses both storages as in ROM and temporary storage as in RAM to do stuff that wouldn't be possible without the apps.
However, with smartphones getting advanced, we are installing more apps that we should. It isn't a problem for smartphones with tens of GB of internal memory, however, it is a massive problem for smartphones that have 4GB, 8GB, or even 16GB of ROM which is budget friendly apps. You need to make sure that at least some part of the ROM is free to ensure proper working of the smartphones. However since the ROM is low, one can use memory cards to extend the storage and free up internal one for apps to work around freely.
Perform a hard reset on your device
You need a backup of all data including photos, videos, contacts, etc before going through with it in case if the problem is still intact. Here's how you can go through with it.
Step 01: Doze off the device simply by pressing the power button and power it off.
Step 02: To initiate boot up process to enter into the recovery mode, you need to press power + volume up buttons together simultaneously and hold it.
Step 03: If done right, the device will vibrate and turn on showing an Android logo on the screen which is when you let go the buttons or else repeat from Step 01.
Step 04: Amidst menu, you need to select 'wipe data/factory reset → yes — delete all user data' to conclude the process.
Step 05: Tap on 'reboot system now' to finally give it a restart.
Seek for help. literally!
It is not advisable to take a screwdriver just to check what's wrong with the electronics by dismantling the device. Neither it is right to do something that might cause harm to the software or the device as a whole using hacking or programming unless you know what you are actually doing. If you are still facing the same Highscreen restarting and freezing problem even after undertaking all the necessary troubleshooting methods that we have prescribed above, it is time to call in the big guns i.e. an actual professional that you'll find at a third-party or authorized service center.