It's not a common happening that your phone restarts itself randomly whilst doing a task. Another resonating issue is when the screen freezes and doesn't allow the user to tap or do anything on the screen. Both these issues are classified as Realme restarting and freezing problem since we are contesting an explicit guide to fix the issue only for Realme smartphones only but you can check out a wide range of smartphone brands on GetDroidTips. Here we go.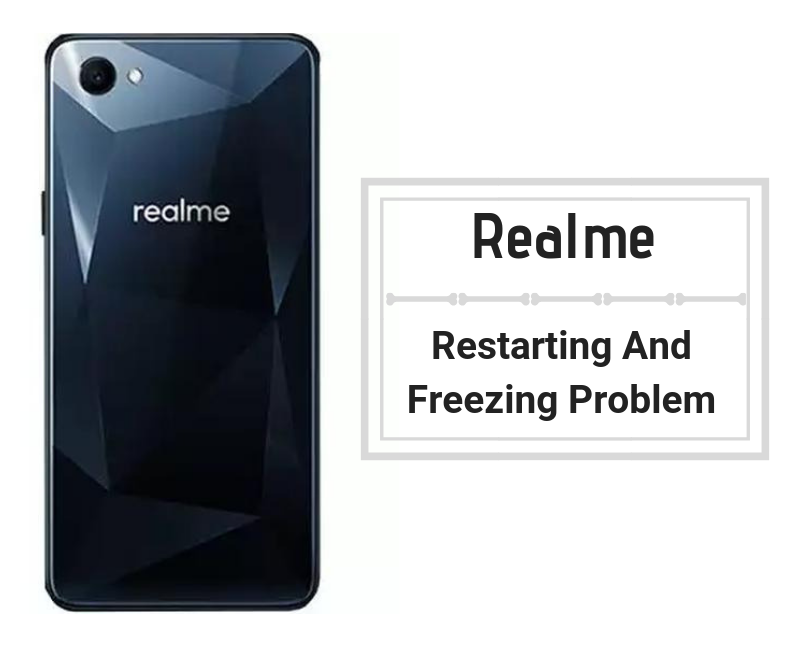 How to fix Realme restarting and freezing problem?
Restart the smartphone
It's the basic method to fix any software glitch or network-related problem. It is as simple as it sounds. Simply long press the power key and power off the phone. Wait for few seconds before restarting the phone and there you have it. Expect the phone to work fine but do not leave it idle but employ some of the methods mentioned below to prevent the screen from freezing again or random restarts as well.
Free up internal storage
Most of the time when a user is facing Realme restarting and freezing problem, it is mainly due to populated apps and corrupted cache and storage so let's tackle it one-by-one. First of all, internal storage is used by apps installed in the phone and thus, there must be a fraction of storage left alone because storing files to the fullest would result in slowing phone's performance and app crashes. As per recommended, you must keep at least 500MB to 1GB in a 4GB ROM smartphone, 1GB to 1.5GB in an 8GB ROM, 1.5GB to 2GB in 16GB, and so on. Although these are escalated figures, it would help in maintaining the optimum performance of a phone.
Limit the number of apps in use in real-time
Android OS allows opening and using several apps at once. But how many apps should you use at any given time? Well, if you have a 6GB or 8GB RAM, 15 or more apps simultaneously opened wouldn't cause any problem. But since Android smartphones are widespread in terms of configuration, a phone with 1GB RAM would suffer performance anxiety if 4 or 5 apps are open at the same time. Thus, it is recommended to close apps when finished working with to relieve the phone from unwanted excessive strain.
Uninstall or disable unwanted apps
As said, the more the apps, the bigger the problem is on an Android smartphone. Perhaps it is ideal to get rid of a few unwanted apps that we all have on our smartphones. Note that you can uninstall a downloaded app simply by proceeding towards Settings >> Apps >> Downloaded and then, uninstall those apps that you don't need. On the contrary, pre-installed apps aren't meant to be uninstalled but you can always disable them simply by going through Settings >> Apps >> All and tap on 'Disable' button.
Boot into safe mode for diagnosis
You can boot into the safe mode by turning the phone off. Now, press power button to restart the phone and just when the phone vibrates to turn on, press both volume up and down keys together and that must guide you towards the safe mode right away. Once you are in the safe mode, check if the phone is working properly or not. If yes, the problem is definitely a downloaded app so check and uninstall a recently downloaded app. But if the phone works the same in safe mode, it could be a pre-installed app or a hardware issue that you'll have to fix. Follow the last method to uninstall a pre-installed app while a hardware issue requires an authorized service center's help.
Wipe out all app-level cache files
Apps and processes use RAM for temporary storage of data which is then saved as cache files on ROM. Now, the problem with cache files is that it easily get corrupted and cause a lot of problems on a smartphone. It is often correlated to screen freezes and therefore, it is ideal to get rid of it. To clear app-level cache, you'll have to access the Settings app on your device and proceed to Apps >> Running. A list of apps will appear wherein you can tap on each app one-by-one and press 'Clear Cache' and 'Clear Data'.
Wipe out all storage cache
Another method to clear cache files (as there are many types of cache files), you'll have to retreat to Settings >> Storage >> Cache Files. Here, a prompt will appear on-screen that you can delete right away. Note that you'll notice a sudden change in the phone's performance, therefore, we recommend users to employ it at least once every day.
Wipe cache partition
After clearing app cache and storage cache, it's time to clear any files left in the cache partition. You need a specific process to enter the recovery mode from where you can wipe out cache partition without any hassle.
First of all, turn off the device.
Now, press power key + volume down button together for several seconds to boot up the phone in recovery mode.
Once you see an Android logo, you can release the keys and wait for a second and that is where you have entered the recovery mode.
Remember that you need to press volume rocker to toggle across menu while a tap on the power button will initiate command like 'OK', 'Confirm'.
Finally, select 'wipe cache partition' and then, 'yes' and bingo.
Check for viruses/malware
In the age of the internet, viruses and malware threats have escalated with millions of people getting hit every year. Although the virus or malware on your phone might not steal your valuable data, it could render the phone useless if programmed as such. This is why you need to scan the phone for any virus or malware or other threat that hackers can use to exploit the phone and render it useless or problematic.
Third party apps that optimize system
A lot of apps are available on Play Store that helps with optimizing the system performance and clearing cache files without any hassle. Simply search for it on Play Store and get help from Google to get the latest apps.
Update all the apps installed
Apps on Android OS receive updates almost every month or on alternate months. An update brings bug fixes, security patches that strengthens the app against any threat and bug or backdoor that was discovered by users or developers. On the contrary, an outdated app lacks such a resistant against any foreign threat while he/she is steering away from new features that were released with the new update as well. Therefore, it is ideal to update all the apps on your phone using the Google Play Store or at least leave them on auto-update so that they can update themselves when connected to a wifi network on the go.
Get the latest OS update/custom ROM
An Android OS forms the foundation for interaction between physical hardware components and software programs, apps, and drivers. Since the outdated app can cause a slew of problems, an outdated OS could have a far-reaching impact on a smartphone too. Therefore, it is highly recommended to get the phone's firmware updated to the latest version available. If there's no update available for a long time, users can always go for custom ROMs that are freely available online.
Perform a restore factory
A restore factory would erase all the data ever saved on your phone permanently and irreversibly. You can take a backup of wanted data beforehand. We already explained to you how to enter the 'recovery mode' in the last 'wipe cache partition' method. Follow the steps below to continue.
You need to select 'clear data/factory reset' from amidst the menu.
You can confirm the selection by tapping on 'yes — delete all user data' from the menu and it's done.
Get help from a service provider
Grab your phone and walk-in to an authorized service center and get the problem jigged up and fix. If your phone is under warranty, it might be able to pay for the premium itself, however, if your OEM doesn't cover the said damaged or defunct component under warranty, you'll have to pay for the repair or replacement charges. Note that a third-party service center is a cost-effective alternative, however, it isn't worth taking a risk of losing warranty cover.