Restarting and freezing problem on Symphony smartphones can throw all the work done off the rails. We are talking about two major issues that affect its performance i.e. either the phone will restart abruptly due to ongoing crash, conflict, malware, viruses, and whatnot while the major problem associated with a phone is the screen freezing problem that occurs mainly due to corrupted cache files, deficiency in internal storage, app conflicts, viruses, and malware and whatnot. Note that even using a third-party battery or charger can induce the screen to freeze which means these two problems could have many underlying reasons and thus, here is a generalized troubleshooting guide that touches each aspect of the problem trying to squeeze out a proper working solution so read along to know more.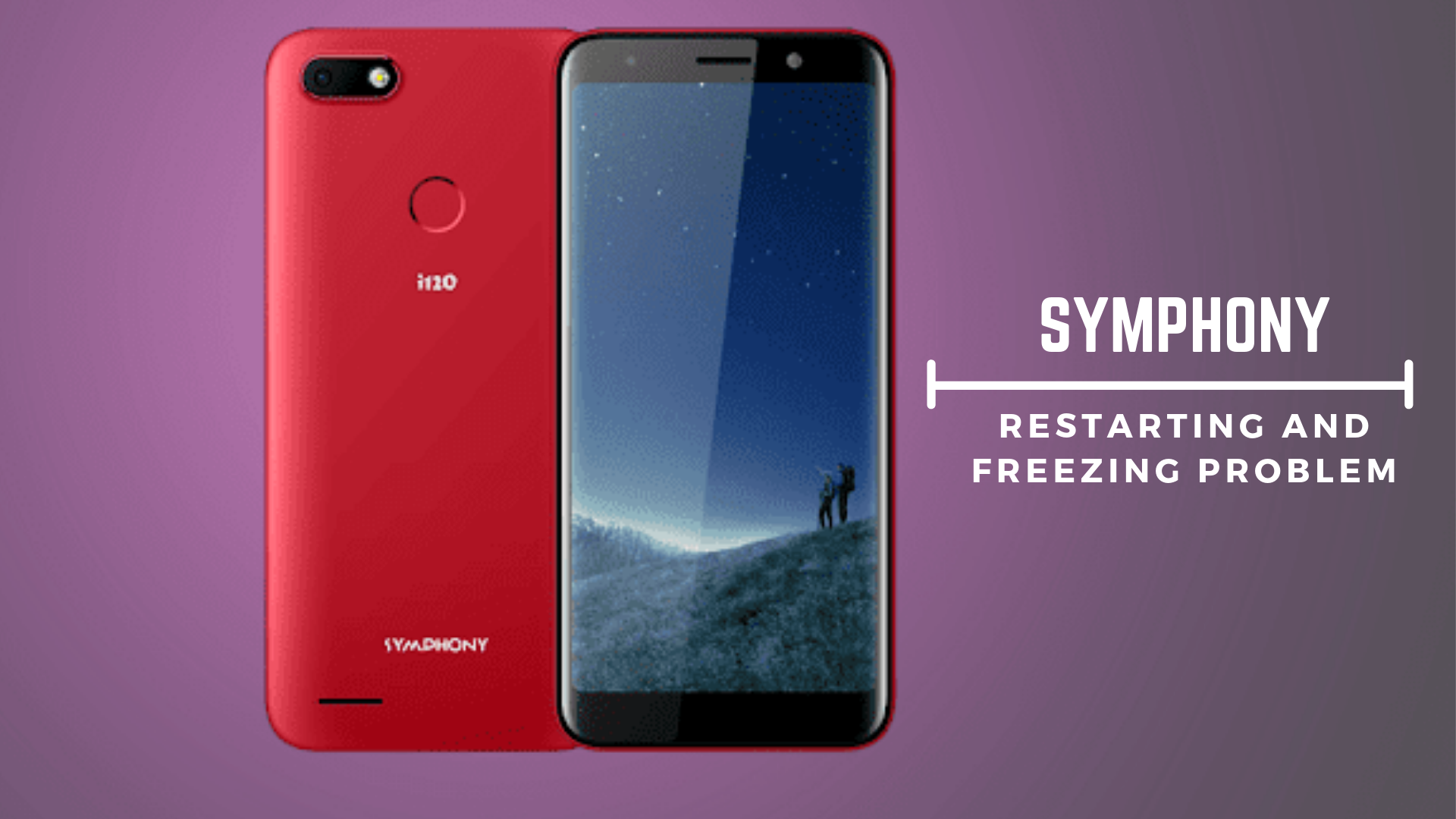 How to Fix Symphony Restarting and Freezing Problem?
Restart the Symphony smartphone
What's the first thing that comes to your mind when your phone is causing trouble? It is surely a quick reboot and since this method is extremely effective in a plethora of different issues including Restarting and freezing problem that we are discussing here, this method must fix the problem as well. Random restarts are a result of the system either facing a lack of resources or if it overworked where a reboot might help. On the other hand, if the phone's screen freezes whenever you tap on a particular feature, app, service, options, etc, you might not be able to reboot the system as the screen is frozen. For this, the forced reboot will help where you press both volume rockers and power button to put the phone in rest.
Purge all the applications
If you are using too many apps at once, this can add to the frenzy as apps consume resources including ROM memory, RAM, battery, and the inputs from processors, GPU, and other components involved. When the system has to do a lot of work, it would do so however up to a certain limit wherein it enters the critical level where it is overworked and would just restart the phone abruptly. Similarly, since apps consume a lot of resources and there is a limit to how much resource is available at your disposal, app crashes of system failure can put it into an unresponsive state where the screen literally becomes frozen and you aren't able to tap or do anything on the screen. To escape the clutches of these two major issues, it is recommended simply to purge all apps at once every now and then. Also, you must shut down apps when the work is done so that the resources hoarded by the said apps could be utilized somewhere it is required.
Remove all unwanted apps
Next thing you should do is to uninstall unwanted apps on your phone. This is because these apps are still consuming some resources while just lying still while some might even turn on in the background which causes resource crunch and other issues. This is why we recommend users to simply get rid of these unwanted apps including those that you might need at some point in the future because you can always download these apps from Google Play Store in a jiffy. Walk into the Settings and proceed to the Apps >> All section and single out those apps that you don't want and 'Uninstall' it one by one and this mustn't take much time.
Purge cache memory from your device
We are discussing the available troubleshooting methods to fix Symphony restarting and freezing problem and here, we cannot let cache memory simply go by. This is because these memory files are temporarily created, stored, and accessed by apps when you use an app on your phone. The cache memory helps retrieve an app faster than the first time because the system already has all the data it needs to load the app when needed. However, these cache files are stored on your device and are vulnerable to issues right from bugs that the system or the app could exploit if not fixed. It also instead vulnerability towards intruders, viruses, malware, and whatever you can ever think of which is why we ask you to simply get rid of it and here's how you are gonna do it.
Clearing App Cache
To delete app cache, open Settings.
Next, tap on Apps and proceed to 'Downloaded' section.
Tap on any app excluding system apps and press the 'Clear Cache' and repeat the same procedure for all apps mentioned hereunder.
Clearing Storage Cache
To delete storage cache, open Settings app on your phone.
Scroll down to find 'Storage' and locate 'Cache Memory'.
Long press on the said option will reveal a prompt asking whether to delete cache files or let it go.
Thus, select 'Delete' and proceed to the next method.
Wiping out cache partition
This one might be little completed as it involves booting into the recovery mode. Here's the procedure for your Symphony smartphone which may differ from other brands and you can use the same procedure in the factory reset method as well.
Step 01: Shut down the phone.
Step 02: Press power plus volume up buttons with two fingers simultaneously for a few seconds so that you don't accidentally release one of the keys before others.
Step 03: You can leave the buttons when an Android logo appears on the screen.
Step 04: Note that you must use volume rockers to scroll and power button to select unless otherwise mentioned on the top of the screen.
Step 05: You need to find 'wipe cache partition' from the given menu and this will delete the last traces of cache memory as well.
Make storage for apps and data
A lot of cases reporting restarting and freezing problem is due to improper maintenance of space on both internal and external storage (if available). Note that if you have internal storage of upwards of 32GB, you can store a lot of data without worrying much about storage unless your consumption is too high where you can extend the memory by using a memory card. On the other hand, when your system's internal memory is low such as 4GB, 8GB, 16GB or so, you need to worry about keeping the internal storage clear a bit because it will take a toll on your phone's performance if the storage is full.
It would also prevent apps from working optimally as these apps might find difficult to secure storage when needed. This is why we usually recommend users to keep at least some memory clear even if your phone has low internal storage. You can always use a memory card and Google Drive and another cloud-based storage system to extend the storage capacity.
Update the apps regularly
Since you have already removed unwanted apps from the system by following the method explained above, you must keep all the apps updated. Since app developers push out updates every other month or so, you must keep the apps updated as it will relieve you from any attempts by intruders exploiting its vulnerability, bug, or glitch, etc. This must resolve the problem right there. You can either update an app one-by-one or you can update all the apps at once via Google Play Store >> My apps and games. You can also tick the option that says 'auto update' letting the system update all the apps automatically.
Upgrade the Android firmware asap
You already know why and how updating apps might make a difference. The same rule applies for the firmware as well as it leaves the system strengthened against any vulnerability. You can check out available firmware updates via the 'Software Updates' section of the 'Settings' tool.
Restore factory
Note that before you can proceed with it, you must take a backup of all the data you won't risk to get deleted and proceed with the said procedure.
Step 01 to Step 04: Follow the said steps from the 'wipe cache partition' section wherein you will be able to access the recovery mode.
Step 05: Select 'clear data/factory reset' from among the various items in the menu and confirm by tapping on 'yes — delete all user'.
Step 06: You can reboot the smartphone once the phone is restored and set it up as a newly bought device.
Step 07: Keep a tab if the restarting and freezing problem pops in again and follow the last method if it does.
The last thing you would do is to call or book an appointment with an authorized service center where you can get the phone tested. The technicians are trained to detect any hardware or software related issue with the phone as you are complaining about restarting and freezing problem which isn't getting resolved even after you follow the above mentioned comprehensive troubleshooting guide. Note that here, you will have to pay certain charges if not covered in warranty while you can also move to a third-party service center as a cheaper alternative.