In this Minspy review, we'll take a closer look at the features that make surveillance unique and discuss how you may use it to keep tabs on the people in your life. It has plenty to offer everyone, from worried parents and suspicious partners to watchful employers. Given the abundance of Minspy reviews, it may be hard to find an unbiased one. Let's get to the point and cast an eye on the matter.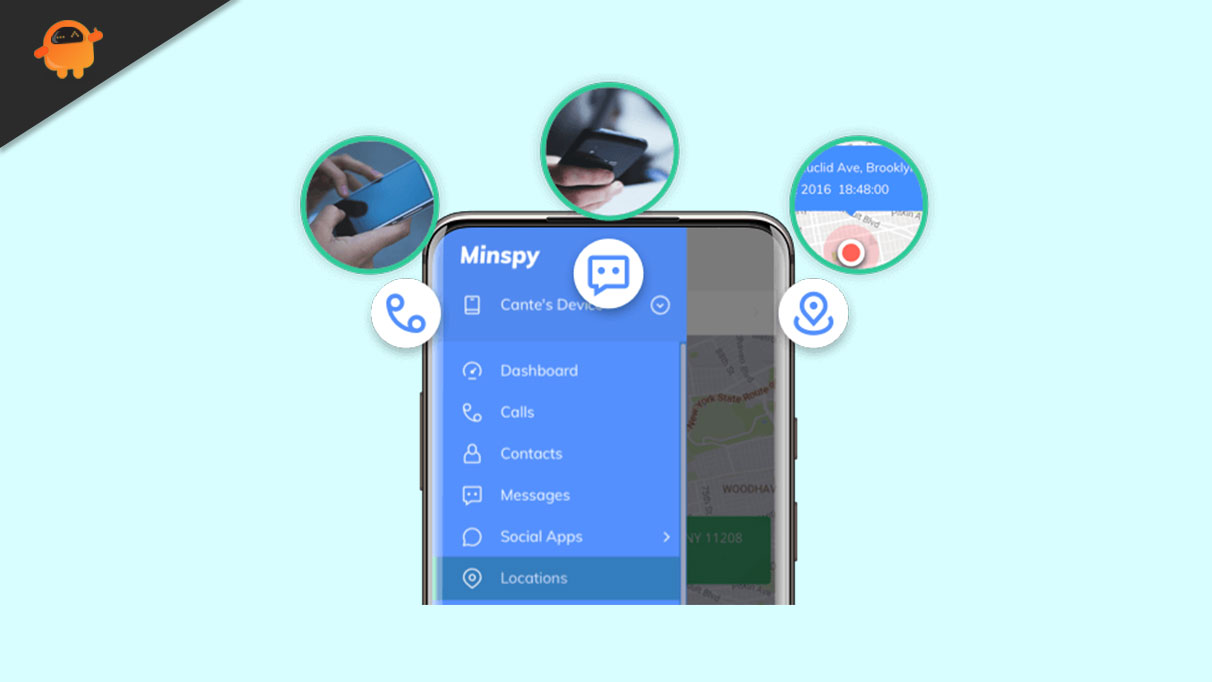 What Is Minspy App? Is It Worth to Be Considered?
Android app that may be used to monitor a device's activity in great detail. It has a lot of features letting you look after kids, employees, or whomever else you would need to keep an eye on. Minspy gives you complete access to the target device, including all of its data, such as call records, messages, social media accounts (Instagram, for instance), location history, and more.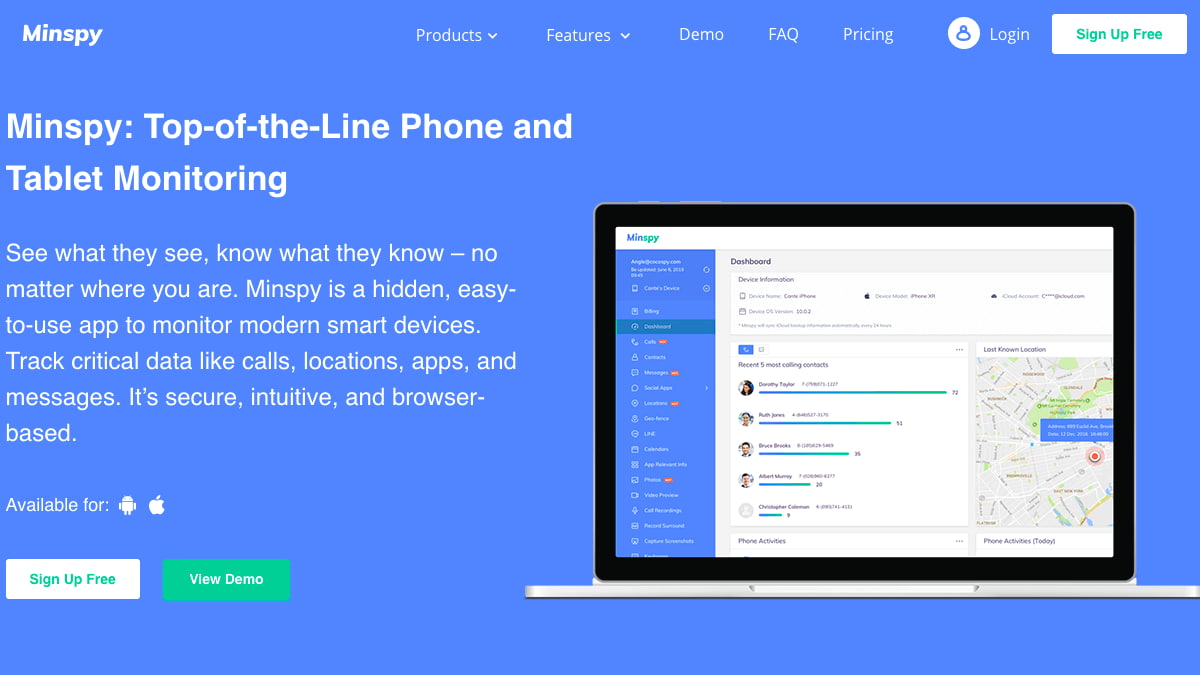 This representative of hidden spy apps for Android operates in stealth mode, so the target user never knows it is there. Minspy does not necessitate rooting your smartphone and instead provides a web-based interface that allows you to view information from any device, anywhere.
How Does Minspy Work on Android? Peculiarities to Know
The Minspy app works without rooting, which means it operates without modifying the Android operating system. This makes it easier to install and use it while ensuring the monitored device remains secure and stable. Here's how it works:
Sign up and select a subscription plan.

Sign up for software on the official website and choose a subscription plan based on your needs.
Download the Android spy app.

You'll receive a download link and installation instructions in an email. Now you need to download the apk file on the device needed and install Minspy.
Configure the Android spy app.

Once it is installed, configure it by following the instructions in the email. The setup process is easy since the process is intuitive.
Start monitoring.

Log in to your Minspy app for Android dashboard and start monitoring the target device's activities. The dashboard provides a comprehensive overview of all the data collected.
Minspy's Android Spy App Features
Having versatile functionality, Minspy for Android offers a wide range of features to help users monitor someone's activities remotely. This monitoring solution has gained fame as one that offers excellent opportunities at an affordable price. Let's look more precisely. Some of its key features include:
Minspy Phone Tracker to Catch the Main Info
The software is branded as one of the most effective and trustworthy Android phone tracking tools that enables you to monitor someone's cell phone activities remotely. With its advanced features, including GPS location tracking, checking calls, text messages, contacts, and much more, one may accurately track the phone's activities in real time without raising suspicions.
Browser Monitoring Tool
One interesting thing about the Minspy app is its browser monitoring. By leveraging this feature, tracking a phone's browser history is a breeze. It gives you access to website history, bookmarks, incognito sessions, and search history logging. Its discreet operation makes it an ideal choice for monitoring web activity. Checking out all this data is now possible, even deleted one.
Minspy Location Tracker
It is easy to keep tabs on your loved ones or employees with such an advanced phone location tracker app. Its state-of-the-art GPS technology and user-friendly UI make tracking a device's whereabouts simple. If you're a worried parent or business owner, have a piece of mind with the Minspy Android app. The data will be precise and instant.
Social Media Monitoring – View the Account from the Inside
Minspy Android app is an effective social media monitoring tool that lets you keep tabs on someone's online behavior across various popular platforms like WhatsApp, Instagram, Snapchat, etc. Ensure your loved one's security with its useful features, such as monitoring chats, viewing media files, and checking contact details.
Coming to Grips with Minspy Price: How Much Is Minspy Subscription?
The Minspy app offers flexible subscriptions, from monthly to annual plans, with discounts increasing with longer durations. Here are the major Minspy cost plans it offers to meet the unique needs of its customers.
Android:
Basic: Starts at $39.99 per month for 1 Android device and provides access to basic features such as GPS location tracking, call logs, and browsing history.

Premium: Starts at $49.99 per month for 1 device and includes more advanced features, such as social media monitoring, keylogger, and geofencing.

Family: Allows you to monitor up to 3 devices simultaneously for $69.99.
Features for iOS are the same in all subscription plans, and the distinctive feature is the number of tracked devices as follows:
Family: Starts at $99.99 per month and allows for tracking 5 devices simultaneously.

Premium: Starts at $49.99 per month for 1 device.

Business: Lets you track up to 25 devices at once for $399.99 minimum.
The Steps on How to Use Minspy
According to the manufacturers of this digital product, developers used the best techniques for convenience and ease of work with the service. The interface is user-friendly and does not cause problems with use. We tested this monitoring app, and the hype really paid off. Below we'll look at the steps of how to start using the software. You won't need any additional skills for this. It's all pretty simple.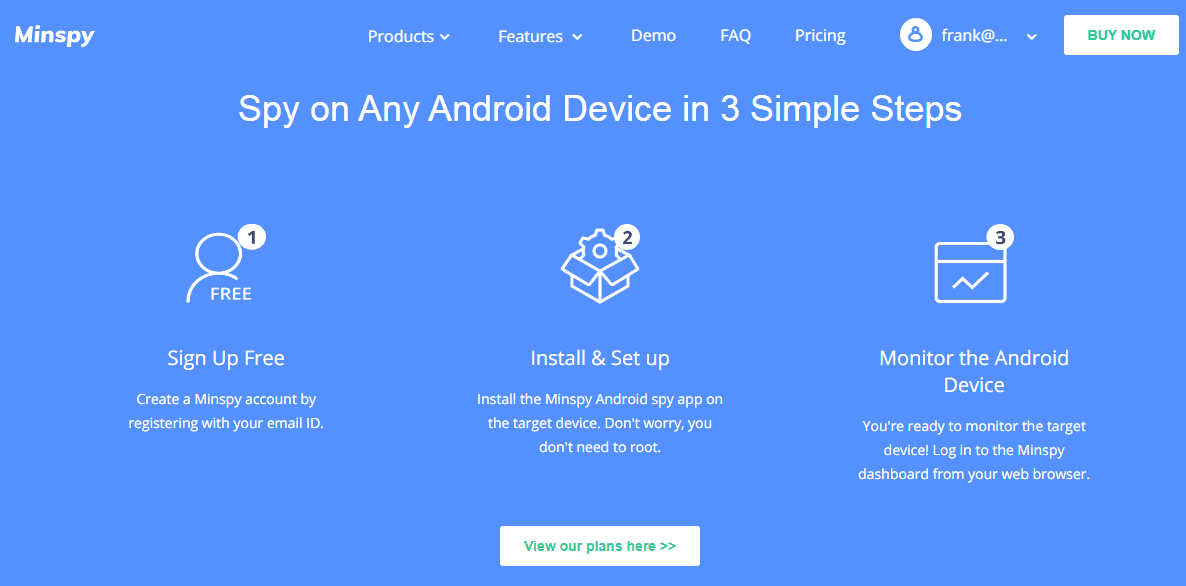 Here is a step-by-step guide on how to use the Minspy tracking app:
Step 1:

Create your account by visiting the website and selecting a subscription plan that best meets your requirements.

Step 2:

Provide the details of the device needed. This might include details like the phone's operating system (iOS or Android), phone number, or iCloud credentials.

Step 3:

Follow the instructions to download and install Minspy apk on the target device. This step could be different based on the operating system.

Step 4:

Once the app is installed,

log in to Minspy

account from any web browser to access the Minspy dashboard.
You're going to need very little time to start monitoring. When you are done setting up the device, access the Minspy dashboard from your device. All checkpoints will be displayed on the left. From there, you will be able to remotely monitor the device's activities, including calls, messages, phone location, social media platforms (such as WhatsApp, Instagram, Snapchat, etc.), and more.
You will easily track the person you need by getting detailed reports, including keystrokes, screen snaps, GPS coordinates on a map, timestamps, and much more. In addition, media files may be downloaded. Pay attention that features vary based on the OS. According to Minspy reviews, its customer support is competent and quickly responds to requests from customers.
Conclusion
In conclusion, Minspy is a reliable and feature-rich Android spy app able to monitor anyone's phone activities secretly. Its advanced, user-friendly interface, extensive monitoring features, and advanced tracking capabilities make it a popular choice among parents, employers, and people who suspect their partner is cheating on them.
FAQ
Is Minspy legit?
The Minspy Android app is effective, secure, and reliable. Tested by us. With it, you gain access to the real-time location of the targeted device. It also has advanced encryption designed to protect users' data. You may check out the platform's privacy policy to learn about spyware.
Is Minspy safe?
The providers have taken necessary steps to ensure the user's data is not exposed to third parties. This is done by employing the safest payment methods, encryption, and two-factor authentication to ensure maximum safety. Rest assured that the data of your child/workers are safe.
Is Minspy legal?
Yes, using the Minspy app is considered legal if you are employing its services for the right reasons, such as monitoring your workers' office mobile activities during work hours and notifying them about this or as a parental control tool for your kids' devices. Ensure that you go through your state's law before using Minspy.
Is Minspy free?
Minspy Android app is neither free nor offers a free trial. You must purchase a subscription plan to access and enjoy its full capacity. Nevertheless, it gives great features set for the fee required.
Does Minspy really work?
The Minspy app works effectively and provides real-time data on the target phone. Its ability to work on both iOS and Android devices is a significant selling point. If the tracked gadget is connected to the Internet, you have a decent chance of monitoring it effectively.
Does Minspy notify the other person when tracking is performed?
The Minspy app works covertly, preventing the person from becoming aware that they are being tracked. No alert will the user get that they are being monitored, so you may keep tabs on them without them knowing. Real-time access to calls, messages, and whereabouts without raising suspicions is possible.