Do you have a Netspendallaccess debit card? If so, then you have landed in the right place. Yes, here in this guide, we will explain everything about the Netspendallaccess debit card. So, if you don't know how to activate your debit card on Netspendallaccess, read the guide until the end to learn that. Therefore, let's get started with the guide.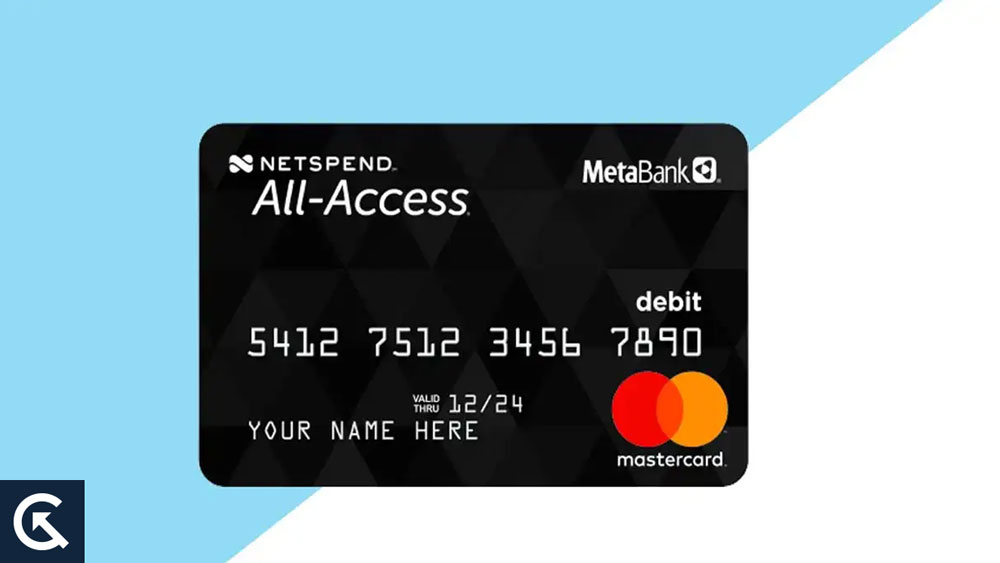 What is Netspend All-Access?
Netspend All-Access offers a seamless blend of the advantages of both prepaid cards and traditional checking accounts. Without delving into credit checks, it provides benefits like early direct deposits, an enticing high-yield savings option, and optional overdraft protection. With its user-friendly approach, it's an ideal choice for those navigating the challenges of poor credit, lack of credit, or previous banking setbacks.
Benefits of the Netspend All-Access Card:
Netspend All-Access offers a variety of perks tailored to fit the needs of various users, especially those with compromised credit or previous banking challenges:
No Credit Checks: You can set up an account without credit scrutiny, making it an excellent option for those with poor credit histories.
Early Direct Deposits: Access your paycheck or government benefits up to two days in advance compared to standard bank accounts.
Payback Rewards: Make the most of your debit card usage with cash back on select purchases.
Optional Overdraft Protection: This feature sets Netspend apart from many prepaid cards. If you overdraft by over $10, a $20 fee is applied instead of declining the transaction.
Purchase Cushion: With a qualifying direct deposit, you're covered at no extra cost for overdrafts less than $10.
Extensive ATM Network: Avail free services at over 32,000 ATMs within the MoneyPass network.
High-Yield Savings Account: An optional savings account with Netspend can yield an impressive 6% APY on the initial $2,000, and 0.5% on amounts exceeding this.
Virtual Cards: For enhanced online security, you can opt for up to six monthly expiring virtual cards, ensuring your primary card details remain confidential.
All these benefits underscore Netspend All-Access Card's commitment to offering a holistic banking experience.
How to Activate NetSpend Card Online
Upon placing your order, your NetSpend Visa Card will be mailed to you within seven to 10 business days. You will receive instructions in the mail regarding activation. So, let's check out the needy steps to do so:
Visit NetSpend.com/activate and click the Activate Card icon at the top-right corner.
Once the page loads, you'll need to enter the security code you received with your card.
Once you click Continue, your card's activation will be confirmed.
How to Activate NetSpend on the Phone
If you want to know how to activate NetSpend on your phone using the NetSpend.com/active link, make sure to check out these steps:
Visit NetSpend.com/activate to contact NetSpend support.
You must provide your card number, security code, and other relevant information to the customer service representative.
Finally, once your card is activated, you can use it immediately.
How to Login NetSpend Visa Card Online
Many users don't know how to log in NetSpend visa cards online. So, if you are one of them, make sure to check out these steps:
Go to www.netspend.com and click the Sign Up Now button.
When the online application has loaded, fill in the appropriate data fields with your personal information.
Before clicking Get My Card, click on Review the Fees Associated With Your Prepaid Card.
How to Activate NetSpend Card Without SSN
If you want to activate your Netspend prepaid card, please follow these instructions:
On Netspend.com, click on Activate Card in the top right corner of the screen.
Identify your card by entering its number on the front and the three-digit security code on the back.
You must provide identifying information to set up a new account, including a government-issued ID. It will take a few minutes for your card to be activated and ready to use after creating an account.
How to Contact The Netspendallaccess Customer Service
If you have any questions about Netspend Customer Service, there are many ways to reach out to them. To reach Netspend customer service department for general inquiries via email, customers can use customerservice@netspend.com. Click on "Help&Support" on the main page and select "Contact Us." In the online account center, Netspend cardholders can use their secure inbox to contact Netspend customer service by email. Despite the fact that Netspend customer support does not operate around the clock, their hours of operation are convenient for you. Customer service is available on both weekdays and weekends at Netspend.
On Monday, Tuesday, and Wednesday, Netspend customer care is available from 8 am to 10 pm; on Saturdays and Sundays, it is available from 8 am to 8 pm. Alternatively, you can send an email to Netspend customer service if you are unable to reach them by phone. Netspend Customer Service will contact you as soon as possible.
Phone support is also available to Netspend customers. Please call 1-866-387-7363 or +1-737-220-8956 for Netspend customer support. There is no charge for the calls. You can contact the phone line Monday through Friday from 8am to 10pm, and on weekends from 8am to 8pm. You can reach Netspend Customer Care representatives quickly and easily using this method. In addition to Netspend prepaid cards and debit accounts, the professional team will offer support in relation to complaints and partnership issues.
So, that's all we have for you on how to activate your debit card on Netspendallaccess.com activate. We hope that this guide has helped you. Moreover, if you need more info, comment below and let us know.