As the name suggests, the Nintendo Switch Lite is the lite version of the standard Nintendo Switch console. As of now, the Lite version may not be a good choice as a standalone handheld device to play games instead of the original Nintendo Switch for sure. Not only the Nintendo Switch Lite is a compact, lightweight model, it also has a built-in control pad with a slim design. However, the newly launched console has some common technical issues that no one can't deny at all. If you're also interested in buying the Lite version or already experiencing bugs, then check out the Nintendo Switch Lite: Some Common Issues and Fixes.
The mentioned issues are the most common issues for the Nintendo Switch and we've also provided the possible workarounds for them in order to fix properly. Please note that you may find some other issues that can be different from these. But don't worry, you can perform the troubleshooting steps by yourself if you know what can be the possible reason for that issue. Now, without wasting any more time, let's jump into it.
Nintendo Switch Lite: Some Common Issues and Fixes
Nintendo Switch Lite offers a bunch of online games that players can easily access and play for long. However, there can be some of the technical issues that need to be addressed quickly and perform steps accordingly.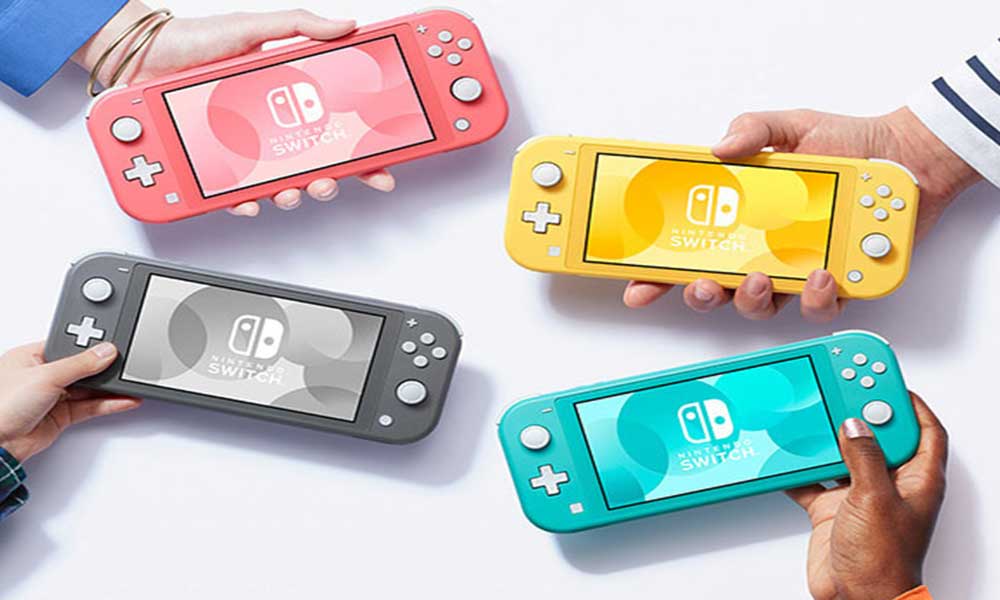 1. Can't Play Some Games
The Nintendo Switch Lite has a lot of online games access and most of them are compatible with it. However, some of the specific games may not be compatible with the Lite switch like Super Mario Party, Nintendo Labo VR Kit, etc. The Lite version doesn't come with any back stand that means you can't play games as the Tabletop mode.
Fix: You will need Joy-Cons accessory in order to play some of the specific games like Super Mario Party, etc. That means this accessory can also be used for the tabletop mode. However, you can find plenty of third-party local accessory in order to play those specific games.
2. Nintendo Switch Lite Not Fitting in Dock
The Nintendo Switch Lite doesn't come with dock and it's hard to connect to television as well. One of the most irritating issues is that the standard Nintendo Switch dock is not compatible with the Switch Lite.
Fix: You can purchase dock's internal components in order to charge the Switch Lite. You can also connect some of the controllers to it (if any).
3. Switch Lite Not Opening (Charged)
Sometimes the Nintendo Switch Lite isn't turning on even if it's fully charged. Therefore, either the Switch has some internal issues or the buttons are not working (non-responsive). Additionally, there may be an issue with your charger.
Fix: In order to fix this issue, you can fully reset the device to its default mode by pressing the power button for more than 10 seconds at least. If there is an issue with the charger, then you can unplug the charger and reconnect it from both sides. Even if nothing works, you should head over to the nearest service center for repairing purposes.
4. Wobbly Analog Sticks
The Nintendo Switch Lite isn't as good or strong as the standard Nintendo Switch. The Switch Lite has wobbly kind of analog sticks that literally moves side by side while pressing during gameplay. As a result, even without pressing sticks all the time, the game characters move easily from the side by side which is quite annoying.
Fix: This is basically due to the hardware failure or any kind of dust/moisture over the internal components. Meanwhile, it's hard to believe that the Switch Lite isn't able to replace the Joy-Con controller, unlike the Nintendo Switch standard one. So, you may need to deal with it or you can try for replacing the product via the service center.
5. Switch Lite Display is Scratching
The hardcore Switch Lite gamers or the pocket carrying users may find that the Switch Lite display is scratching somehow. It's just like using and scratching a smartphone display. There is nothing extraordinary.
Fix: So, in order to prevent your Switch Lite display from scratching, you will need to put on a protective screen guard for the additional protection of your display.
6. Unable to Transfer Saved Data from Another Switch
If you're shifting from the standard Nintendo Switch to the Switch Lite then you will need to copy saved game data on the new device. Make sure to sign in to your Nintendo Switch online service account in order to get all the saved game data that was played on the previous Switch.
Fix: Just subscribe to the Nintendo Switch Online account using the primary or previously used account credentials. It will cost you $20 per year and offers automatic backups of the saved game data. However, some of the games don't offer automatic backup.
Meanwhile, you can use the data management tool in the system settings in order to select the games individually to transfer those game data completely. Select Receive Save Data on your Nintendo Switch Lite for individual games. Make sure that this method will delete the saved game data from the previous Switch in order to transfer to a new Switch.
7. Voice Chat Not Working with Headphone
The Nintendo Switch Lite doesn't support voice chat feature with the headphone by plugging into it. This is not acceptable for a Nintendo device in 2020.
Fix: You can download the Nintendo Switch Online app and connect your phone to your Nintendo Switch Lite. Then you can invite your friends in order to perform voice chat while you're in the game. Additionally, you can use Skype or Discord service for voice chatting online while playing the Switch games.
8. Wireless Headphones Not Working
As there is no support included on Nintendo Switch Lite for Bluetooth, you can't use wireless headphones.
Fix: Fortunately, you can purchase a Bluetooth adapter that's compatible with your Nintendo Switch Lite device. Meanwhile, you can use the traditional 3.5mm audio jack as well.
9. Game Cartridge Not Working
The Nintendo Switch Lite supports physical game cartridges. However, some of the users may find it difficult to use the game cartridge properly. Some times there can be issues with the cartridge as well.
Fix: Make sure that the Switch Lite is updated to its latest firmware version. Simply, take out the game cartridge from the Switch Lite and replace it with a different game. Once the game is recognized with the cartridge, you can try replacing the cartridge with the previous game again. Otherwise, you can rush to your nearest service center for further assistance or repairing process.
10. Offline Games Not Running
Sometimes it can be possible that you may not find your game library to be played offline just like the PS4 or Xbox console. In that case, a particular problem will occur with digital games that are integrated into your Nintendo Account.
Fix: Just register the Nintendo Switch Lite system as your primary Nintendo Switch on the Nintendo Account. Log in with your primary and exiting Nintendo credentials after de-registering it from the console settings. Next, switch off the device and open the eShop on the Nintendo Switch Lite. You're done. Now, the new device will become a primary console and you will be able to play games offline.
11. System Storage Runs Out
The Nintendo Switch Lite only packs 32GB of internal memory which is quite low for an online gaming console. Meanwhile, these days more and more games are getting bigger in size even after patch updates. Therefore, storage getting full or system storage runs out the issue can be fixed easily by following the steps below.
Fix: You can buy a microSDHC or microSDXC card in order to insert it into your Nintendo Switch Lite. It's worth mentioning that the Switch Lite supports up to 2TB of external storage.
That's guys. We assume that you've found this troubleshooting guide pretty useful. Feel free to ask in the comment below for further queries.