It's fun to use the OnePlus TV be it the Q1 series or the at least U1S or others because they are brighter, crisper, louder, and overall a perfect companion for all your media viewing experience. Although I would say a majority of users can enjoy their OnePlus TVs, there are some who are distressed because of the annoying OnePlus TV screen flickering issue. Users have posted complaints on forums including OnePlus Forums where they have discussed the screen flickering issue with their OnePlus TVs. Turns out the issue exists and it is affecting both new TV sets and those that worked fine but are suddenly facing flickering issues. Here's more about it including how to fix it.
Reasons behind OnePlus TV Screen Flickering Issue
There's a subset of users facing this issue where their TV screens flicker, flash, or show lines running vertically or horizontally. The flickering issue can annoy people as it remains put continuously causing stress on the eyes if it is not that strong whereas if it is strong, it totally takes away the fun of watching TV as you can't make sense of what's displayed on the screen.
There are a few reasons why it could happen such as interference from nearby electrical equipment, outdated Android TV OS on OnePlus devices as well power issues or it could be a hardware issue as well. Here's how you can fix the screen flickering issue.
How to Fix the OnePlus TV Screen Flickering issue?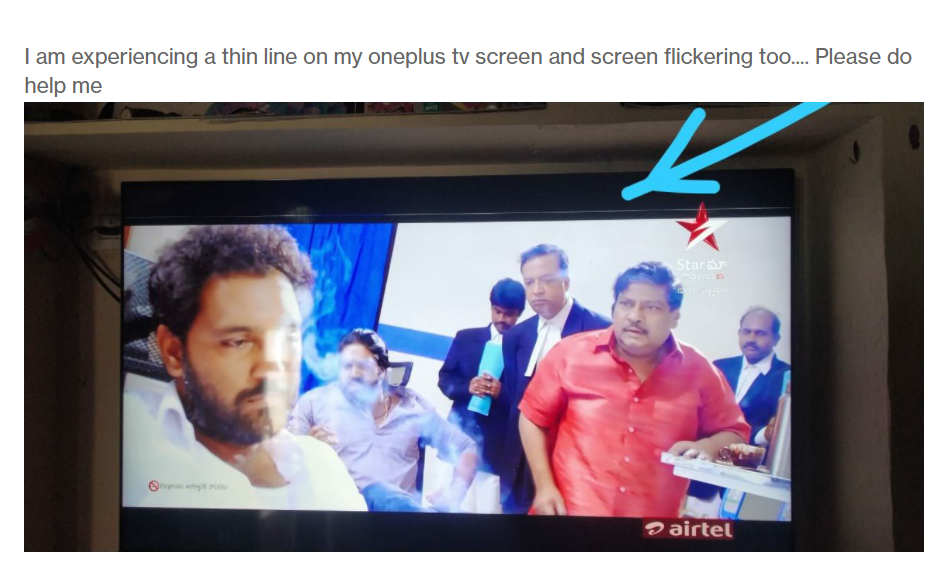 Restart the TV
This is particularly a popular method to fix the OnePlus TV screen flickering issue and more. If the problem started out of the blue and was not a part of when you bought the TV first, this can help you fix the problem. Simply power down your OnePlus TV by unplugging it from the power source, waiting for a few seconds, and turning it back on.
Check all the connections are secured
You have a TV connected to the power source and then, there's a set-top box connected with composite pins or an HDMI cable. You might have a soundbar connected to the TV either wired or wirelessly. Thus, there are a lot of connections here. Check each connection individually to verify if it is well-connected, secure, not too tight but not to lose either. This ensures that the connections aren't the problem here.
Check if the power output is proper
Another thing you can look for is the power output that your TV is drawing from the power source. It's possible that irregular or fluctuation in the current caused the screen to flicker and in fact, abnormal power can cause issues to the hardware. There are various tools available on Amazon that you can use to verify volts, current, watts, etc. You can use a stabilizer or similar equipment to ensure a steady flow of power to the TV. A UPS will ensure that you can manually turn off the TV when the electricity outage strikes, as opposed to the TV abruptly turning off due to an outage (when you don't have UPS or an inverter connected to it).
Change the power source
If there seems to be no problem with the current contraption, try changing the power source as this might fix the flickering issue if it hasn't been affected or borne out of hardware failure.
Verify all the cables are working
You are facing issues with the screen display, could there be something wrong with the power cord and cables that you use? There's a possibility that the cable or wires that are connected to various inputs and outputs on your TV (to the set-top box, wifi, power source, soundbar, and others), either one or more is either not working properly i.e. malfunctioning or it is cut somewhere or damage due to physical or liquid damage. Verify if this isn't the case and if yes, you have found the culprit and the only other thing that's required is to change the affected cable with a new one.
Check for electrical interference
Turns out some OnePlus TVs might face electrical interference where the screen turns blue (or other colors) or lined when in the presence of electrical interference. Note that it could be anything from a fan switch on the same switchboard as the TV. Whenever you turn on/off the fan, the screen will flicker a bit but continue to play media with ease other times.
There are a few workarounds that could help you although their effectiveness may be questioned.
First:
You can try changing the power source of the TV separately from the other switchboard.
You can use an extension cord to get connections from other rooms as well.
Second:
You can try this particular method.
Even if you are currently using HDMI to view content from the set-top box to the TV, take a composite cable in your hands.
Plugin one end of the cable to their corresponding inputs.
Repeat the same on your set-top box.
Note that you are still using HDMI but the composite or AV cable is used to reduce electrical interference so verify if it works. If not, proceed, and if yes, you have found the fix to the OnePlus TV screen flickering issue.
Disable energy-saving feature
If your OnePlus TV has an energy-saving feature, try turning it off as it might be causing the screen to flicker. If not, skip it.
Uninstall apps
Screen flickering may occur on the whole TV or when you are subscribed to a certain app or source. Talking about apps, say you downloaded Amazon Prime Video and as soon as you were watching a movie on it, the screen began flickering. Either the app is inducing the screen to flicker and will be limited to the app only. This means as soon as you exit Amazon Prime Video, the flickering stops.
If this is what you are observing, uninstall the Prime Video and reinstall it. This might be able to fix the software issue. If not, you can try updating the app to a newer patch (if available). Updating didn't help either? Go for alternative apps and chuck using Prime Video as it is the source of flickering for you.
However, if the issue begins on Prime Video and continues on other apps as well, the problem may not be because of the Prime Video app. You can still uninstall the app to verify the same.
Update the Android TV OS
Outdated Android OS can be a source of disturbance in form of flickering issues as well. If you can, try to update the OS to check whether it was a problem, to begin with, or not.
You need to go to Settings on your OnePlus TV.
Proceed to Settings >> More Settings >> About >> System Updates.
Let the system search for an update. If it finds one, download and installs it.
Reset the TV
This particular method that you might have come across on how to fix OnePlus smartphone issues applies here too. You can go for Settings >> More Settings >> Reset and follow the on-screen instructions as mentioned to perform a reset. This will put your OnePlus TV in default factory settings so there's potential that it will fix the screen flickering issue for you.

Reach out to a service center
This is probably the last thing you can do to fix the OnePlus TV screen flickering issue. This should be the last resort if you can't get the issue fixed using the troubleshooting methods mentioned above. This signals that the issue could be hardware-related where you may have to replace the display as a whole. A technician will diagnose the problem, provide you with the details on what's wrong and what needs to be done for you to take a final call. If your TV is under warranty, reporting the issue to an authorized service center might be the way to go as you can claim a warranty. If not, you can report the issue to a nearby service center and get the problem fixed.
Closing Words
These were some of the troubleshooting methods that you can follow to fix the OnePlus TV screen flickering issue. If you can't fix it, you have the last method at your disposal. We don't recommend operating on TV by yourself unscrewing screws and checking out what's wrong because you might end up doing more damage so avoid it.