Oppo Reno6 and Reno6 Pro 5G are among the best and most popular smartphone series and no doubt there are many users. A majority of users will go through their usual experience on their respective Reno6 series phones. However, there's a subset of devices that are facing various issues related to a software glitch or hardware failure. Three major issues on both Reno6 and Reno6 Pro 5G are related to the display black screen, freezing, and stuttering issues.
After taking due consideration and following the various techniques and troubleshooting methods to fix these issues at least for the majority of the users. Here's everything you need to know about Oppo Reno6 and Reno6 Pro 5G black screen, freezing or stuttering issues as well as how to fix them.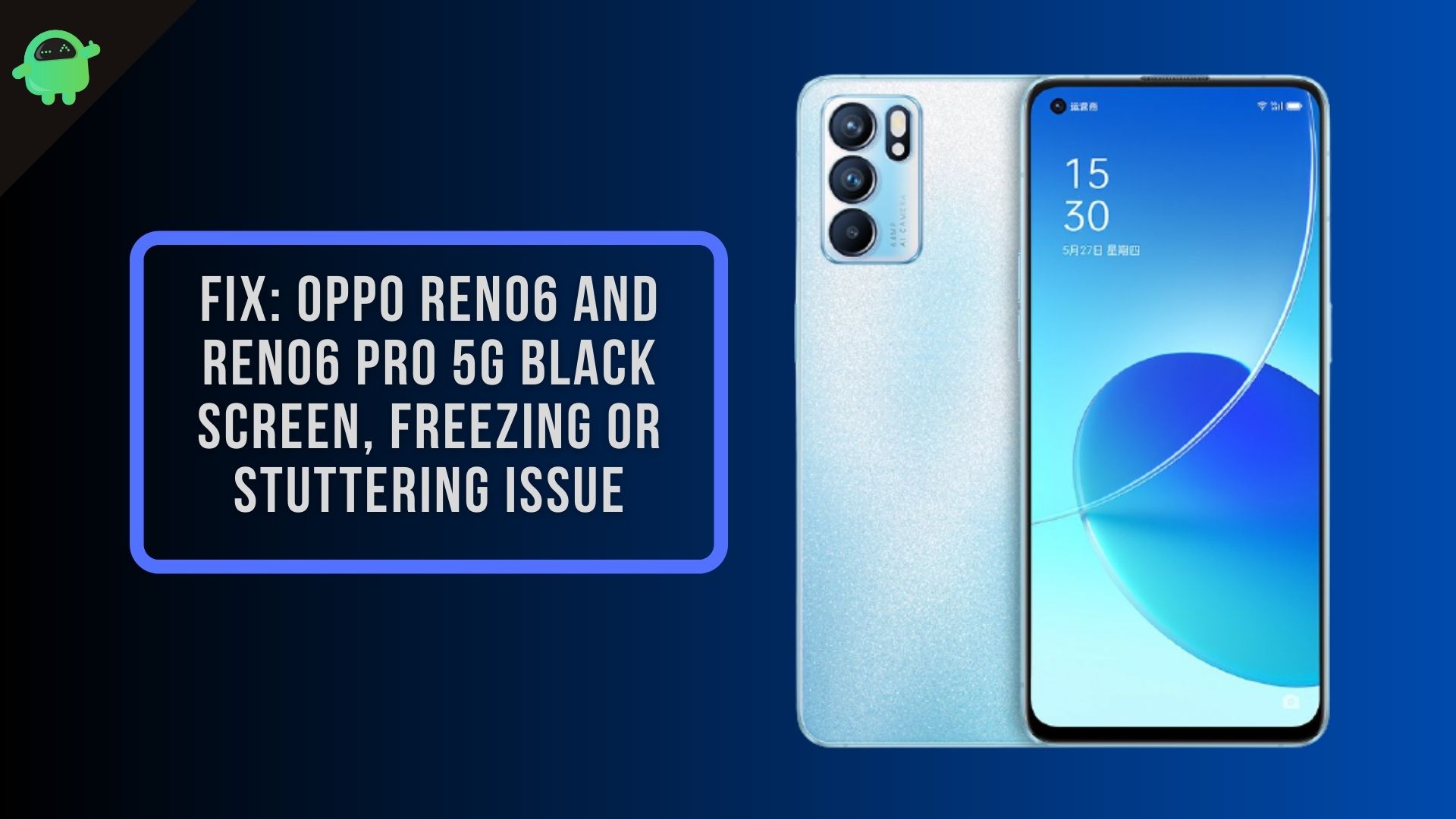 What is Black Screen, Freezing, and Stuttering Issue?
Black Screen Issue: The phone's display goes black. Well, it doesn't seem any different from when the phone is turned off, however, when you are facing a black screen on a smartphone, it essentially means you cannot interact with the phone. The phone can still get calls, notifications, buzzes, and vibrates when you tap on a button, and so on. However, you no longer can interact with the phone.
Freezing Issue: On the other hand, the freezing issue means you are no longer able to interact with the display as it has gone unresponsive. Unlike the black screen issue, you can see the display lit but no matter how hard you try, all the options are frozen and you cannot interact with the display anymore.
Stuttering Issue: Flickering or stuttering issues can occur due to software glitches or hard failure wherein the device lags or stutters when doing something or another.
Fix: Oppo Reno6 and Reno6 Pro 5G Black Screen, Freezing or Stuttering Issue
Reboot the phone
Apparently, it works for all types of issues on Android devices including freezing, black screen, and stuttering issues. When you turn off the phone, it deallocates resources as well as dumps temporary files, shuts down all foreground and background apps and processes alike. Once you do it, no matter what the issue was, the majority of the issues will securely fix themselves unless there's an impending hardware issue under the hood.
Forced Reboot
When you have a black screen or the display freezes, there's no way you can use a soft reboot. Here comes "Forced Reboot" and as the name suggests, it forces the Oppo Reno6 and Reno6 Pro 5G (or other devices) to reboot itself forcefully without needing to interact with the screen anyways. Here's how you can do it for Oppo devices. Do know that the process might slightly differ for other makes and models.
Assuming that the display has frozen/unresponsive or there's a black screen rendering it difficult to interact with the display, press the Power button plus Volume Up button together for 15 seconds.
Release both the buttons once the phone starts vibrating.
The phone will turn on and you will be able to use the phone with ease.
If the power button is jammed, your phone will end up in a constant rebooting loop or the screen could go dark. Lotion, lint, dirt, and other debris can cause the power button to stuck, and freeing it up can help. Press the button a few times to dampen the jammed debris. You can even use a needle or a toothpick to remove excess debris but try not to get too invasive with it.
Loose connectors
Assuming that your phone's screen has gone black, you won't be able to do much to interact although calls and notifications go off as usual. Take your phone, remove the phone case, and gently press on both top and bottom left and side of the display and the back panel. This is something you are doing assuming that there's a loose display connector and squeezing the display in such a way that can reseat the connection. If you see some improvements whilst gently pressing the area around the connectors, it's time to walk into a service center and get it fixed.
Update all the apps
Flaws in the apps, bugs and outdated apps can cause a series of problems. It can consume abnormally more resources than usual or an outdated app can cause freezing or stuttering issues. It is, however, recommended to update all the apps on a smartphone to relieve it from any issues causing the system to halt or freeze. Here's a very simple way to do it.
Go to the Google Play Store app on your device.
Proceed to "My apps and games".
Click on "Update All" on the top-right corner.
Put down resource-hungry apps
Some apps consume more resources than others, however, if any given app consumes more resources than it should, there's a problem. Dig into the Settings >> Battery >> Phone Battery Usage and check which app is consuming more battery. For resource consumption, a Wakelock Detector app can be used to find statistics on apps running at the moment. You can either uninstall these apps or close them from the recent app list temporarily when not needed.
Use app killers
If you love gaming on your phone but the phone ends up lagging or stuttering during gaming sessions, you need Game Booster. It is a launcher that puts down unnecessary background apps and services. This in turn releases RAM storage and other resources allowing you to play games with more resources at bay. Another app that you can try is AutoKiller Memory Optimizer.
Update the software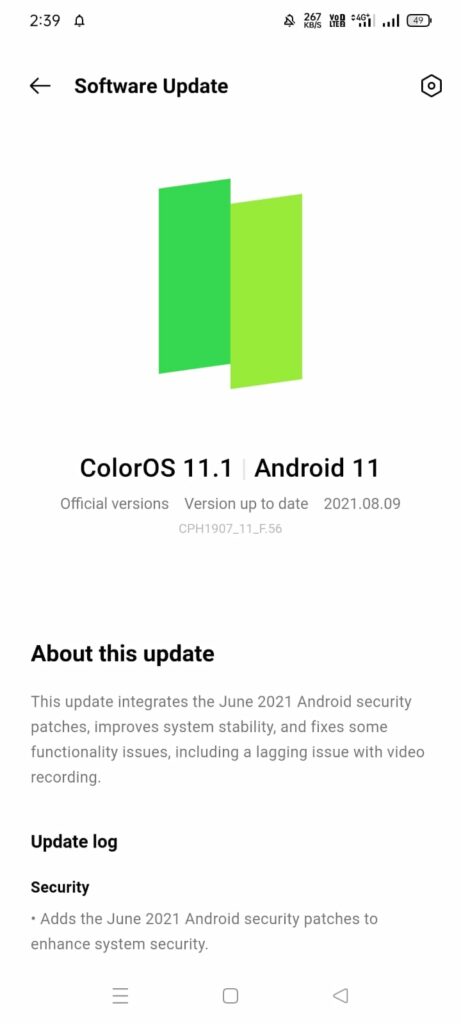 Another point of error can occur with the software i.e. Android OS on your Oppo Reno6 and Reno6 Pro 5G. Turns out outdated firmware can cause problems and freezing, stuttering is just a few of the commonly occurring issues. A simple update can fix the problem due to bugged or outdated firmware. Here is how you can do it.
Firstly, go to Settings on your device.
Proceed to Software Updates.
Check if you have received any updates or not. If yes, download the new firmware and install it.
In case if your phone is out of support, you won't receive any update unless it is a security update or from the OEM itself. You can still download a custom ROM to get further updates.
Clear storage
Your Android smartphone arrives with either fixed storage or those of the devices that have expandable storage via microSD cards and so on. Reno6 series doesn't have a memory card slot which means you have a finite space to store all your data. Turns out some users will clog the storage by storing more than they should.
Smartphones need some space to breathe so you should always keep at least 15-20 percent of storage free for its proper functioning. If you keep on adding photos/videos or data and clog the storage, it will reflect in the performance as well. Freezing, unresponsiveness, and stuttering, are just a few side-effects of clogged-up storage. The easy solution is to get rid of excess data you have stored and free up the memory.
Use cloud storage
Cloud storage is becoming the norm as people are transferring photos and videos to the cloud to free up internal storage. Oppo Reno6 series already have Google Drive and you can install other cloud storage apps to store all your photos and videos and other data without hampering the storage on your device. You just need internet access to get a hold of the said files. Check out to find cloud storage apps that don't need internet access if that's your concern.
Get rid of unwanted apps
The Google Play Store gives you access to millions of apps. Since Android is more open to customization and automation, people usually download apps irrespective of whether they will use them or not. If you check out, there will be some apps that you use regularly, some seldom, and some apps that you haven't used in a while.
Turns out these unwanted apps still consume storage and other resources choking the system as it doesn't have much space to breathe. Plus, outdated apps have their issues and that is where you will see a black screen, freezing, or stuttering issues on your device. Getting rid of these apps is the way to go. Go to Settings >> Apps (App Management) and uninstall those unwanted apps. You can disable unwanted bloatware to some extent as well.
Reset the phone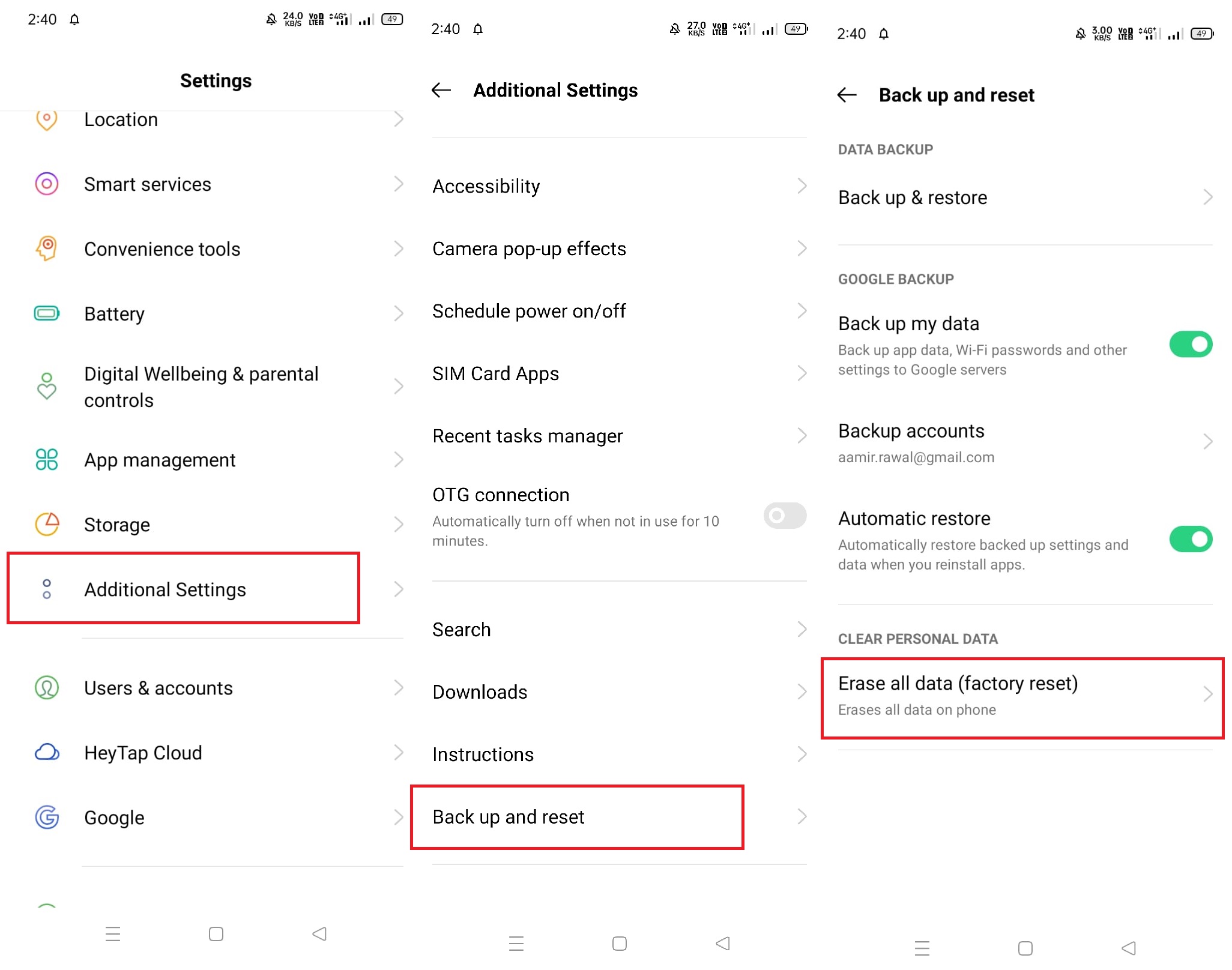 The last nail to the coffin is to reset the phone to its original settings. Restoring will also delete all the data ever stored. Thus, take a backup of the data and proceed with the instructions mentioned below. Here's how you can proceed.
Navigate to the Settings application on your Oppo Reno6 and Reno6 Pro 5G.
Next up, proceed to "Additional Settings >> Backup and reset".
Look out for "Erase all data (factory reset)" from the list of options on the screen.
Confirm by tapping on "Erase all data".
Input the PIN/Password to confirm taking this step and finally, tap on "Erase all data" and this should set off the process which is merely a few minutes.
Monitor if the phone faces stuttering or freezing issues.
Hard Reset
This is another method to restore a phone, however, it works when your phone has gone ballistic and you cannot interact with the screen. This includes issues like an unresponsive screen or black screen. Here's how you can do it.
Long-press on the power button for 20-odd seconds and turn off the phone.
For the Oppo Reno6 series, you need to press the volume down plus the power button together for a few seconds till the phone boots up.
Release the buttons when the Oppo logo appears on the screen.
Next, you need to use volume up and down to move around the menu. Select "Recovery Mode" by tapping on the power button.
Now, use the volume rocker to navigate towards "Wipe Cache Partition" and press the power button to select.
Tap on "Wipe data/factory reset" from among the options and select "Yes" when prompted whether to confirm wiping off all the data or not.
Finally, select "Reboot system now" and the phone will restart.
You will have to set up the device and check whether the problem is gone or not.
Seek out help
The last resort that you have is to walk into a service center and get a diagnosis of what's causing your Oppo Reno6 or Reno6 Pro 5G smartphone to undergo issues like freezing, black screen, or stuttering. A technician will verify the issue, what's causing it, and the plan of action to assume as well as the cost associated with the repair. Of course, an authorized service center is comparatively more expensive than a third-party or local service center, and not to forget that the latter is available nearby. Also, getting a local service center to fix the problem will void the warranty as well. User discretion is needed here.
This is all you need to know on how to fix Oppo Reno6 and Reno6 Pro 5G Black Screen, Freezing, or Stuttering Issues. Let us know which method helped you fix the problems in the comments. Can't find the troubleshooting method you used to fix similar problems? Comment below.