Facing Oppo Reno6 and Reno6 Pro 5G randomly reboots or shutdown issue? Well, there can be several reasons why it would happen but it happens at the most inconvenient time such as when you are paying for groceries online or waiting for an OTP for a transaction or simply on a call and so on. As said, several reasons could lead your phone to randomly reboot or shut down issues abruptly. This includes corrupted cache or apps, defective hardware, loose battery, or even phone overheating issues, and so on. What needs to be done?
We at GetDroidTips have devised a troubleshooting guide on how to fix Oppo Reno6 and Reno6 Pro 5G randomly reboots or shutdown issues. Check out the list here. Note that you can use this troubleshooting method for any smartphone although be careful.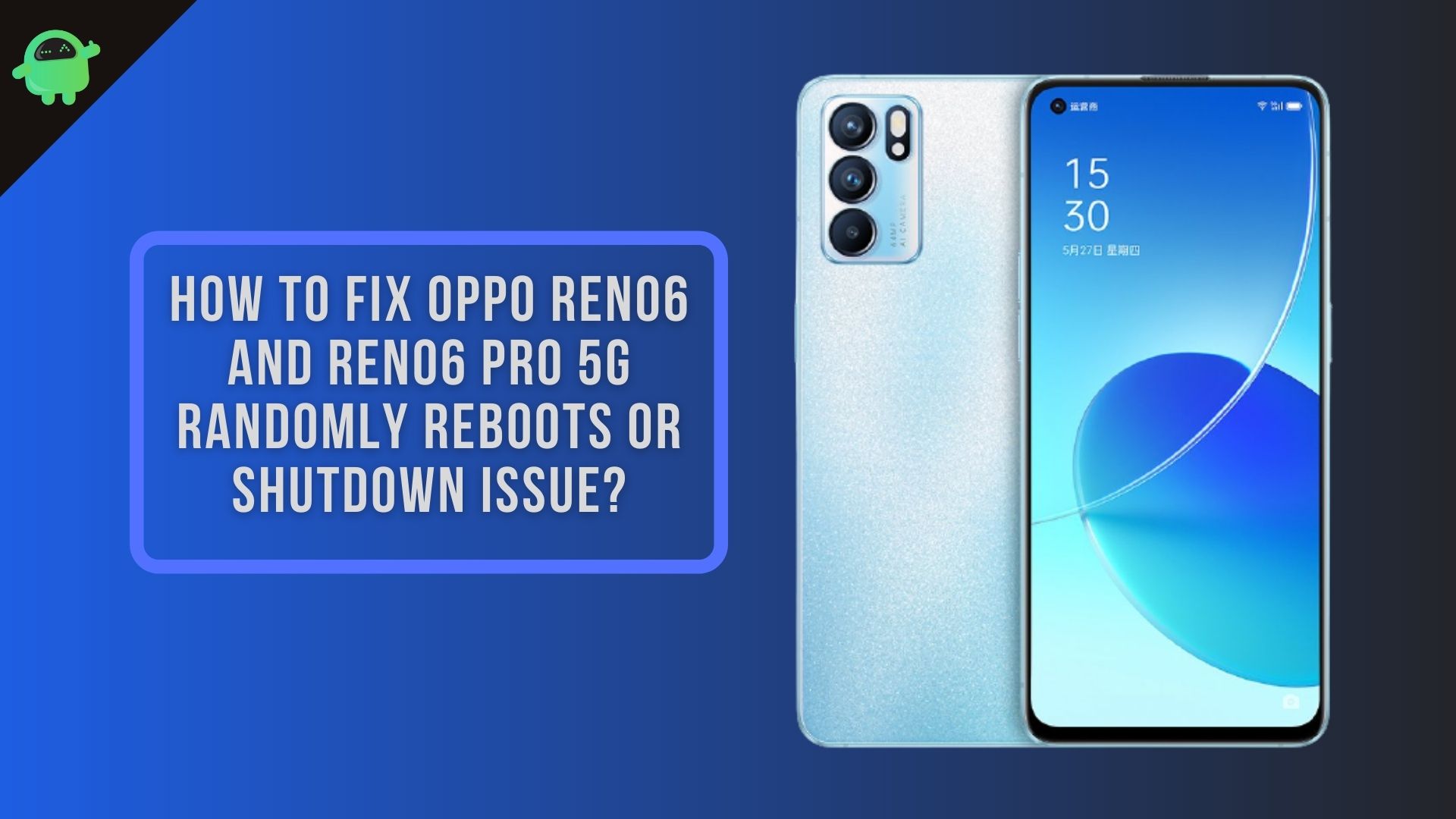 Bad applications
It goes without saying that an Android user downloads a lot of apps and in fact, there will be many apps that they won't ever use. Oppo Reno6 series smartphone runs on Android which means you can download apps from both official or third-party websites including some banned apps. This dilutes the quality of apps on your phone. It is possible that the recent addition to the list of apps has sparked the Oppo Reno6 and Reno6 Pro 5G randomly reboots the issue in the first place.
If you are facing random reboots on a particular app, say Facebook, it is probably that the app is compromised somehow. It is also possible that an app you installed ages ago (and it lies idle in your storage but never used) could cause the problem as well. The simple troubleshooting method here is to uninstall these unwanted apps at once. As said, if the phone reboots itself when using a particular app, you will have to look out for an alternative.
Here's how you can delete unwanted apps.
Open the app drawer on your Reno6 series phone or if you don't have it, scroll through the home screen to find the app(s) you want to remove.
Long-press on any app you want to remove and you will see options
Tap on "Uninstall" if available on the pop-up menu. If not, tap on "App Info" and you get a button summoned as "Uninstall" to do the same.
Repeat this procedure on all the unwanted apps you want to remove and verify whether the random rebooting problem on Oppo Reno6 or Reno6 Pro 5G is gone or not.
System apps are disabled
Android OS runs on many system apps and for those who don't know, we don't know more than half of the system apps running on a smartphone. Manually disabling or a system app disables itself due to XYZ reasons could possibly cause the system to crash leading towards random reboot. It's okay if you disable unwanted third-party apps or bloatware from the system as you won't be needing it anyway. However, if you think you might have disabled an app crucial for the system's wellbeing, enable it. Here's how you can do it.
Go to Settings >> App Management (or Applications).
Tap on "Show System" or "Show System Apps".
Check out the list of apps that are disabled. Enable any if you think it must be enabled to keep the system afloat.
The whole process takes a few minutes if you have disabled too many apps but works like a charm. But it doesn't proceed with the next troubleshooting method.
Clear app cache
Your phone accumulates too much cache as and when you use your phone and not reboot in-between. The cache does speed up retrieving a website or an app, however, the cache is easy to corrupt and that is why you could end up in several issues. Here's how you can clear the app cache.
Go to Settings >> App Management >> click on apps (one-by-one) >> Storage* >> Clear Cache.
If you have a Phone Manager, follow Phone Manager >> Clean Storage >> Clear All.
Check if your device is overheating
What is termed overheating? Imagine you are playing a game for watching a movie and the phone starts warming up. This isn't overheating as all the devices generate heat as and when work is done (i.e. watching movies or playing games, for instance). However, once you keep playing games or movies for a long time, there's a tipping point beyond which, you can say that the phone has started overheating. Some devices dissipate heat faster than others with or without a liquid cooling of the heat sink and thus, the temperature can differ.
If your phone overheats, the system will throttle its performance to allow some heat to dissipate. This is when you will see lagging or frame drops when playing games. Beyond a certain temperature, the phone might turn off and that can happen abruptly or randomly. So, the fix is to avoid the phone from overheating too much.
If you see that the phone heats a lot, try using the phone in bursts. Turn off unwanted connectivity features, dial down the brightness, stay away from direct sunlight, and some of the other things you can do to prevent the phone from getting overheated.
Check for loose battery
Apparently, almost all smartphones nowadays arrive with a non-removable battery but there are still many with removable ones. The latter are more susceptible to suffering issues with maintaining proper contact between the battery and the contact on the device from where the power is drawn. If that's the same, remove the battery and check if the battery is alright. Place a piece of paper to temporarily hold the battery in place.
Turns out if the phone doesn't reboot randomly after you do this method, you will have to replace the battery for a permanent fix or check if the connectors are faulty or you can simply keep the piece of paper in place for some time before you get a battery replacement. In case the connectors have a bend or have been damaged, try smoothly prying it up to its original position and verify the situation.
For a non-removable battery, you will have to uproot the battery stuck with the device's motherboard and you could damage hardware components if not done carefully. Verify the connectors, check if the battery needs a replacement, or simply walk into a service center to seek help and bypass doing anything by yourself.
Another issue with the battery is that as it gets older and the user goes through its life cycles, the battery will lose its capacity over time. It is possible that the battery has dread beyond keeping the device afloat for a longer duration and that is why the phone shuts down abruptly. In this case, as well, you will need a battery replacement.
Upgrade the system software (OS)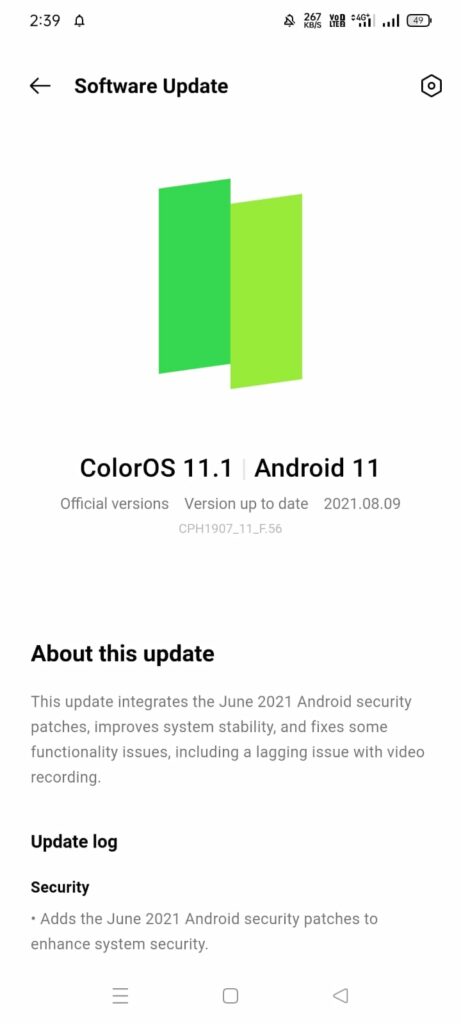 The apps you install on your phone make up a separate layer whereas the firmware (Android 11-powered ColorOS 11.x in case of Reno6 series) forms an umbrella encapsulating all the apps and hardware allowing them to seamlessly interact and work with each other. If the underlying software is outdated or corrupted, you will see a resonating impact on other parts of the device's functioning.
This is why I usually recommend keeping the firmware updated. Since Reno6 and Reno6 Pro 5G are comparatively new, you will get a tonne of updates before the OEM dials down the support with fewer updates every passing month. Keeping in mind that your phone is still in support period, keep the system updated with the latest patch. Here's how to find if you have received an update or not.
Firstly, tap on the Settings application on your Oppo Reno6 or Reno6 Pro 5G smartphone.
Next, go to "Software Updates" and check out if there are any updates available.
You should receive a notification when an update is rolled out, however, assuming that you didn't receive the notification, you should see an incoming update here. Download and install it.
If not, wait for some time. At least get all the apps on your device updated via Google Play Store >> My apps and games >> Update all.
Perform a factory reset
This is an effective solution towards all the issues on a smartphone although it has limitations i.e. it can fix many software and network-related issues while hardware issues are required to be dealt with by technicians or those who know how to diagnose, repair, or replace the affected component to get the device p and running properly. Talking about a factory reset, it wipes off all the memory from your device making it a new one.
In fact, you will have to set it up as though you are turning on the phone for the first time. User discretion is required as doing a factory reset also means you will lose all the data saved so take a backup before going forward. Note that this is the easiest way to perform a factory reset whereas a hard reset is a complicated one for the majority of users so I will be going through the easy method only.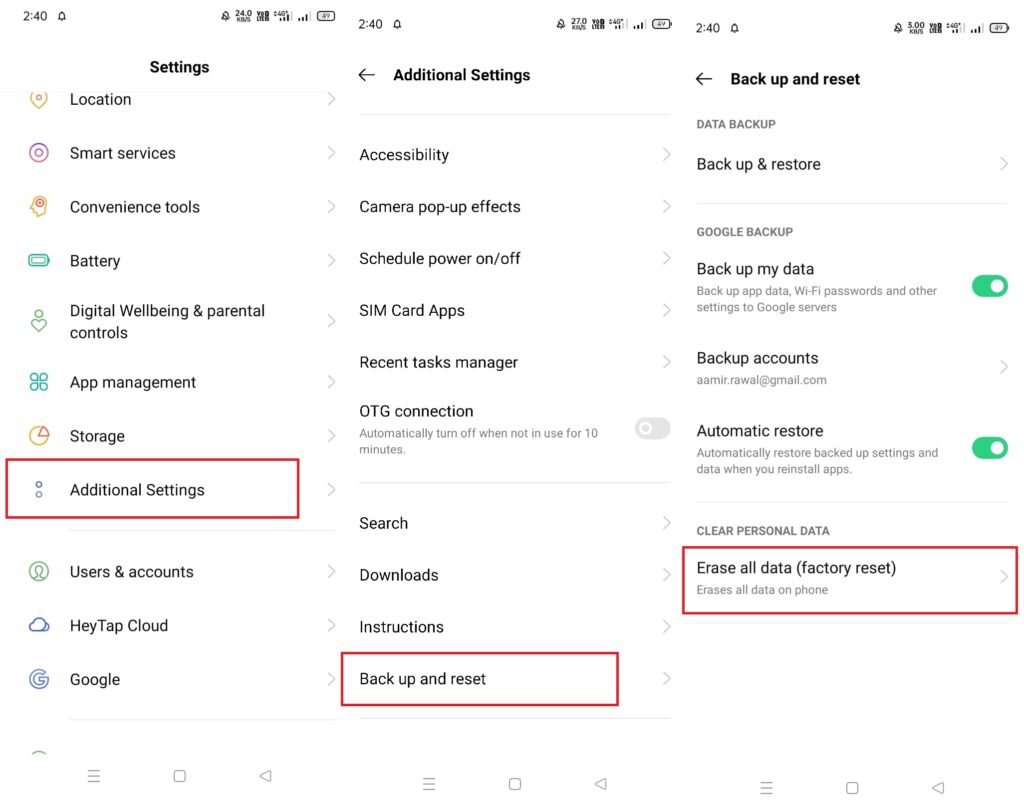 Unlock your phone and proceed to "Settings".
Next is to tap on Additional Settings from the list of options on the screen.
Now proceed to "Backup and reset" and then, hit on "Erase all data (factory reset)".
Your phone will ask you to confirm going through as there's no coming back. Tap on "Erase all data" and enter the PIN/Password or vice versa as they appear.
Finally hit "Erase all data" and the process is done in less than 2-3 minutes.
After the phone restarts, enter the email address, password, set up the device as a new one, download all the apps you want and verify whether the Oppo Reno6 and Reno6 Pro 5G randomly reboots or shutdown issues are still there or not.
The power button lets you turn on and turn off the phone. However, say that it is stuck either on its own or a phone case/cover is pressing on it. This will cause the system to register that you are pressing the power button thereby shutting the phone down. If you don't release the key in that instance, the phone will turn on either right away or after a few moments. The process repeats itself over and over again unless you find the stuck key and release it.
In case if the power button is broken or malfunctioned in a pressed position, you will have to get it removed and add a new button instead. Of course, I am not suggesting you simply replace the button on your own, instead take the device to a service center. It will take some time but at least the power button will work when wanted and relieve the system from constant random reboots.
Defective hardware
Your smartphone isn't just a pack of the display, cameras, chipset, and battery but there are many complex and integrations systems on-board where all work in harmony to carry out whatever commands you ask it to do. Since you are still figuring out what went wrong with the phone as it keeps rebooting itself randomly or shutdowns out at the most inconvenient time, there's something wrong with one (or more) hardware on the phone. Unless you know exactly what needs to be done, you shouldn't try and pry open the phone to fix it. It can cause more damage than good.
Instead, report it to an authorized service center and get it repaired without affecting the warranty on the device. You can also walk into a nearby local service center assuming that either the product warranty is over or you don't want to splurge extrinsic amounts of repair by reporting it to an authorized service center.
All the steps mentioned above are attuned to fix Oppo Reno6 and Reno6 Pro 5G Randomly Reboots or Shutdown Issue or at least provide you with the guideline on what needs to be done if your phone ends up in a similar situation.