In this post, we will list out all the supported devices for the OrangeFox Recovery Project. Once you unlock the device's bootloader and step into the custom development, a custom recovery becomes the need of the hour. Right from taking a complete device backup of all the partitions via Nandroid backup to flashing ZIPs and IMG files, you would need this recovery at near about every stage. As of now, TeamWinRecoveryProject is currently dominating the custom recovery market.
Along with that, there are a few other recoveries based on TWRP that manages to checkmark all the required prerequisites. And OrangeFox belongs to this domain. Offering the same stability along with some additional goodies, it is quickly upscaling the popularity charts. Likewise, it is continuously increasing its support for various Android devices. And this guide will make you aware of all these OrangeFox Recovery Project-supported devices. So without further ado, let's get started.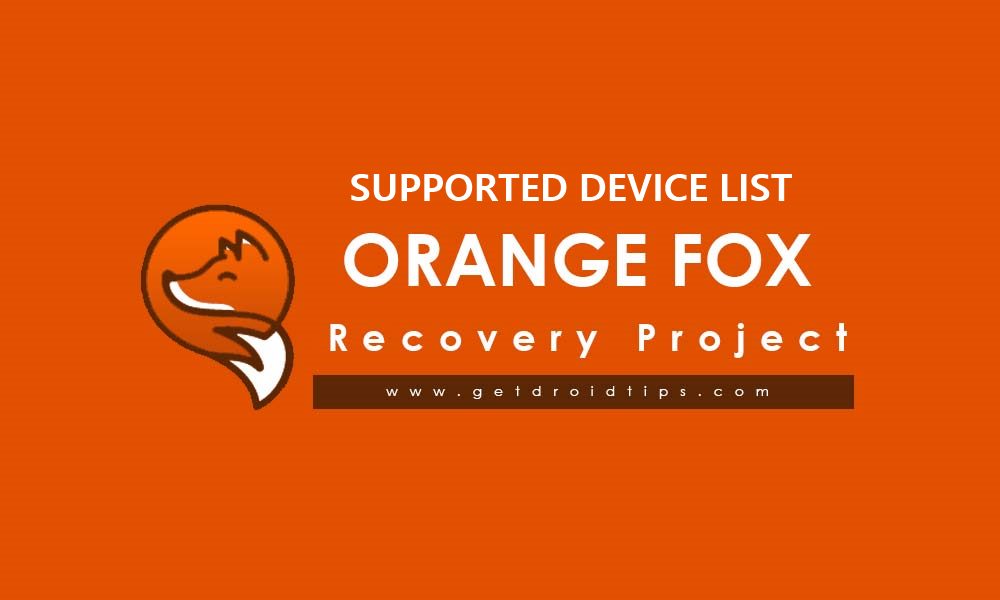 What is OrangeFox Recovery Project
Based on the TWRP Recovery, this recovery beholds quite a few noteworthy and useful functionalities. Here are some of the most important ones that deserve your attention:
Support for OTA
Thanks to its support for Flyme and MIUI OTA, you could now directly install Over The Air Updates via this recovery. Then its support for incremental block-based OTA makes it possible to update custom ROMs via this recovery as well.
Various Customizations
This recovery comes with tons of customizations and themes. Along the same lines, it has also adopted the latest Material design 2.
Useful Patches
It comes in-built with many useful patches which will come in handy for all the OrangeFox Recovery Project supported devices. These include the likes of Magisk and even a patch for a password reset.
Open Source
Being open-source in nature, the tech enthusiasts could get hold of its entire source and make themselves acquainted with its functionalities.
Synced with TWRP
As and when the TWRP Recovery gets updated, it manages to make those changes to its recovery just in time.
So with this, you would have got a decent idea about the feature set of this custom recovery. Let's now check out the list of all the OrangeFox Recovery Project supported devices.
List of OrangeFox Recovery Project Supported devices
Here's the complete list of all the devices from various OEMs that comes under the hood of OrangeFox:
Asus
Zenfone Max Pro M1
Zenfone Lite L1
Zenfine Max Pro M2
LG
G5 (H830)
G5 (H850)
G5 (RS 988)
G7 ThinQ
Lenovo
Motorola
OnePlus
Realme
3 Pro
5
5 Pro
5i
C1
X2
X2 Pro
XT
Samsung
Galaxy A20
Galaxy A3 2017
Galaxy A30
Galaxy A30s
Galaxy A40
Galaxy A51
Galaxy A6 2018
Galaxy J5 (2015) 3G
Galaxy J5 (2015) LTE
Galaxy J5 (2015) LTE China
Galaxy J5 (2015) NFC LTE
Galaxy J5 (2016)
Galaxy J5 2017
Galaxy J5 Prime
Galaxy J6 2018
Galaxy J7 2016
Galaxy J7 2017
Galaxy J7 Nxt
Galaxy J7 Prime
Galaxy J7 M20
Galaxy J7 M30
Galaxy Note 10+ (Snapdragon)
Galaxy Note 9 (Qualcomm)
Galaxy S8
Galaxy S9 (Qualcomm)
Galaxy S9+ (Qualcomm)
Wileyfox
Xiaomi
Mi 10T Lite
Mi 10T Pro
Mi 8
Mi 9
Mi A2
Mi A2 Lite
Mi Max 2
Mi Mix 2
Mi Mix 2S
Mi Note 10
Mi Note 3
Redmi 5A
Redmi 6 Pro
Redmi 7/Y3
Redmi 8
Redmi 8A
Redmi K20 Pro
Redmi K30 5G
Redmi Note 3
Redmi Note 4
Redmi Note 7
Redmi Note 8
Redmi Note 9S/Pro/Pro Max/ Poco M2 Pro
Redmi S2
Download OrangeFox Recovery Project For Supported Devices
You may now grab hold of the OrangeFox Recovery for your device from the below link:
So this was all from this guide on the list of OrangeFox Recovery Project supported devices. We will be regularly updating this guide as and when a new device is added to this domain. Rounding off, here are some iPhone Tips and Tricks, PC tips and tricks, and Android Tips and Tricks that deserve your attention as well.