Smartphones have evolved over the years to become an indispensable part of our lives. Poco is one of the most popular smartphone brands out there which is closely tied to Xiaomi's custom UI minus the ads. One of its smartphones aka the Poco X3 Pro/NFC is currently in the news for ghost screen touch issues. Well, I dug into the fact to find what's going wrong so here it is. Read along to know what ghost screen touch issues are on Poco X3 Pro/NFC and how to fix it up.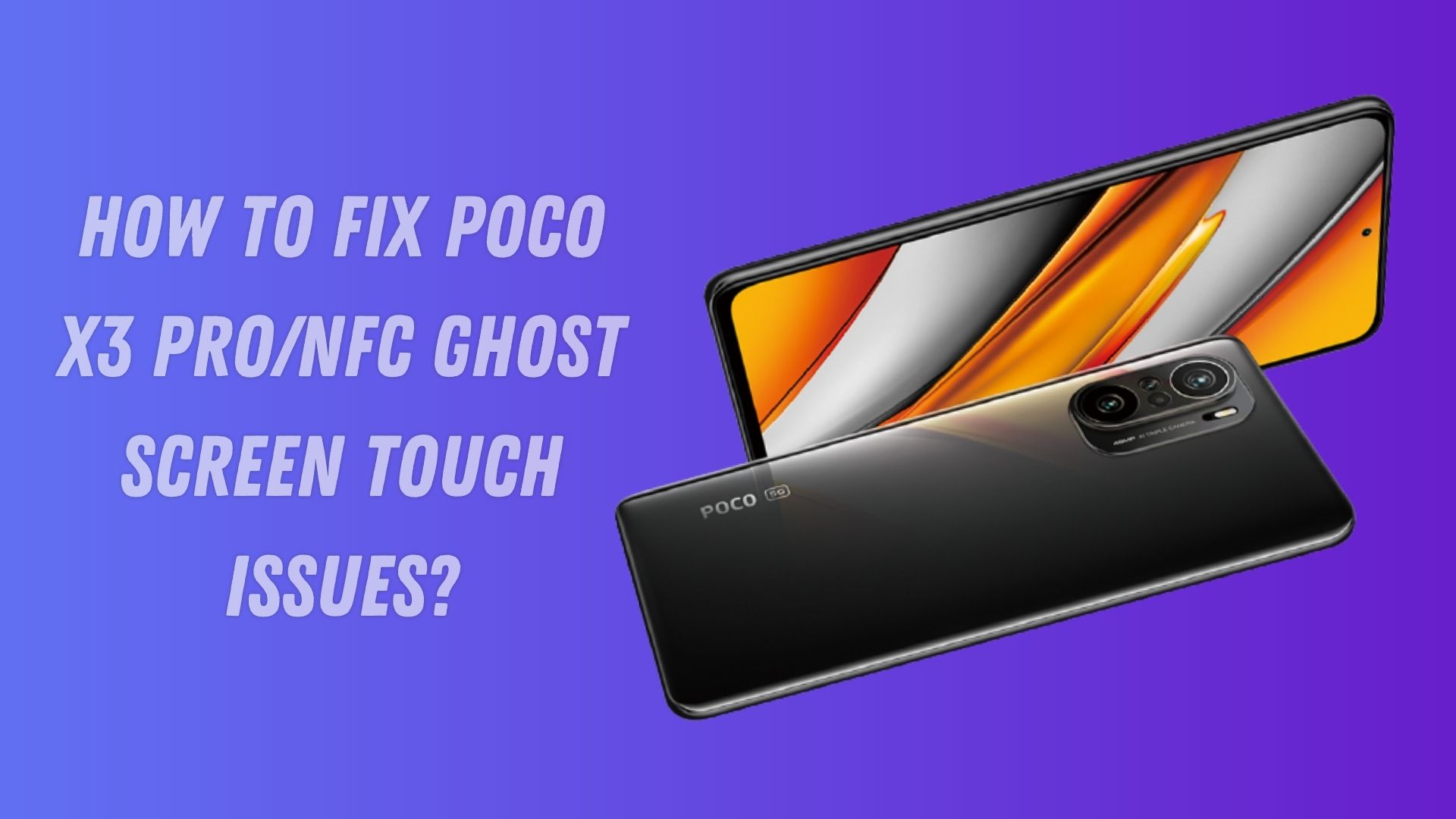 What are Ghost Screen Touch Issues?
For those uninitiated, ghost screen touch issues happen when you experience that the display doesn't register touch immediately or when it carries out functions such as launching apps or touch options that don't intend to by itself. No wonder it is regarded as a 'ghost touch' but the only difference here is, there's no ghost but the device is registering unwanted touches due to XYZ reasons.
This could affect the entire display or some portion of it and you could end up with a frozen screen as well. Although it could be likely a software-related issue, in most cases, this is purely hardware-related which requires a technician to fix it up for you. Here are some of the troubleshooting techniques you can use to try and fix the Poco X3 Pro/NFC Ghost Screen Touch Issues.
Remove the charger
For anyone who had experienced ghost screen touch issues before, they might know that many times, it happens when you connect your phone to the charger. This could happen if the charger or the cable is of spurious quality and it affects the digitizer on the display causing weird ghost touches. If you are facing this issue when charging the phone, it is advised to remove it and check if the problem still persists or not. You already have to answer if it was indeed because of the incompatible/spurious cable or charger.
Clean the display
Dirt can cause the display to function abnormally at times. Take a slightly wet cloth and wipe off the display. Ensure that you don't take too much water to damage the device due to excess water.
Replace the tempered glass on top
We usually strapped our phones with tempered glass on top and a phone case on the back. The tempered glass is what protects the display from falls and scratches to its best. Turns out tempered glass or protector made up of inferior quality of materials can cause more harm than better. If you report facing ghost screen touch issues on your device when tempered glass is on top of the display, a speck of dirt can cause it too. Thus, remove it and check if the problem is fixed or not. You can clean the display and stick the protector again in case that was a problem in the first place.
Perform a restore factory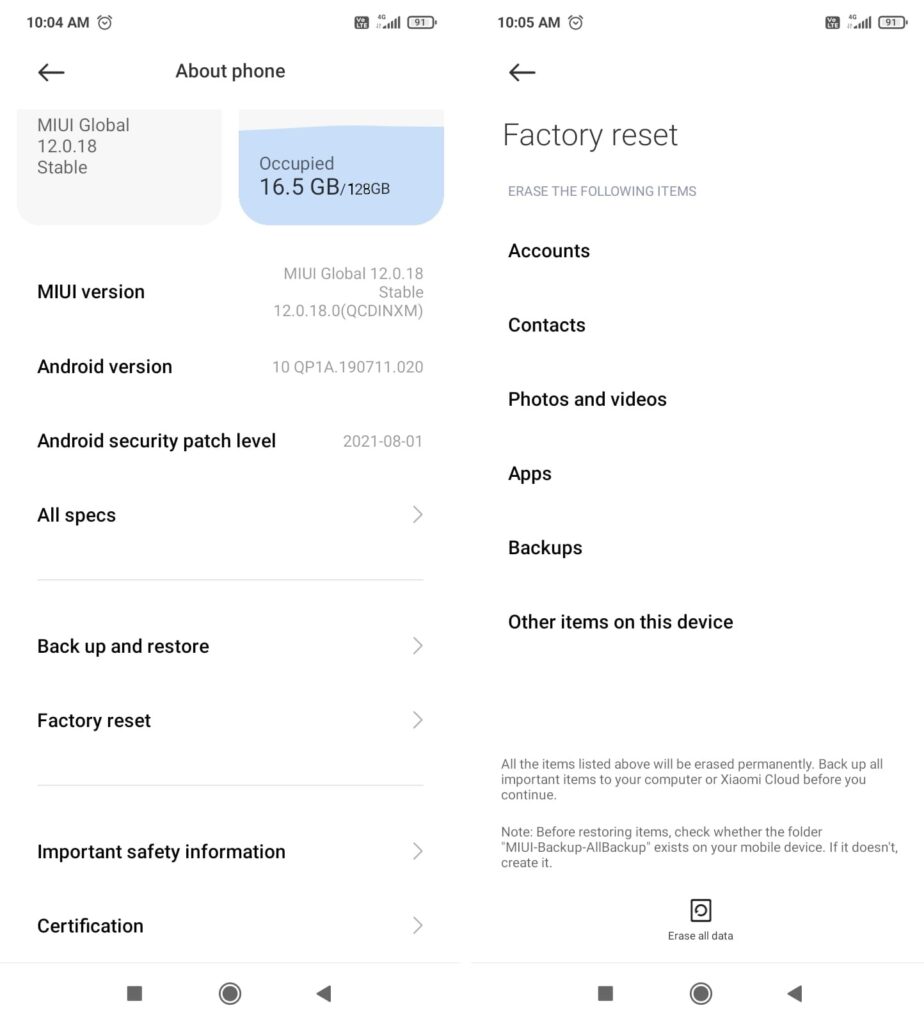 Buggy software can cause a lot of problems and there's a possibility that ghost screen touch issues can be one of them. Assuming that the issue is indeed due to faulty software, you'd need a restore factory as a measure to curb the issue once and for all.
Firstly, go to the Settings app on your Poco X3 Pro/NFC.
Proceed to "About Phone".
Scroll a bit and tap on "Perform a factory reset".
Tap on "Erase all the data" where you will be prompted to enter the PIN to confirm.
Once the phone reboots, you will have to set it up as a new device and monitor if the problem still persists.
Disassemble the phone screen
The ghost screen touch issues are mostly due to a faulty display. That is where this troubleshooting method comes into play. Perhaps, you need to know how the device works, how to disassemble and assemble, and so on before you can practice it because you are not just voiding the warranty but also taking a big risk disassembling the device if you don't hae=ve the required tools, knowledge, and experience to take the display apart.
Assuming that you are going through with this method, replacing the phone's screen or analyzing what's wrong with the current phone's screen, you should be able to fix the problem.
Report the issue
In most cases, ghost screen touch issues are caused due to hardware issues and not software. Of course, you can use some troubleshooting methods to fix software-related issues, hardware issues are different, and take a different approach to fix it up. I am talking about reporting the issue to a nearby authorized service center or a local service center although you will actually void your phone's warranty by getting it repaired at a local service center FYI.