Android O Pixel is the latest launch but is already winning hearts. Well, the reasons are many. It's delighting features, for instance, are sure to compel you to download them. But wondering how to download it…
Well, We will tell you how, just now!
Being one of the technically exclusive, the Pixel Launcher there are many hot selling points of these Pixel phones, but, we have the APK available for download. It can be installed on any device that runs on Android Marshmallow or higher currently but the developer Engineer Linuxct is working hard to make it work on all the devices, and his efforts will soon bear fruits and it will be available for all Android phones. The sleek looked home-screen applications have several unique features built in them, just like an app drawer that's tucked away neatly behind the aforementioned swipe gesture, which clears that you have one less icon in your dock.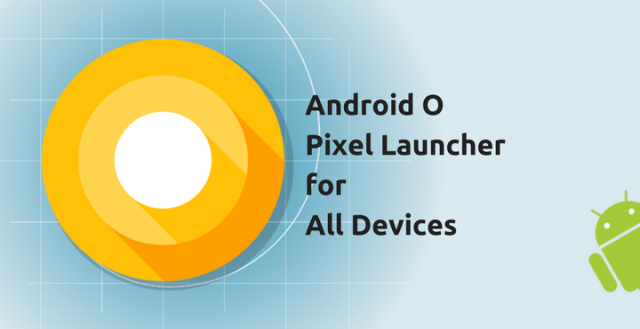 Why Android O Pixel.
Still wondering why is the world going crazy for it. Here is why:
One can swipe up anywhere in the home screen area to open the app drawer in this version while in previous versions, you have to swipe in the dock area.

It supports for Landscape mode.

The navigation keys get dark while you pull up the Pixel launcher's app drawer.

You get quick access to the Google Search on your primary home screen.

Swipe up to the bottom of Favorites row to find your apps sorted A-Z.

App Suggestion is one of the amazing features with which the app you are looking for to jumps to the top of your A-Z list.

A Long-press on the apps that support shortcuts can take you right into where you need to go or a long-press on these shortcuts can help you to drag them to the home screen.
What's different?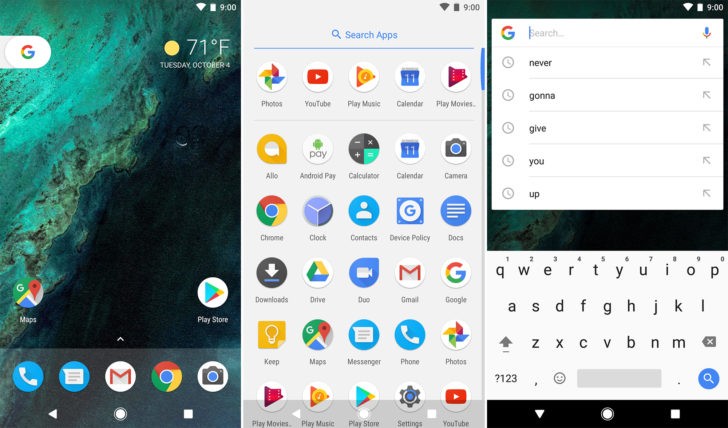 Interestingly there is not much of a difference except that you can swipe up from anyplace on the home screen to raise the application drawer as opposed to swiping from the dock at the base of the screen. Well, that is a difference, though.
So Android O Pixel is a new launcher, with amazing features.
As said, Android O Pixel has quite interesting features. Have a look at them.
The main features of Android O Pixel Launcher are:
Quick Settings Changes

Notifications, Snooze Notifications and Badges

Custom Lock Screen Shortcuts

New Picture in Picture Mode

Battery Life Improvements

Revamped Settings Page

Adaptive Icons

Ambient Display

Installing Apps from External Sources
Before installing, uninstall
Check in your applications if you have an older version of Pixel Launcher or Nexus launcher installed on your phone. If you don't have you can go further to the text step. In case you already have these versions you need to uninstall them if you wish to install Android O Pixel Launcher.
Methods of Installing.
Android O Pixel Launcher can be ported on any device. For this, there are two methods, namely, root method and non-root method.
Root method:
You can just install the APK and begin utilizing the launcher immediately.
In case you've never installed an APK, check Unknown Sources in Settings -> Security first.

Make a beeline for the Google Play store

install Link2SD

Open the application

It will stack up a rundown of all the applications introduced on your gadget, both framework, and client applications.

Look down the considerable rundown to discover Pixel launcher, or simply utilize the pursuit work.

Long push on the Pixel Launcher section and select Convert to framework application starting from the drop menu that shows up.

Wait till the application has been changed over

Reboot your Device.

You will be asked to select a launcher application, when your phone boots up, Here, select Pixel Launcher.

Just in case, your previous launcher still sets in your default launcher space, just go to the Settings > Apps and then tap on the gear icon just in the top right corner.

Thereafter select the Home app and then select Pixel Launcher.
There you go!
Non-Root Method
It is not necessary that you have to root your phone for porting Android O Pixel. The second method is the nonroot method. This method will give you almost all features but the integrated Google page on the home screen will not be available.
Follow the below given steps for it.
Install The Pixel Launcher And Wallpaper Add-On

All you need is "Obscure sources" empowered in Settings under Security.

At that point, point your gadget's web program to the accompanying connection, and the Pixel Launcher APK record will start downloading naturally.
Set Pixel Launcher As Your Default Home Screen
To wrap things up, press your gadget's home catch, then select "Pixel Launcher" from the rundown, and pick "Dependably" to make it your default home screen application.
10 steps for uninstalling Pixel Launcher
Not satisfied with Pixel Launcher. We still have a rescue.
Yes, we have it…
JUST UNINSTALL IT
Follow the ten step guide to uninstall Pixel Launcher from your device, my dear friend
Go to Play Store.

Download Link 2SD application.

Install Link2SD.

Grant the root permission of the application.

Search for the Pixel Launcher from the list.

Click on the Pixel Launcher

Click on 3 Dot menu.

Search for uninstall option

Click on uninstall option.

The application is uninstalled forever.
Yes, it's uninstalled now!
Although there are not any issues with the app, however, seldom it is reported that the Pixel Launcher has crashed. It does happen the first few times you use it, depending on your phone. But if this happens – DO NOT PANIC. Just do a quick reboot and you are set to go.
Open yourself to the wonders of this app – Android O Pixel. Now when you know how to port Android O Pixel and well…. well…. to uninstall Android O Pixel too.
Wishing you a successful downloading ( But only if you have marshmallow and above) or else just wait till your version has it, and trust us, it's gonna be pretty soon baby.