Printer Spooler is a Windows program that helps your computer interact with the printer and perform desired actions. And as printers are one crucial component of your system setup, the printer spooler needs to run all the time smoothly without causing any glitch or error. However, according to some user reports, it is noticed that Printer Spooler fails to open in some cases and ends up showing the error code 0x800706b9.
Now such errors can get very irritating for the users who use printers for day to day work. However, the error 0x800706b9 is not a significant problem and is known for exiting since Windows 8.1 days. Fortunately, today we have listed some of the most useful workarounds that will help you eliminate the "Printer Spooler Error 0x800706b9 on Windows 10".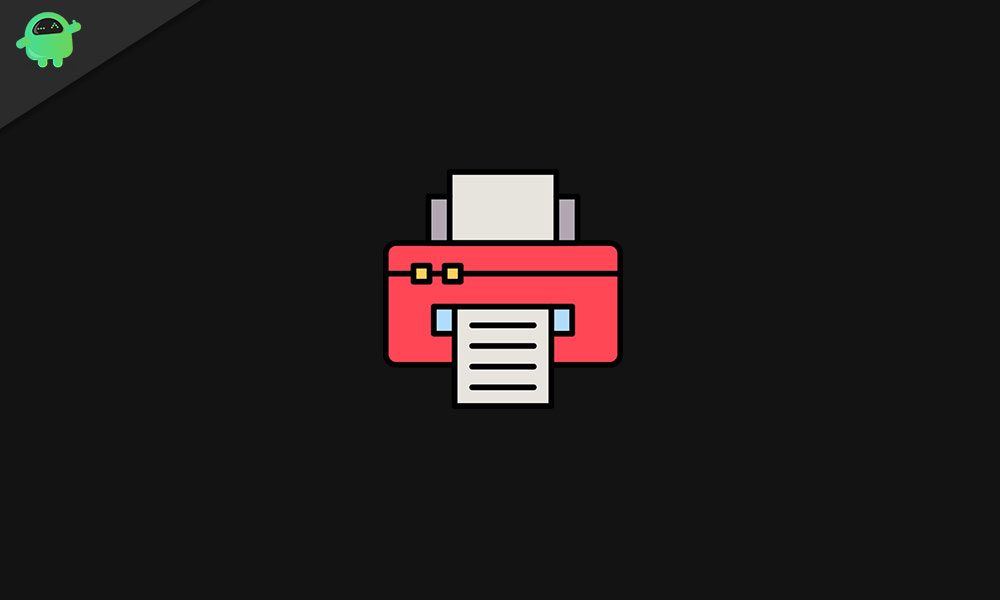 Printer Spooler Error 0x800706b9 on Windows 10
As per reports, users who have lately upgraded to Windows 10 have said that their PC cannot connect with the printer because the Printer spooler is not opening up. This issue ends up with a prompt error stating,
"Windows could not start the Print spooler service on Local computer.
Error 0x800706b9. Not enough resources are available to complete this operation."
The reason behind this error prompt could be:
If a firewall program or third-party software is blocking Print spooler from launching.
Due to a corrupt registry key.
Due to outdated or corrupt printer drivers.
Wrong settings in the Printer Spooler.
How to fix Printer Spooler Error 0x800706b9 on Windows 10?
FIX 1: Turn the Print Spooler service's start-up type to Automatic:
At times if the configuration is not set as automatic, it might keep Print spooler from stating and ends up showing Error 0x800706b9. Here, in this case, changing the configuration to automatic might help. For doing so,
Open the RUN prompt by pressing Windows + R altogether.
In the RUN prompt, type 'services.msc' and click on OK.
Now on the Services window, locate Print Spooler, right-click on it and select Properties.
On the next prompt, open the drop-down menu beside Startup type and select Automatic.
Now click on Apply and then OK.
Meanwhile, check whether the print spooler service is running or not. If not, then right-click on it and then select Start.
Finally, restart your PC and check whether Print spooler error 0x800706b9 is fixed or not.
FIX 2: Restart the Print spooler services:
Restarting the Print spooler services will help you eliminate the "Printer spooler error 0x800706b9 on Windows 10". For doing so,
Follow the 1st and 2nd step from Fix 1.
Here locate Printer Spooler, right-click on it, and select Stop.
Now open File explorer. (Do not close the Service window, but minimize it for a while).
In the File Explorer, type the following in the address bar.
C:\Windows\system32\spool\PRINTERS
On the Confirmation prompt, click on Continue.
After entering the Printer's folder, delete all the files from there and meanwhile close the File explorer as well.
Now maximize the Services window, then right-click on Print Spooler service and select Start.
Once you are done, the printer spooler will not start smoothly without showing the discussed error.
FIX 3: Update Printer Drivers:
Drivers are the crucial software components that work as a communicator between the operating system and a device. All hardware pieces need a driver that helps them with their functioning. The same is the case with your Printer. If the Printer driver is corrupt or outdated, then you might encounter error 0x800706b9 or several others. To mark out this possibility and update your driver:
Firstly, find your Printer's model.
Go to the Manufacturer's website, locate the suitable Printer driver, and proceed with the updating process.
Once the latest driver is successfully downloaded and installed, the "Printer spooler error 0x800706b9 on Windows 10" will get resolved entirely.
Moreover, if you are not sure about your Printer's model and correct driver, you can also use a dedicated driver updating software/ tool. Such tools complete the entire process automatically without much manual intervention required.
FIX 4: Form a new Microsoft user account:
Switching to a new Microsoft user account might not show the Printer spooler error 0x800706b9 on Windows 10. If this helps you, consider moving all your important files to the new user account and using it instead of the old one. For creating a new user account, follow the steps given below:
Open the Settings window from the search bar.
Go to Account, and from the left pane, click on the option Family & other people.
Now go to the right-pane and click on Add someone else to this PC.
On the next prompts, click on I don't have this person's sign-in information and then click on Add a user without a Microsoft account.
Give the new Account a user name and secure password.
Lastly, click on Next.
As said above, now you must entirely switch to the newly created user account and proceed.
FIX 5: Run the troubleshooter:
Windows 10 comes with an inbuilt troubleshooter, which helps to fix errors in most cases. Here too, we can try to run the printer troubleshooter for getting rid of the error 0x800706b9. For doing so,
NOTE: The Windows 10 built-in troubleshooter only resolves minor system issues. If this fix does not work for you, it indicated the glitch causing error 0x800706b9 might be significant.
From the Windows search bar, open Settings.
Go to Update & Security, and from the left-pane menu, select Troubleshoot.
Now on the right pane, locate Printer and click on the Run the troubleshooter tab. Follow the on-screen instructions. It will now start the troubleshooting process.
Once the process gets completed, check whether the Printer spooler starts smoothly without any error or not.
FIX 6: Edit your system's registry:
Editing or modifying your system's registry is a tricky process. One wrong input can harm your system permanently as well. Hence, we recommend you to try this fix with your own consent. Also, make sure to create a system restore point before you proceed further.
On the Windows search bar, type 'Regedit' and from the search results, select the option Registry editor.
Now on the Registry editor window, go to the left-pane and follow the key,
HKEY_LOCAL_MACHINE\SYSTEM\CurrentControlSet\Services\Spooler
NOTE: You can also export this key and later use it as Backup. It will help you if anything goes wrong after editing the registry.
From the right-pane menu, locate and double-click on DependOnService.
From the value data field, delete or remove http and then click on Ok.
Finally, restart your PC and check if the Printer Spooler works smoothly or not.
FIX 7: Reset the Windows Sockets API (Winsock):
Winsock is a technical interface that handles input/output requests for Internet applications. Many users have reportedly claimed that resetting Winsock has helped them eliminate the "Printer spooler error 0x800706b9 on Windows 10". For doing so,
On the Windows search bar, type 'cmd'.
In the Command Prompt search results go to the right-pane and select Run as administrator.
Now on the Command prompt window, type the below command and then press Enter.
netsh winsock reset
Once the process gets completed, restart your PC.
Now try running Printer Spooler and check whether it works smoothly without any error or not.
Apart from all these fixes mentioned in the article above, you can also try some other common workarounds to eliminate this error.
Use third-party anti-virus software and scan your system for any virus or malware.
Perform a system restore. By doing so, your system will get back to the last restoring position. If the error 0x800706b9 is occurring due to any changes made after the previous restoring date, then performing a system restore will help you. Just make sure that it will undo various other system changes as well (except affecting your Personal files).
Our printer and computer system must work smoothly without any error issue. And when there are any such issues like error 0x800706b9, the users should fix it quickly. The fixes mentioned in this article are all safe and proven to work for many users facing a similar error issue.
We recommend you try the necessary workarounds first and then only shift towards the other fixes later on. Hopefully, you will find all the relevant and functional benefits from the complete information mentioned in the article above. If you have any queries or feedback, please write down the comment in the below comment box.