The issue of Project Winter Mobile Crashing or Not Working is quite common nowadays as many users are facing similar issues on their smartphones including iPhone and Android devices. In most cases, the issue tends to be a technical issue or a technical glitch, but in spite of many different attempts, users still face this from time to time. Although, it can be very difficult for any app developer to create their games or apps error-free, but here users are not even able to open the app, let alone it is crashing on startup.
Now we can solely blame the developer for this issue, as there have been multiple game updates to address this issue. However, there can be many other reasons as well including GPU and CPU compatibility or other technical feasibility. In this post, we will identify some of the root causes of this problem and share with you some of the troubleshooting methods to fix it.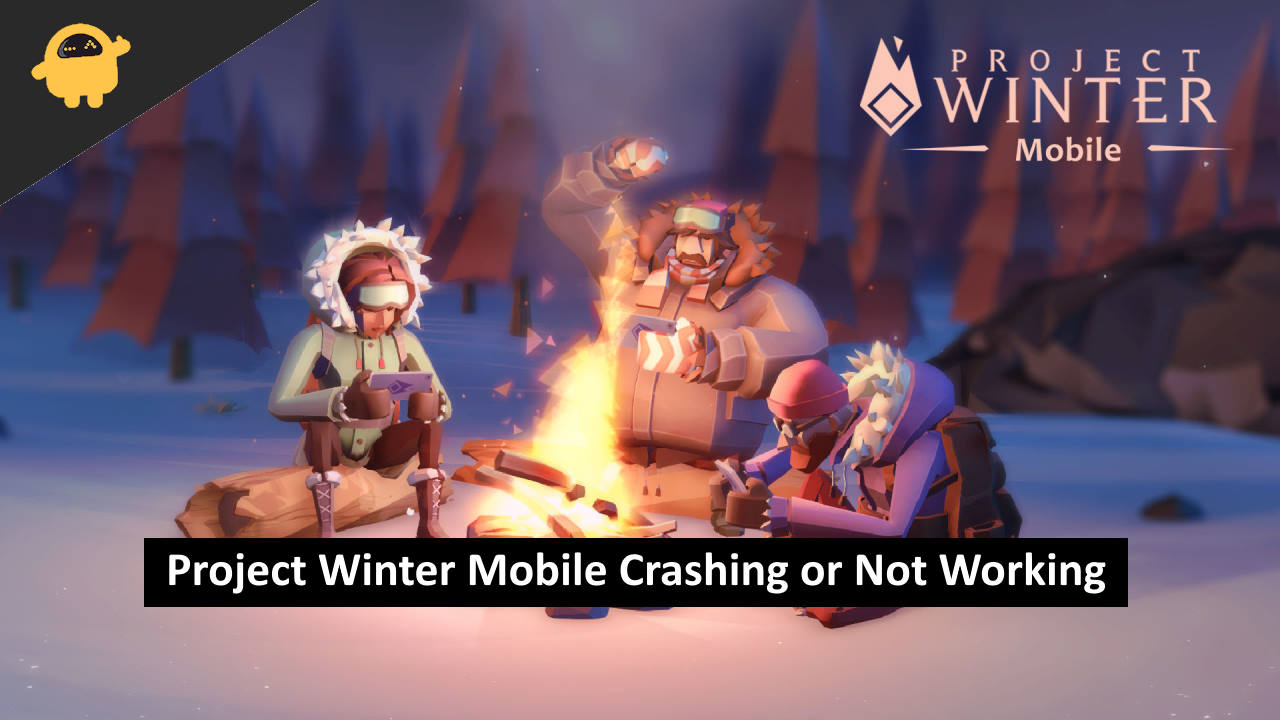 Fix: Project Winter Mobile Crashing or Not Working on iPhone and Android
Any issues related to the game not opening, not working, or crashing are usually related to RAM issues or game file issues. Many users also tend to use different mods, which can corrupt the game files and cause such a mess. Down below are some troubleshooting methods you can use to fix this situation.
Method 1: Restart Game & Smartphone
In most cases, the issue of the game not working, freezing, or crashing can be due to a technical glitch. So make sure you restart your game and see if it helps. If it doesn't, then the problem can be due to permissions, or maybe RAM usage, etc. So restart your smartphone and it will solve the issue.
Method 2: Check Game Specification
Project Winter Mobile is a big game and needs at least 3GB of RAM to run with a powerful CPU/GPU combination. So if you're trying to run this game on some old hardware then the game will not run. Make sure you check the game minimum requirements first.
Method 3: Clear RAM/ Cache/ Permission Issues
Smartphones are complicated in nature, each little details count when it comes to running these complex games and apps. So sometimes, it can happen that your device RAM is not adequate enough to run the game, or the game neds microphone permission but some other app is using it.
Also read: Does Project Winter Mobile Support Crossplay / Cross platform?
In such cases, it is better to restart the device. And it would be nice if you can check any game permissions, and grant them all. Usually, the game would need permission to access storage, GPS location, microphone, speaker, etc.
Method 4: Clear Storage Space
Project Winter Mobile is not a small game and it required at least 2-3GB of free space to run efficiently. Whenever you run a game, the game files expand and can clog up your device storage. If there are any apps that you do not need, uninstall them and make some space for the game to run efficiently.
Method 5: Remove VPN
The main reason why you would be facing Project Winter Mobile Crashing or Not Working issues is due to VPN or other network-related issues. You see, Project Winter is a multiplayer game and it also uses the internet to check for game updates and in-app purchases.
So if you use any VPN configuration, it might not be able to connect to the game server and ultimately crash the game or the game will not work at all. So make sure to disable the VPN if you use any. In case using VPN is absolutely necessary, then you may choose to get a dedicated IP if your VPN services allow it.
Method 6: Check Game Server
Project Winter checks for multiple things before the game actually runs and is available for the player to enjoy. And since the game is quite new, minor issues with the game server are possible. If the game server is not running, is unreachable, or is temporarily down for maintenance, the game will not run.
You may check any server-related announcements from their official Twitter page.
Method 7: Remove Mods
Each game has a mod community and so does Winter Project. t this moment, more than 10-15 mods are available foe the game which allows players to score better and do some customization to the game.
But at the same time, using such mods is considered cheating or false play. So game developers have clever mechanisms to detect such mods, and as a result, the game will not load, or crash momentarily. So make sure to remove any game mod applications if any.
Method 8: Update App
Since the game has got quite popular, more and more players are downloading the app and enjoying the gaming experience. However, with many players and different devices, issues are bound to happen.
So developers usually update the app every week to make sure the game is compatible with all devices including Android and iPhones. In case you have updated the game, make sure to update it as it might solve the issue as well.
Method 9: Reinstall App
If none of the above methods helps you, then it means the game installation is corrupted someone and you need to reinstall the game. Since the game is online, you won't lose any game progress. First, uninstall the game from your device, and then install it from the official Google Playstore or Apple Appstore.
Conclusion
This brings us to the end of this guide for fixing Project Winter Mobile Crashing or Not Working issue. Please note that this guide intends to benefit both Android and iPhone users. Android users should keep extra care as the app can get a little buggy as compared to iPhone users. Again, the above methods should be able to help you out, but if not, then it means the game is not compatible with your smartphone.