Recently, Promods launched their newer version, i.e., Promods 2.60. Anyway, before we move further with this dedicated guide on how to fix if the latest Promods crash your game on the loading screen, let me first clarify that I'm playing Euro Truck Simulator 2 using Promods. But, you can relate the below-mentioned fixes with your Promods supported games.
ProMods 2.60 contains various new cities as well as updated ones. In addition, they expand the Euro Truck world more than ever with this update. Well, for those who don't know about the Promods, then it is a map expansion mod for both games American Truck Simulator and Euro Truck Simulator 2.
But, from the last update, many users started complaining that they weren't to play their favorite game as the game started crashing at the loading screen. Well, guess what? Now you do not require to worry if you are also suffering from this condition as we have something for you in this guide. So, make your make and take our lead to fix the game crashing issue on the loading screen.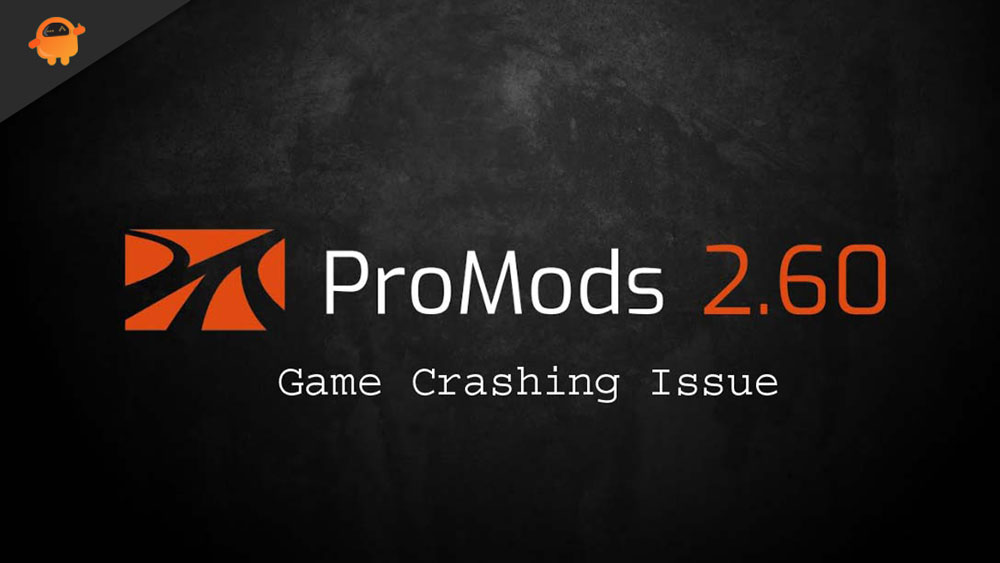 How To Fix With Latest Promods, My Games Crashing on Loading Screen
Every Euro Truck Simulator 2 player is very well familiar with the Promods as it is the map extension that improves the base map by expanding it and recreating older parts of the map with high-quality textures and graphics. But, after the recent update, the game starts crashing after the loading screen. However, the reason behind this is still unclear, but we still have some fixes with us that will surely help you get rid of this situation. So, make sure to follow them and try to apply each method discussed below:
Method 1: Restart Your Game
It might be possible that you may face the error because of some random temporary files that your system saved as cache data to improve performance by conserving resources. But, sometimes, that may prevent your game from running properly.
Since these type of files gets removed just by restarting the game or your device. So, if you've already restarted the game and don't find it worth it, then we suggest you reboot your device once and then again check if now it allows you to load up the game or not. This will surely help as many users previously reported that this helps them to fix this kind of issue.
Method 2: Check For Game Updates
However, in case the restarting doesn't seem beneficial for you, then the issue is not caused due to cache data; therefore, now you have another option that will fix this issue. There are chances that you may run the older version of the game, due to which you are getting the error.
So, the first and foremost thing that you require to try is simply open the Steam client or the particular launcher that you are using and check if there is any update available for your game or not. If there is an update appears in the library, then we recommend you immediately update it and rerun your game to check if the crashing on the loading screen issue gets fixed.
Method 3: Check Compatibility
In the very unfortunate scenario, if even after updating the game, the issue won't get fixed. Then, there is a possibility that your game version may not be compatible with the Promods 2.60 version. You can hover to the Promods official website in order to check the compatibility.
However, as per our research, the Promods 2.60 is compatible with the ETS2 1.43.X. So, if you don't have this version of the game, then there are chances that you won't be able to use the Promods version unless you roll back the Promods update. But, we don't recommend that.
Also Read: All Common Euro Truck Simulator 2 Errors
Method 4: Disable Problem Causing Mods
There are possibilities that some mods are not compatible with the game and causing problems. So, it is better to disable all the mods and enable one-by-one to check which mod is causing the error. In most cases, it is noticed that when a user uses other third-party mods, only then they have to face the crashing issue while playing the game.
So, we do not recommend you to use those third-party mods, and you should always use the mods that are official. Also, using a third-party mod may cause heavy damage to your PC as well because some of them may contain bug files that spread on your PC, causing many issues.
Method 5: Contact to Support Team
We regret if none of the earlier mentioned methods worked for you. Although previously, these fixes worked for many users to fix issues like this. But, we don't know what goes wrong this time. Anyway, if you are still stuck and your game continues crashing on the loading screen. Then, the last option that you have is to contact the support team. You can use this link to contact them, but keep in mind that tell them everything that you can face currently in a polite manner. They will help you get rid of this situation.
From Author's Desk
So, that's all we have for you on how to fix it with the latest Promods, the games crashing on the loading screen. We hope this guide has helped you. Furthermore, comment below if you have any other fix that will help our readers fix this issue. Also, don't forget to visit our website regularly for more informational guides and articles.