Is your PlayStation 4 controller blinking orange, and you don't know what it means and how to fix it? Don't brood. We're here to help you. A PS4 controller flashing orange means your console is either charging or is in Rest Mode. The device uses its lights bar to display such information to its users, and an orange light doesn't depict something wrong with the controller.
But it could be frustrating when the light remains orange for all time or even when you play such games with your controller. In such a case, you should take action to troubleshoot the problem. Most times, the orange color speaks about power issues, random bugs, and even lag problems. With these causes, you don't know the real cause and how to resolve the blinking orange issue.
Blinking orange at the top of your PlayStation 4 controller can be annoying, especially when playing highly games with your controller. This article will provide the most effective solutions that you can easily take to resolve the problem on your PlayStation 4 controller. Before we get into the solutions, let's first understand why the PS4 controller blinks orange.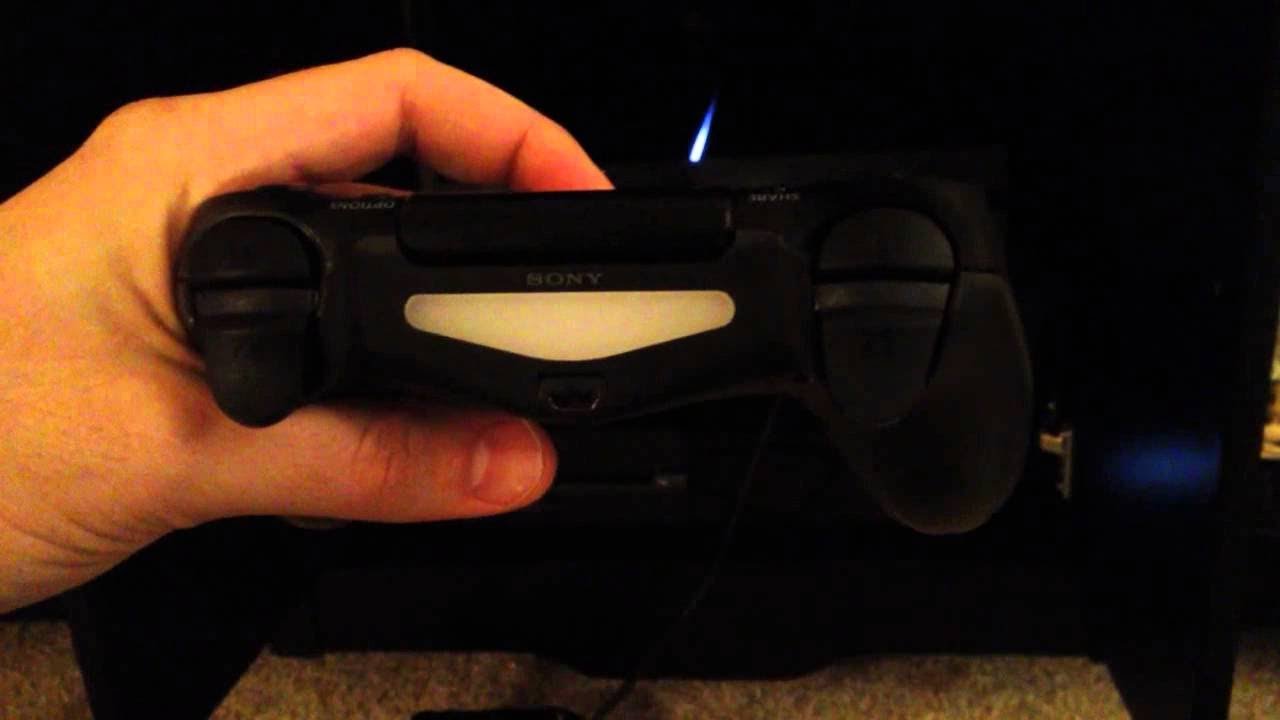 Why Is My PS4 Controller Blinking Orange?
There could be numerous reasons why your PlayStation 4 controller blinks an orange color. However, if your controller is blinking either orange or yellow at the top, it means it is in charging mode while the controller is in Rest Mode. In addition, if you notice a steady yellow or orange light then it depicts the controller is connected to the console, but it's not charging anymore. It mainly happens when your controller powers off or in Rest Mode.
Moreover, the lightbars color on your PlayStation 4 controller represents various users during the gameplay. But the orange color isn't a part of the gameplay. As you can see below the color and connection.
Player 1: Blue Lights
Player 2: Red Lights
Player 3: Green Lights
Player 4: Pink Lights
Therefore, if your control gets an orange color at the top or light-yellow color, then it could depict some of the dysfunction that can happen on your PlayStation 4 controller. It is possible that your controller is lagging, or the battery has not enough charge and in such a case the controller starts flashing in orange color when it's in charge mode.
Another main reason is that your controller has a power issue, so it loses charge too fast or shuts off randomly. However, if your PlayStation 4 controller isn't connected with the console correctly, then it often relates to a bug on the peripheral. Damaged internal components such as buttons not working, failing to sync with the console might be the reason for the issue you're facing with your PlayStation 4 controller.
The blinking orange light is due to connectivity and charging issues on your PlayStation 4 controller. But you would easily recognize that you have fixed the problem by checking the controller's light status.
Your PlayStation 4 controller blinks orange when it's connected to the charging if needed.
The light shines steady white or blue when you use it.
Fix PS4 Controller Blinking Orange Issue
Try these below troubleshooting strategies if you are having an issue with your PlayStation 4 controller. Make sure to follow each step carefully on the controller and console.
Fix 1: Power Cycle Your Console
The first thing you have to do is to power cycle your PlayStation 4 console. Doing a power cycle will erase licentious power bugs that prevent your controller from charging or blinking an orange light. Here's how you can power cycle your console by following the steps below:
Press and hold the power button for 5 seconds to turn off your console.
Unplug the cables and connection from the joint and wall socket.
Wait for about 5-10 minutes.
Join all the cables back to your console and plug the cable to the wall socket and turn the switch back on.
Now your console has successfully restarted.
Fix 2: Reset Your PS4 Controller
Once you have done the power cycle of your console, you must reset the PlayStation 4 controller. It will reset your controller back to its default state which erases all the bugs and issues, erratic behavior and syncing issues. If your controller continuously blinks an orange light, then reset will surely resolve the problem.
To reset your PS4 controller, then you need another controller for the process. After that, follow the steps below:
Plug another working controller on the console.
Turn the console on and head over to Settings.
Select Device.
Choose the Bluetooth devices option.
Take your previous controller and press and hold the Share and PS button simultaneously for about 5 seconds.
Now check if your peripheral has appeared on the Bluetooth device menu. It should be indicated with a green dot, once the console identifies the device.
Fix 3: Enable Charging on Rest Mode
Let's try charging your controller battery for a while as it could be possible that due to enough battery charge, it is blinking orange light. To completely charge a PlayStation 4 controller, it will take around 2 hours, but it is suggested you leave your controller for 3 hours to charge. Also, we advised you to charge your controller on the console while on Rest Mode. To do this, you have to enable charging on Rest Mode from the settings. Here's what to do.
On your PlayStation 4 controller, navigate to Settings.
Select Power Save Settings.
Again, select Set Feature Available in Rest Mode.
Choose the Supply Power to USB Ports option and select for three hours.
After leaving your controller charging for three hours, test it again to check if the issue has been resolved.
Fix 4: Change the USB Cable & Port
There may be a reason that the problem is with the power supply itself. Generally, if your PlayStation 4 controller doesn't have enough battery charge, it will blink an orange light. It is possible that due to an incomplete charge the power cable doesn't provide enough power or the circuit has been damaged, leading to the issue with the controller as cables are easily fail and damaged.
Verify your controller using another USB Type-C cable and leave it until it's completely charged. Plus, you could also try another USB port from the PS4. Afterward, check if the issue has been resolved by verifying the blinking orange light.
Fix 5: Soft Reset Your Console
You can also try to perform a soft reset on your console. There may be an issue with the console itself. In that case, a soft reset is all we need to do. Generally, a soft reset is a simple restarting method that allows the device to flush and cycle issues, applications, caches, RAM, settings, and protocols. Here's how you can perform a soft reset on your console:
Press the Eject and Power button on the console for about 30 seconds. Your console will emit two beeps before shutting down.
Press and hold the Power button for a few seconds to turn the console back on.
Plug your controller back to the console and check the results.
Fix 6: Hard Reset the Controller
You can also try to perform a hard reset on your PlayStation 4 controller if resetting the console doesn't work. By doing a hard reset, you may resolve the blinking orange light issue on your PlayStation 4 controller. You will require a paper clip or pin to do so.
Firstly, turn Off your PS4 console and disconnect your controller from it.
Find the tiny hole for the reset button. It should be located near the left trigger button at the back side of the controller.
Insert the Paper Clip or Pin in the hole and push the reset button for about 5 seconds.
Plug the controller back to the console.
Press the PS button on the controller to turn on the PS4.
Now, check if the issue has been resolved on your controller.
Fix 7: Seek Professional Help
If you have tried the above workarounds and it doesn't work, and the orange light Keeps blinking on your PlayStation 4 controller, your controller needs to be repaired. It could be possible that the orange light Keeps blinking due to software or hardware issues. Make sure to contact a professional to get your controller repaired. Otherwise, contact the PlayStation support team for help. They will probably suggest their best solutions, and you will resolve the problem soon.
Wrapping it Up
PlayStation 4 controller blinking orange light can be caused by several reasons, including software errors, insufficient charge, and erratic behavior. Fortunately, we have mentioned some accurate solutions which you can easily try to resolve the problem. Follow each step carefully while doing it on your console and controller. If the above solutions don't work, you should seek professional help. We hope this guide helps you to fix the blinking orange light on your PS4 controller. For further queries, you can comment below.