Wi-Fi is undoubtedly one of the most used features on a smartphone and since our lives revolve around the internet nowadays, even minor Wi-Fi problems can throw it off the rails. Without Wi-Fi, users will have to rely on mobile data which even if you have 4G, it is not that reliable and neither cheap since Wi-Fi is exponentially cheap and available as free in many corners of any city you can think of as free 'Wi-Fi hotspot'.
But what to do if you are facing blockage or errors while using Wi-Fi on your device? Can rebooting the device help? How to sort out various errors that pop up on the screen when you try to connect to a home or available network? Let's read along this troubleshooting guide to fix Alldocube Wi-Fi problems and guess what, even if you use a different device by another OEM, you can still go through this guide which tackles all sorts of Wi-Fi problems and ways to fix it.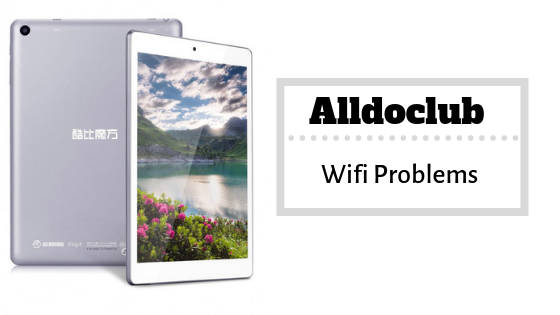 Quick Guide To Fix Alldocube Wifi Problems?
Verify for any intermediate issues
What you need is to simply call your friend or someone who is using the same ISP and in the same vicinity as you to check if the internet is working on their end or not. Then, call the ISP and ask them for help. You can also ask them to give a visit so that they can ascertain if there's any problem with the setup and troubleshoot it accordingly.
Common troubleshooting methods
For any other issues ranging from unavailability of Wi-Fi network or if the phone is unable to search for Wi-Fi networks or so on, here's are common troubleshooting methods to fix 'em all.
Reboot the phone
The first thing you can do is to press the power button and select 'power off' from the dialog box that appears on-screen. Note that rebooting the device may seem not that efficient method but indeed it has a great impact on many errors and problems where it fixes any temporary software glitches occurred when you were trying to access certain service or app or functionality on your phone.
Toggle Wi-Fi
Coming up next is toggling the Wi-Fi feature will undoubtedly set it in motion if in case the feature wasn't turned ON actually at the first attempt or a software glitch occurs when you tried to access it. Anyways, you can still toggle the Wi-Fi switch under the notification tray several times to get it started.
Toggle Airplane Mode
If toggling Wi-Fi didn't work, try toggling the airplane or flight mode instead. Here, you need to drag down the notification tray and tap on the airplane mode to enable it. Doing so will restrict any and every cellular network temporarily while disconnecting Wi-Fi as well. Simply toggling it twice or thrice must do its job for now.
Disconnect & Reconnect
Considering that you are unable to connect to an available Wi-Fi network which is a common issue with smartphones, you can try this method. For this to work, long press on Wi-Fi button on the notification tray and proceed to Settings >> Wi-Fi and disconnect & forget the network that you were originally trying to connect to. Now, wait for a minute and tap on the same network, enter the password and reconnect. This must resolve issues of some users if not all.
Reboot the router
There are two possibilities here i.e. either there is no internet access at the moment which you can rectify by calling the ISP. On the other hand, a rather common occurrence is when the router is overworked or in simple terms, turned on continuously for hours and days which is when you will see this kind of issues on your phone as well. The easy fix to resolve this kind of Wi-Fi problems is to turn off the router, press WPS reset, and wait for a few minutes before rebooting it.
Distance & obstacles matter
You might not pay close attention towards it but the distance between the phone and the router or obstacles between the two ends can make or break things. This is because the more the distance, the weaker is the signal strength. Also, obstacles can attenuate the signal more than what you can think which is the reason why you should place the router in such a position that it broadcast network to either house or office without broadcasting it through walls or so or placing yourself in such a way that you can insight with the router. This will resolve both distance and obstacle-related issues for sure.
Purge cache
It's time to go chopping those cache memory files from your phone and it wouldn't take much of your time but surely will eliminate many issues. First up, you need to clear app cache which is accessible via Settings >> Apps >> Downloaded where you click on each app individually and press the two buttons that say 'Clear Data' and 'Clear Cache'. Next up is to purge storage cache memory which is available via Settings >> Storage >> Cache Memory. Finally, the third method revolves around recovery mode where you need to select 'wipe cache partition' for which, you need to follow the method explained thoroughly in the restore factory method.
Update the software/apps
Next thing to keep in mind is to update all the apps installed on your device including the firmware which acts as an interaction medium so that all hardware and software components can work in the congregation. You need to check out for available updates via Google Play Store >> My apps and games and tap on 'Update All' to do the same.
Update the firmware of the router
After updating the firmware of the device, you need to move forward to grab the firmware update for the router as well. You'll find the update on the router manufacturer's website from where you can visit the router's admin panel and upload the update and let the system take care of the rest.
Restore factory
Next in this troubleshooting guide to fix Alldocube Wi-Fi problems is to perform a full on hard reset. The prerequisite that I would like to add is to take a backup of all the data that you want to save since hard reset will actually erase all types of data permanently. Here's a procedure to perform a hard reset on your Alldocube smartphone.
Power down the system.
You need to tap and hold power plus volume up button here to initiate the bootup procedure to enter into the recovery mode.
Release the keys when you spot an Android logo amidst the bootup procedure.
Select 'wipe data/factory reset >> yes — delete all user data'.
This will conclude the procedure although you must look forward if the issue is resolved or else you need to report it to a service center.
Install a Wi-Fi range extender
If you are complaining about inadequate signal strength which remains as it is no matter what you do, you can check out the prospect of a Wi-Fi range extender. It works as an amplifier where it amplifies the incoming signal and throws a boosted Wi-Fi signal that allows using Wi-Fi over a little long distance or through walls when it comes to piercing through obstacles.
Common Wi-Fi problems & their fixes
These are errors and issues that occur specifically and show certain common error messages such as the status shows if the Wi-Fi is unavailable or if the phone is stuck trying to obtain IP address before connecting to a Wi-Fi network and so on. Here's are common Wi-Fi problems and their troubleshooting methods that might help.
"Obtaining IP Address"
The status which you can see via Settings >> Wi-Fi and underneath the network you want to connect to it is stuck showing 'Obtaining IP address' for a longer duration, long press on the network you want to connect, and tap on 'Show Advanced Options'. Next, scroll down the dialog box and look out for IP Settings that you need to change from 'Static' to 'DHCP'.
"Authentication Error"
If the status shows 'Authentication Error', it is probably because the password is incorrect. For that, you need to follow the 'Disconnect and Reconnect' method to fix this particular type of error message.
"Wi-Fi connected but no internet access"
Firstly, check out if there's any intermediate issue with the ISP or not. Next up is to check whether the router has overworked. If that's the case, even if there's working internet and the phone is connected to the Wi-Fi, it may not be possible to access the internet. For that, you need to simply repeat the 'reboot the router' method explained above. Check out if there are too many smartphones connected to the same network which can introduce the same problem as well.
Report the issue
Considering the fact that nothing in this explicit Alldocube Wi-Fi problems troubleshooting guide came forward to your rescue, there is a thick possibility that the problem is actually due to hardware issues. For that, you need a professional's help that is by reporting the same to an authorized service center or you can visit a nearby third-party service center for help as well based on your preference.