We depend on Wi-Fi a lot, having Wi-Fi problems at home or office is the most irritating thing you can experience on a smartphone. We get things done such as browse the web, social media, watch videos and movies, or make transactions or do business, etc. Since we all depend heavily on Wi-Fi and as the mobile data isn't that reliable, cost-effective, and fast, we tend to rely more on Wi-Fi which is available across the globe although conditions apply. Despite faster speeds reaching most homes, wireless (and often wired) networks can get bogged down.
You should first check if the same Wi-Fi problem occurs in another device. You can try the Wi-Fi on your laptop or any other smartphone to see if it works. If your Wi-Fi doesn't work on both devices, there may be a problem with your router. Try the fixes in this article and fix Wi-Fi problems.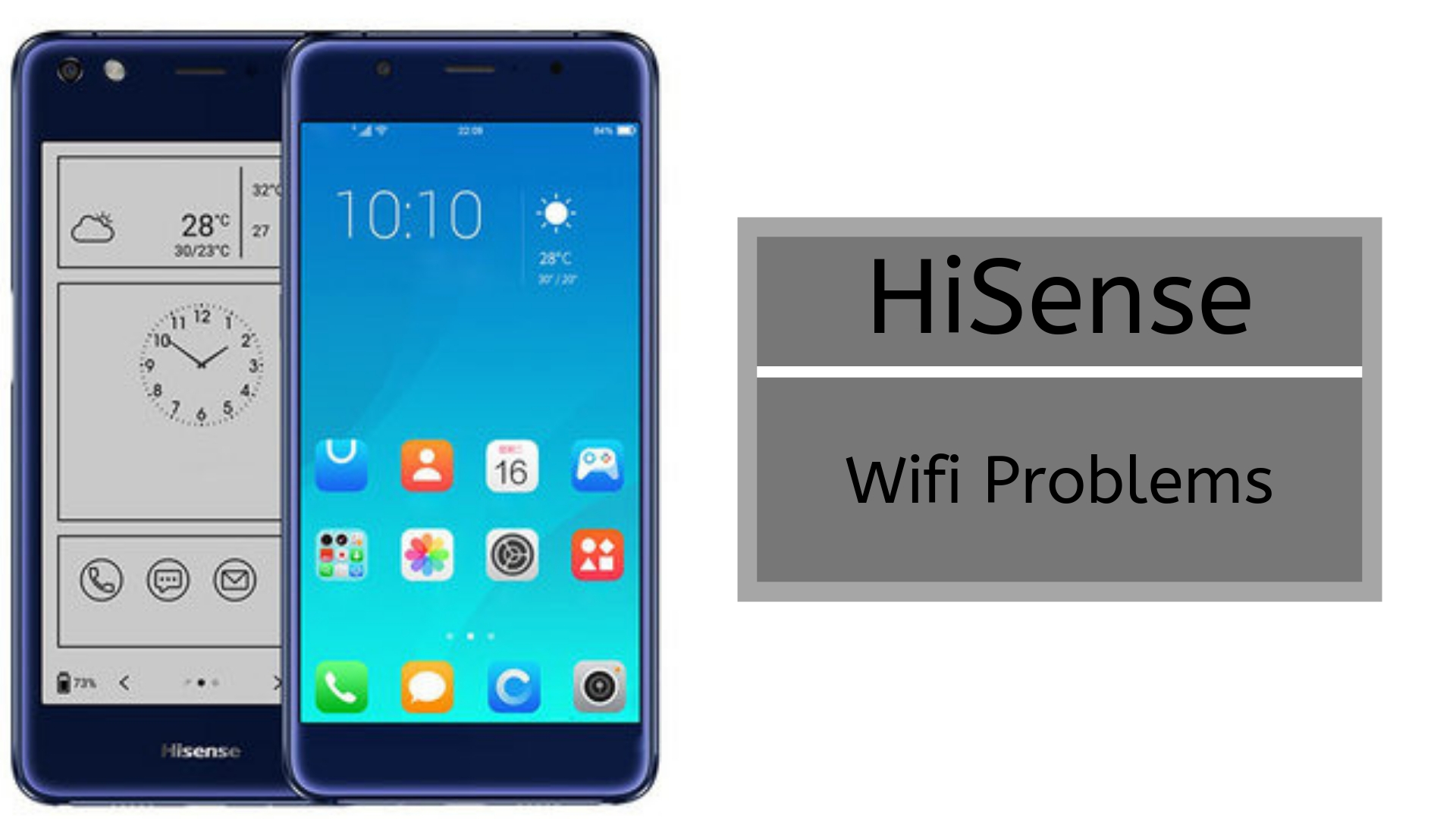 Quick Guide To Fix HiSense Wifi Problems [Troubleshoot]
Step 1: Reboot the router
An easy solution to this Wi-Fi problems is to reboot the router. It is possible that the router has overworked or overloaded causing the temporary error such as no Wi-Fi reception or no internet on your phone even though the Wi-Fi is connected. Turn off the router, and wait for a few minutes before turning it back on.
Step 2: Check for any intermittent issues
There are possibilities that an issue might have happened on the part of your service provider. Most of the ISPes would inform or send messages to the users about any upcoming maintenance or upgrade work leading to connection interruption. Call the service provider and ask for a technician's help.
Step 3: Update the firmware of the router
Firmware enables interaction between software and hardware components. Routers also have firmware too but it doesn't often need a manual update. Visit your router's manufacturer website and search for the latest firmware update.
Step 4: Report to a nearby service centre
If you still find your Wi-Fi not working, approach the nearest service centre if your router is in warranty. If not, invest in a new one.
However, if you find only a particular device with Wi-Fi problems, don't panic! You can fix Wi-Fi problems yourself with a few, simple tips.
Step 1: Reboot the phone
If the router isn't a problem, could it be the phone after all? Rebooting your device is one of the simplest methods to solve such issues. Turn off the device and wait for a minute before rebooting the device. Check if the Wi-Fi works or not.
Step 2: Restart "Wi-Fi" on your phone
It is possible that the Wi-Fi is enabled, however, the connectivity service isn't actually turned on by the system yet. Go to Settings >> Wi-Fi and tap on the network to connect. Another alternative is to tap on the Wi-Fi icon again that will turn it off and then, tap on it again to turn it ON. It must work in some cases if not all.
Step 3: Turn on Airplane Mode
Airplane mode has been related to fixing a series of Wi-Fi problems such as when the phone is unable to find Wi-Fi network or it connects but there's no internet and so on. This can be done by enabling the airplane mode and waiting for a few minutes before disabling it. Once you have disabled it, simply turn on Wi-Fi and check whether the problem is sorted or not.
Step 4: Check the password
Check the password entered for accessing the Wi-Fi. You can spot if the password is incorrect simply by seeing an 'Authentication error' within Settings >> Wi-Fi
Step 5: Forget & Reconnect
The phone may actually either connect to a Wi-Fi network and disconnect itself automatically over and over again or if the phone is showing 'Obtaining IP Address' for a longer duration than usual, you need to forget the said network and reconnect to it hoping that it will start working seamlessly. Tap on Settings >> Wi-Fi and then, tap on the network and tap on 'forget'. Now, re-enter the password and check if the issue is resolved.
Step 6: Remove signal interferences
If the phone is connected to the Wi-Fi but there's no internet or the signal strength is poor or not adequate, interference can be the probable cause. Any obstacles in the form of a person, objects, etc can cause a disturbance in the quality of the network being intercepted on your device. Get rid of any obstacles if possible.
Step 7: Lower the distance between your smartphone and router
If there is a long gap between your device and the router, you'll face Wi-Fi problems for sure. You can access a router access point from as far as 40 to 50 meters and even more but in clear sight. If you can, get closer to the router.
Step 8: Update to the latest firmware
One of the easiest fixes to any problem related to apps is to update the apps as well as the firmware to the latest available. So, updating apps and the firmware provides an edge over other users with new features while strengthening the defence against bugs and viruses. Open the Google Play Store and update all the apps manually or by ticking 'auto-update'. Firmware updates can be checked within the settings section where you can see the latest update available.
Step 9: Use a static IP instead of the DHCP
If your phone shows the status of a Wi-Fi network as 'Obtaining IP Address' but doesn't connect, you can switch between Static IP and DHCP (Dynamic host configuration protocol). For this follow the procedure below:
Open the Settings.
Proceed to Wireless and Networks and tap on Wi-Fi Settings.
Proceed to Advanced Settings.
Now, tap on Use Static IP.
Step 10: Clear cache files
Corrupted or overridden cache files could hamper the system's performance causing Wi-Fi problems and therefore, you need to clear it. Navigate to Settings>>Applications and then find the downloaded list of apps. Here, tap on every app individually to clear the said cache memory. Moving on, the next is the storage cache which can be dealt with simply by opening Settings app and navigating to Storage or Memory and then, clear the Cache Memory.
Step 11: Perform a hard reset
If any of the above steps do not work, go for a hard reset. Be sure to get a backup of all the data because once you proceed with the factory reset option, all data is lost permanently. Here's how you can perform a factory reset:
Press the power button and turn off the phone.
Press the power button and both the volume buttons simultaneously until an Android logo flashes on the screen and then, release the keys.

Now, select 'wipe data/factory reset' from amidst the menu using volume buttons as navigation keys and power button to select an option.

Reboot the device and verify the procedure by connecting to a Wi-Fi network right away.
Step 12: Ask the smartphone manufacturer for help
Unfortunately, if any of the above methods do not work, take your device to an authorized service center and preferably an authorized one to preserve warranty on the device. This is where you can get the fix for Wi-Fi problems on your device.