Updated on May 09, 2023: Today we have added the latest version of RC YOWhatsApp APK for Android devices. Check out the new version RC YOWhatsApp 10.2 which brings new features, fixes, and more changes.
WhatsApp is a popular social media messaging application owned by Facebook. The application provides you with various features like- end to end encrypted texting and posting short stories. However, the official application has many limitations, which most of you wanna go beyond. However, there are Mods applications for WhatsApp such as RC YOWhatsApp APK that will give you tons of features along with the ability to customize and extending almost all the WhatsApp limitations.
Mods applications are the alternative application of an official application that provides more control and features to the applications. WhatsApp has many Mods, but RC YoWhatsApp is the best mod in terms of looks and features. It is a clone of another mod YoWhatsApp. Some modifications have made like including the iOS and Glax theme. Moreover, it has all the pro-privacy features like calls privacy customization, hide view status, and much more.
RC YOWhatsApp APK 10.2 features
WhatsApp traces the users who use Mods for more functionality. Therefore it has an Anti-ban feature that prevents you from getting banned by WhatsApp.
You can send a message without saving the number; there are frequent updates of the app with the latest bugs fixed and additional features. Even more, it has increased privacy options like hide blue tick, double tick, and much more.
RC YowhatsApp enables you to hide yours from other status views. Moreover, it has an Anti-delete message feature in which the other user will be unable to delete a message.
You can customize almost anything like the background color gradient, navigation bar, the drawer, and much more.
You can upload 5-minutes videos, but only RX YoWhatsApp users can see it. Moreover, you can set the online status.
It supports backup of complete data and hiding media from the gallery and has a secure security setup. Also, you can change the default video player.
Download RC YOWhatsApp APK 10.2 Latest Version 2023
RC YOWhatsapp APK 10.2 is available in different variants depending on looks and their features. There are four variants in total, which you can download below.
RC YOWhatsApp IOS Variant Download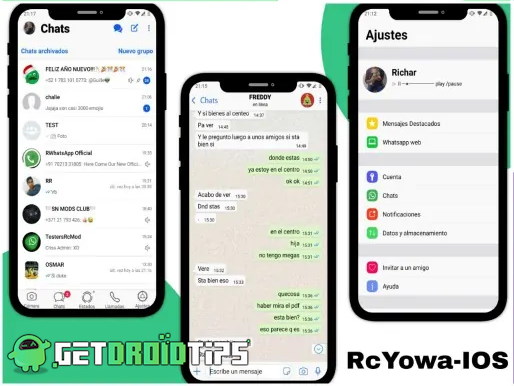 RC YOWhatsApp GLAX Variant Download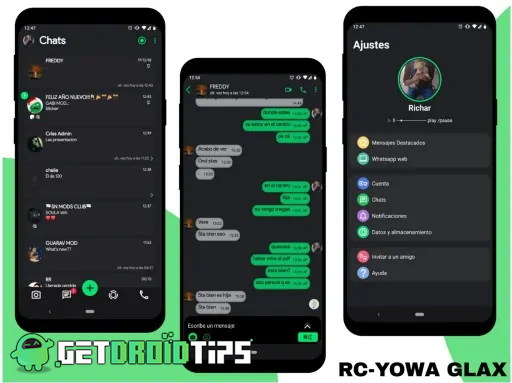 RC Yowhatsapp 10.2 variant APK
RC YOWhatsApp APK 10.2 Installation Guide
The installation process is like most applications, and everything is exactly similar to WhatsApp. There are two themes available for RC YoWhatsApp: the ios theme and the Glax theme with both have com.WA and Com.RCYOWA package. The com. wa package features the official WhatsApp and the com.RCYOWA features a more robust WhatsApp mode.
Conclusion
RC YOWhatsApp APK 10.2 is a great Whatsapp Mod, which you can use with the active theme support and new features which do not come with the original Whatsapp app. Also, if you want to touch the feel for iOS variant, then it is a great build, and every Whatsapp fan must try it at once.