This year in September 2023, Apple debuted its iPhone 15 series smartphones like the iPhone 15 and iPhone 15 Plus with some visible improvements to iPhone 15 Pro and iPhone 15 Pro Max. To be precise, both the iPhone 15 and 15 Plus models feature an industry-first colour-infused back glass with a textured finish and new contoured edge which is a huge leap forward for the iPhone family. But the call recording feature is still missing. Now, if have recently purchased or planning yet then check how to Record Calls on iPhone 15 and 15 Plus.
Well, there are so many reasons that you want to record all of your call conversations legally such as for security purposes or keeping an eye on your family members tracking unusual activities of your children and so on. Though we all know that Apple seriously prioritizes customer privacy, it becomes a ridiculous thing not to have a basic call recording feature on the popular and premium iPhone models. In the end, iPhone users will find it difficult to easily use call recording irrespective of the rules in a country/region.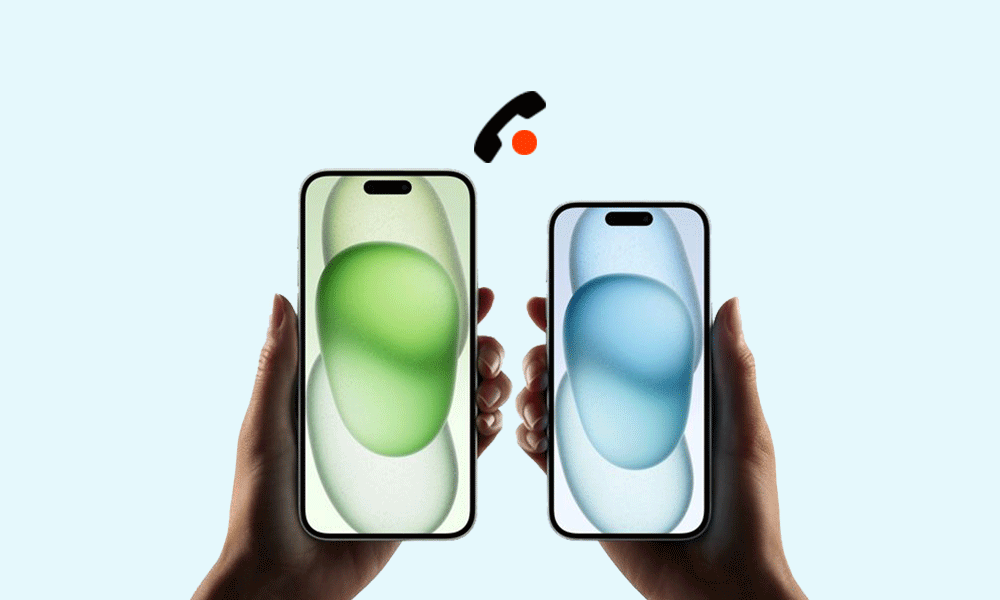 Why is Apple Not Offering a Call Recorder on iPhones?
It's short and simple! Call recording isn't legal in so many countries or states and the accused person can face legal consequences if found guilty, especially when recording calls without the intent of the next person on the call conversation. So, due to the country and state-specific laws, Apple isn't interested in providing a default call recorder feature on any iPhones. Obviously, Apple focuses on user privacy too much and allowing users to record their calls will have a negative impact on the company's goodwill.
It's worth mentioning that you cannot even record a phone call on your iPhone using the screen recording feature. So, Apple has developed iOS in such a way to protect users' privacy. Additionally, you should keep in mind that each country and each state has plenty of variable laws. So, the OEM is unable to address where users will use their iPhones. Google has no that much dedication to protecting its customers' privacy and that's why the call recording feature can used on any Android device.
How to Record Calls on iPhone 15 and 15 Plus
Recording phone calls can be useful at times when you're in need of it or you're in a situation where you want to have some proof. It might include parental controls, business conversations, interviews, any kind of abuse, other important conversations, etc. As legal call recording laws and regulations vary depending on the region/state, make sure to check with the local laws before recording phone calls. If it doesn't comply with the law then you should better to avoid call recording. Otherwise, you may be in trouble legally.
Fortunately, here we've shared with you a couple of ways that should come in handy. Make sure to follow all useful methods until your job is done. So, without further ado, let's jump into it.
1. Use the Voice Memos App
You can use the Voice Memos app on your iPhone to record calls externally. The Voice Memos app comes by default (pre-installed) on all iPhones. However, if you're unable to find the Voice Memos app on your iPhone then don't worry. This application is free to use and can be installed directly from the App Store. Once you locate it, follow the steps below to record phone calls.
Note: Do keep in mind that you have multiple iOS or iPad devices in order to use this feature.
So, make sure you have two iPhones (or an iPhone and an iPad) and keep them close enough.
Make a phone call on your other Apple device and open the Voice Memos app on your iPhone.
Now, tap on the Speaker icon on your call so that Voice Memos can hear it.
Then tap on the red Record button to record your phone call.
Put the other phone on speaker and turn up its volume level for a better sound.
Once done, tap on the Done button to stop the recording.
The recording will be saved in the app itself.
You can share it from the share sheet menu.
2. Try Using Google Voice
The second thing you can do is to use a Google Voice application on your iPhone for free to easily record phone calls. To do so:
Install the Google Voice app on your iPhone 15/15 Plus from the App Store. (Google Voice on App Store)
Now, you'll have to open the application > Sign in or Register for an account.
Go to the Settings menu > Tap on Calls > Select Incoming call options.
Then select whether phone calls are answered by the Google Voice app automatically or forwarded to your phone number. (forwarding will be better)
Press the number 4 on the keypad immediately after answering the phone call to your Google Voice number.
Next, a robotic voice will notify that the call recording has been started.
Once the conversation is done, press the number 4 again on the keypad to stop recording.
Finally, open your email address or Google's Voicemail to check for recordings.
3. Merge Three Way Phone Calls to Record
If you're using both the iOS and Android device at the same then this particular method will be useful enough without any restrictions. You should have to merge three-way phone calls to record the conversation seamlessly. To do so:
First, make a phone call on your Android device from the iPhone 15 series.
Now, receive the phone call on your Android handset, and start recording the call on it.
Then select the Add Call option on your iPhone and connect to the person with whom you want the call recorded.
Once the call has been received by the person, simply select Merge on the iPhone to combine both calls.
Let the conversation end and then end the call.
Your Android phone will then automatically save the call recording after ending the call.
Share the call recording to your iPhone or use your Android to get your work done.
That's pretty simple!
4. Test With Another Call Recorder App
Well, there are plenty of third-party voice recording applications you can find on the App Store that can help in recording phone calls on your iPhone. Some of them are free to use and some are paid. For example, the Rev Voice Recorder app is one of the reliable options for your iPhone. Whereas the Easy Voice Recorder app or TapeACall Pro app can be your alternative choice. Choose any of them depending on your preference and follow the required instructions to record phone calls.
5. Use the Loudspeaker to Record Calls on Another Device
Another thing you can do is use the loudspeaker mode of the ongoing call on your iPhone and then use a different mobile to record the voice. If you have an additional mobile device except for the iPhone 15/15 Plus or any of your family members do have a mobile device then simply make/receive phone calls and put them on the loudspeaker & start recording the voice straightaway. Of course, turn up the call volume on your iPhone so that recording can be done properly.
6. Record Phone Calls via a Recording Website
Last but not least, you can try using an online recording website to record phone calls via iPhone instead of using third-party recorder applications. For example; you can try using an online recording site like Recordator. Make sure to follow the steps below to easily record phone calls on your iPhone with Recordator.
Head over to the Recordator.com website.
Now, you'll need to create a free account on the website.
Make sure to dial their toll-free number as per your country. (the number is listed on the webpage)
Then the call will go through and you'll have to select Add Call on your iPhone.
Make a call to the specific number > Once the other person receives the call, select Merge.
This will automatically become a conference call and the toll-free number will start recording the conversation.
Once the conversation ends, you'll need to end the call.
Finally, visit the Recordator website > Log into your account and download the call recording from the My Recordings section.
You're good to go.
That's it, guys. We assume this guide was helpful to you. For further queries, you can comment below.