There's a buzz around the Xiaomi community that the update to Android 10 might have caused some issues on a series of smartphones. Xiaomi Redmi Note 8 Pro arrives with no Widevine L1 support to stream HD content over Amazon Prime and Netflix. The Chinese smartphone maker did promise the update and in the latest update, the device was made Widevine L1 supported but it seems like the update has taken another hit.
According to the reports, Xiaomi released an Android 10-based MIUI update on Xiaomi Redmi Note 8 Pro in late February which turned on Netflix HD streaming which was a great relief for the users. Now that Widevine L1 was updated to support Redmi Note 8 Pro, users can stream high-definition content on both Amazon Prime and Netflix, however, the update might have caused issues with the HDR support.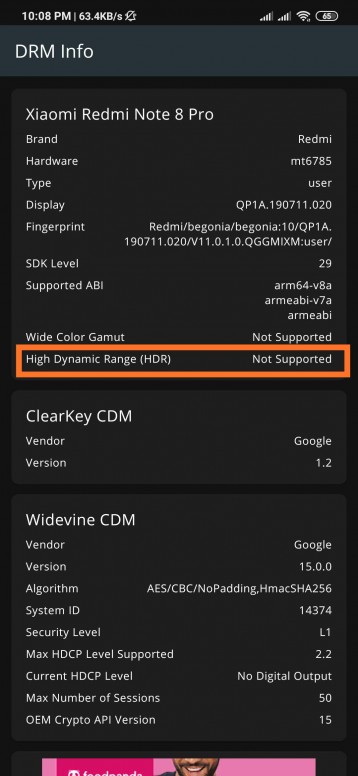 To elaborate further, with the latest Android 10 update on Redmi Note 8 Pro, the HDR support has been snatched away and in fact, it is something even the DRM app specifies as not supported when indeed Redmi Note 8 Pro on-board Android Pie supported HDR.
Apparently, it is not Amazon Prime and Netflix may not be at fault and it could be Xiaomi's update that caused the HDR support to go away given the fact that YouTube HDR works fine. Piunik Web adds that since Redmi K20, K20 Pro, Mi 9T Pro, Mi 9T, Mi 10, and Mi 10 Pro have been whitelisted by video streaming giant Netflix while Redmi Note 8 Pro is left unlisted and thus, it is basically MIUI update that caused the problem that we are hoping will be resolved in the later update.
It is not just Redmi Note 8 Pro but Poco F1 is undergoing the same issue post update to Android 10 where the Netflix HD streaming capabilities have been uprooted thereby aggravating the users. According to a thread about the issue on a popular forum, Poco F1 users state that they are left with Standard Resolution (SD) as the maximum resolution on Netflix with no toggle to HD after they updated their devices to Android 10 as the Netflix now detects Widevine L3 support only (SD content). It is yet to find out when will Xiaomi fix these issues on Redmi Note 8 Pro, Poco F1 and others facing the issue.