Do you have a Roku device in your home and find that the remote of that Roku device started blinking a green light? If so, then you are in the right place. Here in this article, we will describe all the needy fixes that have the potential to resolve this problem. Therefore, if you are facing the Roku remote blinking green light error, read the guide until the end.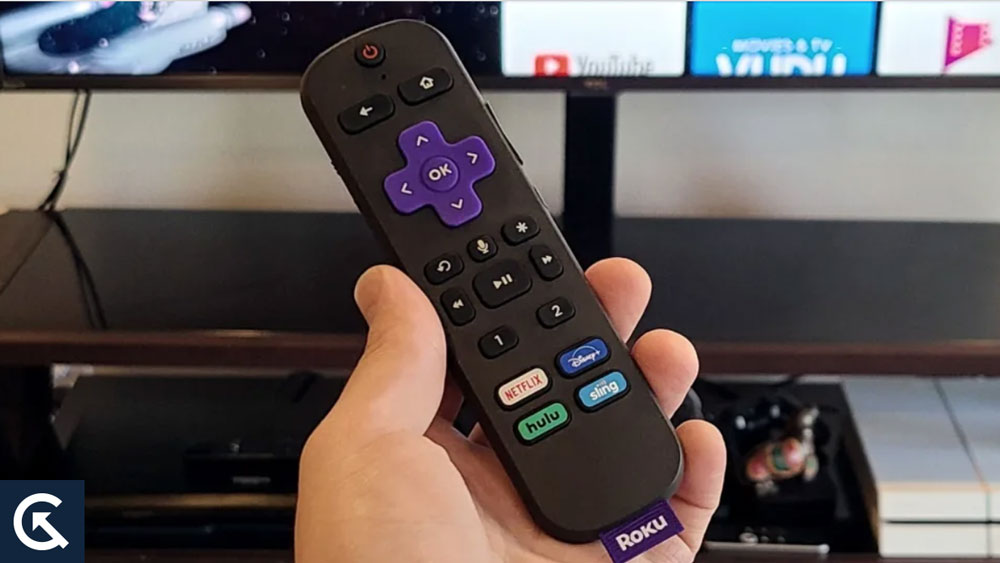 What Is The Reason For The Green Light That Blinks on My Roku Remote?
It is possible for the green light on the Roku remote to be caused by several factor. Although these factors are surprisingly obvious, even long-term Roku users find it hard to identify them. If your Roku remote flashes green, there are a few common causes.
Low or dead batteries.
The Roku device and remote are not synced.
Faulty Roku Remote.
Fix Roku Remote Blinking Green Light Issue
Before we start, the first step in solving this problem is to ensure that your Roku remote is powered up. If they are older than three months, you should consider replacing them. You can then determine whether it works normally or not.
Fix 1: Power Cycle Your Roku Device
A power cycle is usually a great place to start when fixing a bug like Roku's green light blinking. Here are the steps you need to take to power cycle your Roku device:
Initially, remove the new batteries from the Roku remote.
Next, unplug your Roku device from its power source while your smart TV is on.
Now that the Roku remote is turned off, you can again plug in the new batteries. You should connect each battery in the right direction (positive to positive, negative to negative).
Now, your remote should flash green. It's time to turn on your Roku device again. Plug it back into its power source.
Make sure the remote and Roku device are paired successfully before you proceed.
Also, check whether your Roku streaming device is compatible with the Roku remote or not.
Fix 2: Factory Reset Your Roku Device
It is possible that the issue with the Roku remote may lie within the device itself if power cycling didn't work. There might be a data overload in the Roku remote's software, which might explain why it isn't working. It will be necessary for you to reset the remote like you would with your Roku.
You need to remove the batteries from your remote control.
Reconnect your Roku player after you have a remote control.
Reconnect your Roku player after you have unplugged it, wait for 5 to 10 seconds, and then plug it back in.
It should be possible to find a tiny circular button beneath the battery insert. It's the reset button. Hold it for five seconds.
Thereafter, you should see a flashing green light on the remote, and pairing mode should begin. There is a possibility that this process could take up to 30 seconds, so be patient. When pairing is complete, a notification will appear on the screen.
Fix 3: Get The Roku App For Your Smartphone
Roku will also work with your smartphone as a temporary remote, which is another good solution. You can download the Roku app from the dedicated app store on the phone of your choice. Roku can now be controlled via your phone after it has been installed on your phone.
Using this app as a remote for your Roku device gives you access to a new set of features. You can manually pair your Roku remote as a workaround.
Fix 4: Change Your Roku Remote's Batteries
In electronic devices, batteries near or at the end of their life can cause strange behavior, such as delaying button inputs, delaying functions, or simply stopping them from working. Thankfully, there is an easy fix.
Open the battery compartment of your remote control.
You should replace your remote's batteries with either AA or AAA batteries.
Connect your Roku remote to your device now.
In case this doesn't work, repeat the Reset Your Roku Remote solution.
Afterward, if the green light still flashes on your Roku remote, power it off. Once the batteries in your remote are replaced, and the remote is reset, it's time to power cycle your Roku player. This will surely help you resolve the Roku remove blinking green light error.
Fix 5: Manually Pair Your Roku Remove
Roku remotes can be manually paired via Settings if your Roku device does not recognize them. To use your smartphone as a temporary remote, you must perform these steps:
Go to Settings > Remote & Devices > Pair New Device and select Remote. Upon finding a remote nearby, it will begin searching for it.
Make sure your Roku remote's batteries are plugged in white it is off. Once the remote has paired, press and hold the pairing button for five seconds.
You will automatically be notified when your Roku remote has been detected.
Fix 6: Reboot Your WiFi Router
There could even be a problem with your WiFi router that is causing your Roku remote to malfunction. it is possible that remote pairing could become difficult if there is an interruption in your network and your Roku device. Thus, you must perform a soft reset on your WiFi router:
Locate your WiFi router.
Find out where it's plugged in.
Make sure your router is unplugged.
Once it has been plugged back in for 30 seconds.
Ensure that all of your devices have been reconnected by waiting an additional 1-2 minutes.
If your Roku has been reconnected, try pairing your Roku remote with it.
Hopefully, you will receive a pairing confirmation message after the remote pairing screen appears.
Fix 7: Hard Reset Your Roku Device
Roku can suffer from a data overload, which can cause your third-party equipment to fail (such as remote, TV, gaming system, cable box, etc.). Your Roku device must be hard reset. So, in order to do this:
The power cord is the only cable that needs to be removed.
You will need to hold down the Reset button for about 20 seconds on your device's back or bottom. In some models, the button must be pressed with a paper clip.
Thereafter, hold the Reset button, then remove the power cord.
Once you have released the Reset button, plug in all of the cords again.
Your remote will likely pair successfully now to your Roku device, and the Roku remote blinking green light error will be resolved.
So, that's all we have for you on how to fix the Roku remote blinking green light error. We hope that this guide has helped you. If you face any issues while fixing the Roku remote issue, comment below and let us know.