Being waterproof is like every phone's dream. Having one of the waterproof means dream come true for many people. Although this might seems too exaggerated, having a basic level of water protection on a smartphone is truly a lifesaver. So what about the budget and midrange 5G phones from Samsung? Is Samsung Galaxy M32 5G or A52S 5G smartphone Waterproof and Dustproof? Let's find out in this article.
Although spec-wise both of the phones are very good. Especially the 5G alone may become a selling point if you are hoping for 5G. Other specs include Snapdragon 778G SoC and a super AMOLED display on the A52S 5G phone. The Samsung Galaxy M32, on the other hand, has a Dimensity 720 SoC with a TFT display which is IPS at least. But the spec is not what we are here for, right?. Let's see what they can do in terms of resisting water or dust.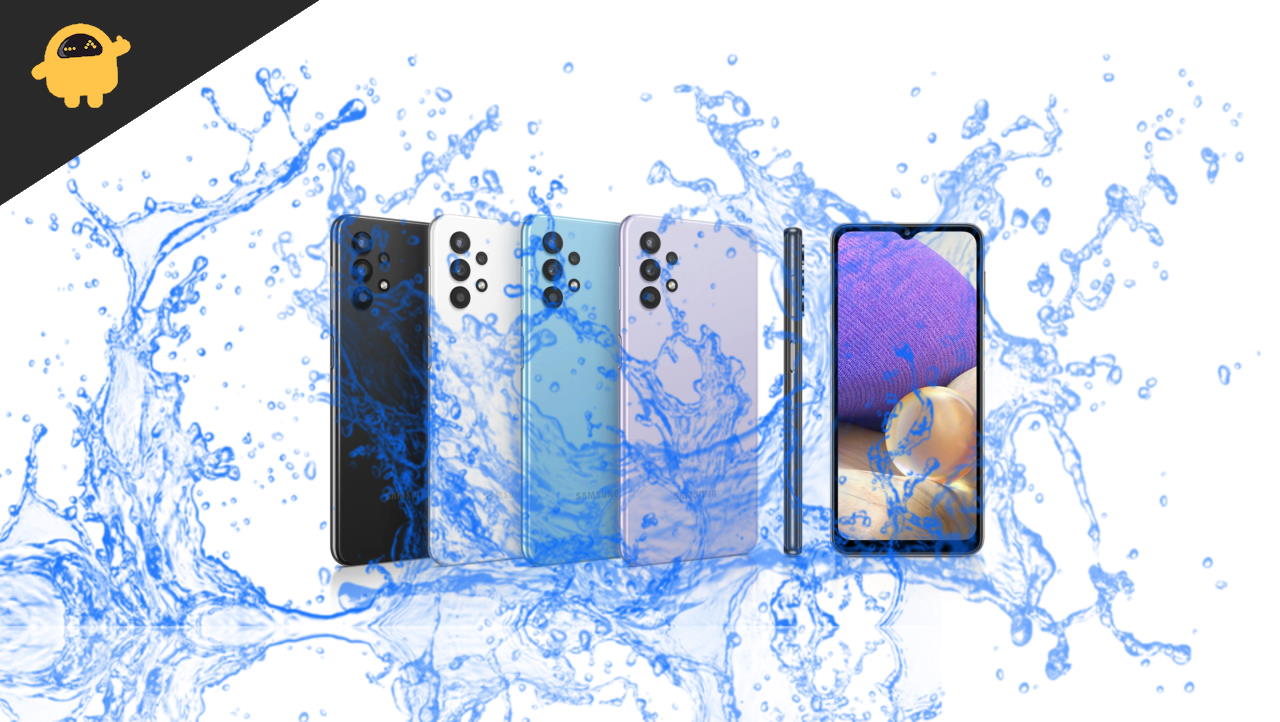 Is Samsung Galaxy M32 5G or A52S 5G Waterproof and Dustproof?
To claim any smartphone to be fully waterproof, it should at least have an IP68 rating. This Ingress Protection or IP rating determines how much the device can withstand water or dust. To break it, the first digit of the IP rating explains how well it can withstand damage due to dust. While the next number describes how well it is waterproof. So an IP68 rated product should be able to handle dirt, dust, and water submersion of 1.5m for 30 minutes without any issues.
Now let's see what official IP ratings Samsung Galaxy M32 and A52S phones come with. To begin with, the Samsung Galaxy M32 phone doesn't even have an official IP rating on its official website. Although when we looked for the Samsung Galaxy M52s 5G's official IP rating, we were able to find out that the phone has an IP67 rating. This IP67 rating means that the phone is capable of being somewhat waterproof. To be fair, IP67 is a widely popular rating for consumer products.
Samsung Galaxy M32 5G and A52S 5G Dustproof Test
So let's test both of the phones against dust particles. Most modern midrange phones have a good build quality. This should mean that they can withstand dust with no extra effort. So we put the phone into a jar with some fine and hard sand dust. Then we dropped both phones into it and shook them a bit. This should emulate a situation where you will drop your phone into a pile of sand or something similar.
At first, when we took out the phone, there was dust all over them. We cleaned them with a soft cloth and brush. Although, the charging port and earpiece have a good amount of dust accumulated on them. Although few strokes of brush over them removed them. After which, both of the phones worked fine without any issues. This proves that both of the phones could withstand dust, especially the Samsung Galaxy A52S 5G.
Samsung Galaxy M32 5G and A52S 5G Waterproof Test
As a part of the test, we will subject both of the phones to a water test. For this test, we will keep the phone inside a bowl full of water for one minute so that we can find out whether these phones are capable of withstanding at least little water splashes.
While testing the Samsung Galaxy M32 5G phone, we weren't hoping for it to work properly after the test. Although the phone did work correctly. This test should simulate a situation where you will drop your phone into a small pond and pick it up quickly. So this test shows that the phone is capable of withstanding water splashes. Although if the phone was in there for longer, then there is a great chance of it getting water damage.
Now we have good hopes for the Samsung Galaxy A52S 5G since it has the IP67 ratings. As expected, the phone did work without any issues, even after submerging the phone for an extended period inside the water. Everything, including speakers, touch, and charging ports, are working without any issue. Although we only tested the phone only after completely drying it off. Else the existing water particle may create more damage when testing things like charging etc.
Conclusion
As you can see, out of both phones, at least the Samsung Galaxy A52S phone is found to be the better waterproof phone to some extend. The IP67 rating should itself be self-explanatory.
Although none of the tests means that you can start using your phone underwater for any reason, but this protection is just to prevent any damage to your phone on a rare occasion where you happen to drop it into water or get fully wet in a rain. Keep your phone safe keep it far away from water unless you are planning to buy a new one.