In this guide, we will show you the steps to bypass FRP and remove the Google account (Gmail) on your Samsung Galaxy A52s 5G SM-A528B devices. Samsung Galaxy A52s 5G was finally launched in India that features a 120Hz AMOLED display and Dolby Atmos sound with its stereo speakers. The camera on the device sports a quad rear camera setup that includes a 64 MP primary sensor, a 12 MP secondary sensor, a 5-megapixel macro shooter and a 5-megapixel telephoto sensor.
These include the option to enable two-factor authentication across various apps, enable the Find my device option among others, Likewise, you could also choose from Face Unlock FIngerprint, PIN, or Password Lock. Not to mention the fact that the device also comes with the FRP lock, which is quite beneficial in itself. However, in some instances, it might lead to a few issues which in turn will result in your inability to use the device. But on the plus side, there exists a handy workaround to bypass this FRP and remove Google verification on your Samsung Galaxy A52s 5G device. Let's check out how this could be achieved.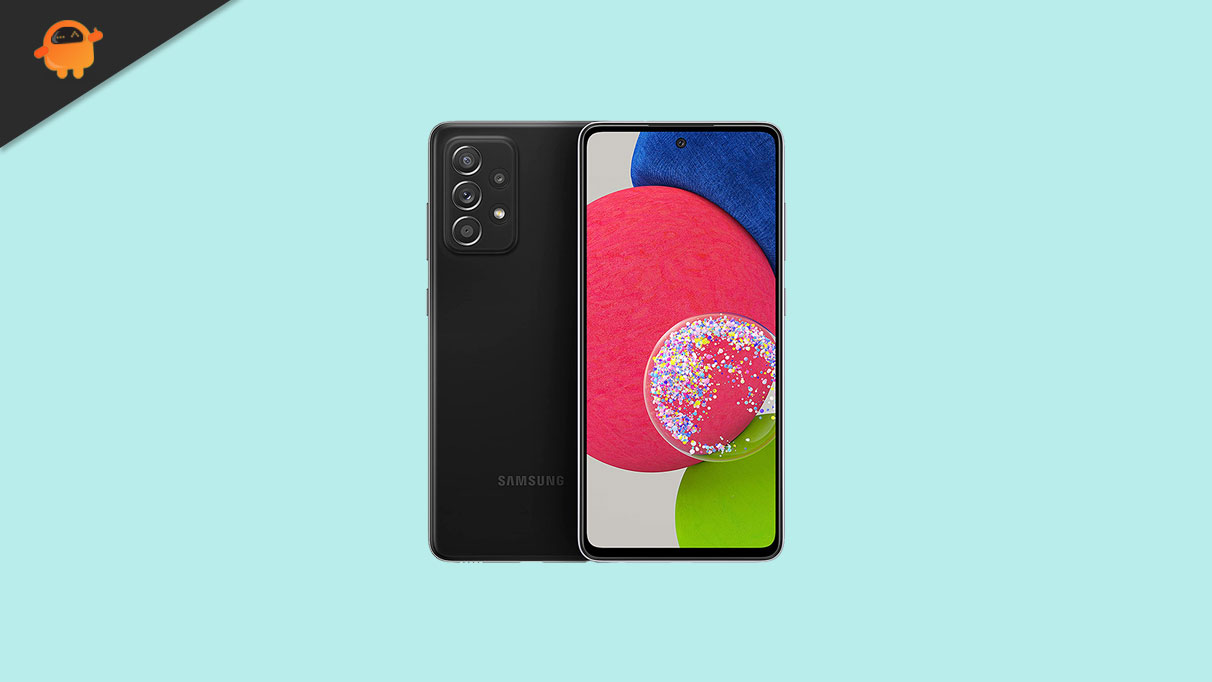 What is an FRP Lock my Device?
FRP or Factory Reset Protection is the security mechanism for your Android device. It is enabled by default on your device as soon as you sign in with your Google account. When you reset your device, the FRP kicks in and asks for that Google account credentials before you could access the device. It is indeed quite a useful security feature that prevents our devices from getting into the hands of unauthorized users. But at the same time, there's a concern involved from the end-users perspective.
If you ever end up forgetting your account ID or password, then it might lead to quite a few issues. The biggest of which is the fact that you wouldn't be able to access your own device. But if you get stuck on this issue on your Galaxy A52s 5G device, then there is a handy way out to bypass this lock screen. And in this guide, we have shared just that. So without further ado, let's check out the steps to bypass this FRP and remove Google verification on your Samsung Galaxy A52s 5G device.
How to Bypass FRP on Samsung A52s 5G SM-A528B | Google Verification
To begin with, download the Samsung FRP tool and extract it to a convenient location on your PC.
Once extracted, you should get the SamsungFRP2020.exe file, double click on it to launch the tool.

Now connect your Samsung A52s 5G to the PC via USB cable and click on the Bypass FRP button situated at the top left of the tool.

You will get an Easy Firmware popup on your device, tap on View.

It will open the Chrome browser, tap on Accept and Continue.

Now go to the Samsung FRP bypass tools website and tap on Open Google quick search box. Using this tweak, we will proceed ahead to bypass FRP on your Samsung Galaxy A52s 5G device.

Google App will now be launched, search for Galaxy Store and select the same from the results.
The Galaxy Store will now launch on your device and ask you to update the app, do so as instructed.

Once done, it will ask you to verify your Google Account. So head over to the FRP tool opened on your PC and click on Bypass FRP, male sure that the Samsung Galaxy A52s 5G device is still connected to the PC.

You will then get the Easy firmware pop up, tap on View and it should launch the YouTube app.

Then tap on the avatar situated at the top right and select Settings.

Within that, go to History and Privacy and select YouTube Terms of Service.

This shall open the browser, type in Samsung FRP bypass tools, and hit Enter. Then tap on the Open Google quick search box option.

It will launch the Google App, access the Galaxy Store from it. Then search for Play Services Hidden Settings from the Store and download it.
Once downloaded, launch the app, tap on Open Hidden Settings. Then scroll to the Google Play Services and select it. This will help us to bypass FRP on your Samsung Galaxy A52s 5G device.

It will now ask you to set a screen lock, as of now, you may select the PIN option. So type in the desired PIN and reconfirm.

After that, reboot your device. As soon as it boots up, it will ask for the password. Type in the one that you have set up.

Now proceed with the onscreen instructions, and you will once again be greeted with the password screen. Type in the same as before and hit Done.
Skip all the other screens and your device should then be booted to the OS. That's it.

With this, we conclude the guide on how to bypass this FRP and remove Google verification on your Samsung Galaxy A52s 5G SM-A528B device. If you have any queries concerning the aforementioned steps, do let us know in the comments section below. Rounding off, here are some iPhone Tips and Tricks, PC tips and tricks, and Android Tips and Tricks that deserve your attention as well.