Samsung TVs are popular in the market for their great build quality and high performance. While these are true, there is also no denying the fact that they run into problems from time to time. Like any other television, Samsung TV has its fair share of problems. At the end of the day, they are just a piece of tech.
One of the common issues Samsung TV owners have been struggling with for a long time is the half black screen problem. Watching a TV with half black can be very frustrating. No one would want this kind of TV experience.
If you are a Samsung TV owner facing the half black screen or dark screen problem, you are on the right page. Usually when this problem occurs, people perform basic troubleshooting steps such as restarting the device and if nothing works, they end up calling a technician or getting a new television. Thankfully, there are a few nifty ways to fix the half black screen or dark screen problem on your Samsung TV.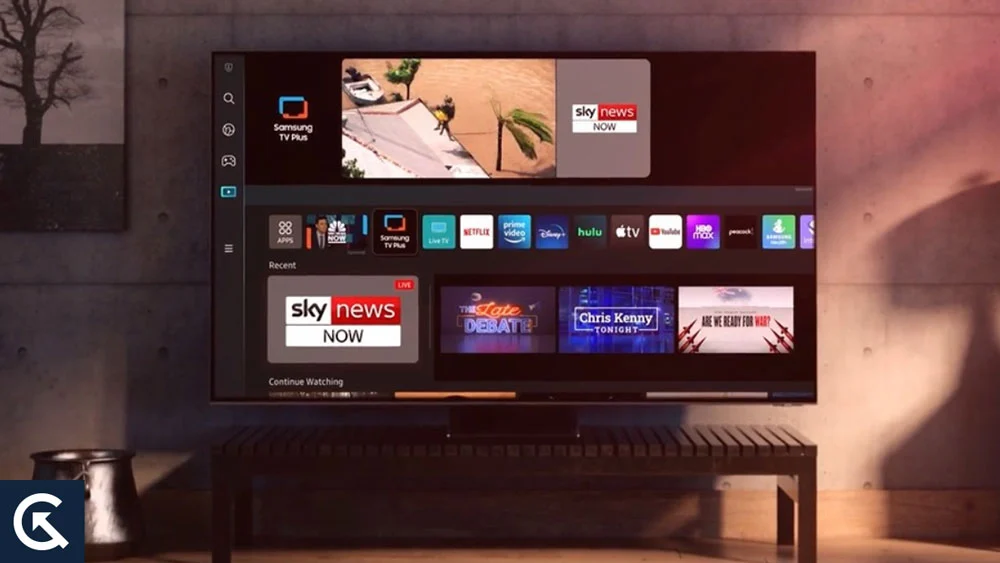 Let's quickly take a look at the reasons which could be triggering the problem and then we'll move onto the troubleshooting methods.
What Causes Half Black Screen or Dark Screen Issue on Samsung TV?
The application you're using to play videos may have a bug resulting in a half black screen problem. It has happened a couple of times on my TV while watching YouTube videos. I was able to fix the issue just by restarting the YouTube app.
Other than issues with streaming software, the problem could also occur due to system glitches.
There are times when the backlight starts malfunctioning, which could also cause this problem. We can't also deny the possibility of a faulty screen or other hardware damage.
It's hard to predict the root cause of this problem until you try the troubleshooting methods we've mentioned below.
How to Fix Samsung TV Half Black Screen or Dark Screen Issue?
We have jotted down the effective troubleshooting ways of fixing the half black screen problem on your Samsung TV. Try them in the order in which they are written until you find the one that works for you. Happy troubleshooting!
Solution 1: Restart the App
If you are facing the issue while playing a video on Hulu, YouTube, or other app, a quick fix is to close the app and launch it again. This solution has worked for me multiple times and therefore I am listing it here at the top.
If it does not work for you, you would want to try other solutions as well.
Solution 2: Power Cycle Your Samsung TV
If half of your Samsung TV screen is still black, a software bug could be the source of the problem. Power cycling the device removes most software bugs and you may have a fully functional screen.
Here's how to power cycle a Samsung TV:
Turn off your Samsung TV.
Remove the power cable from the outlet.
Press and hold the power button on the TV for 30 seconds. It will fully drain the power in the TV circuit.
Wait for 5 minutes and then plug the power cable again into the outlet.
Turn on your Samsung TV.
Power cycling the device does seem a minor fix but it's an effective solution which shouldn't be ignored. It can potentially fix all software-related issues on your TV. During the process all background processes are closed and temporary memory is cleaned up.
Solution 3: Check the HDMI Connection
Often a faulty HDMI cable is found responsible for the half black screen problem. Remove both ends of the HDMI cable and carefully inspect the cable for any damage. Even a bent cable could cause the problem as there may not be a proper flow of electric signals. If so, you can get a new HDMI cable and check if the problem is fixed.
Make sure the HDMI cable is firmly seated on both ends, otherwise the signal won't flow properly and the screen may remain half black.
Solution 4: Check for Backlight Issues
A portion of your screen or the whole screen can become dark if the backlight has issues. If you are unaware of this term, backlight refers to the light source that illuminates the pixels, which then becomes clearly visible to your eyes. The backlight is located behind the screen.
To check for backlight issues on your TV, grab a flashlight and point it at your television screen. You can also use your phone's flashlight for this purpose. While shining the flashlight, carefully look at the black part of your TV screen and see if you can see any content there. If yes, you need to contact a technician to get the backlight fixed.
Solution 5: Update Your Samsung TV
A corrupted firmware on your Samsung TV can bring many serious problems. It could be causing issues with your display. You should update the firmware on your TV to check if it can fix the issue.
A software update typically brings enhancements and bug fixes, which are likely to resolve issues and potentially enhance your experience with your Samsung TV.
Samsung TVs, by default, have the auto-update option enabled. But, if you haven't connected your TV to the internet in a while, you should manually check for new updates.
Press the Home button on your remote and go to Settings.
Tap on the Support option.
Select Software Update and click the Update Now option.
Download and install new software updates (if available) and reboot your Samsung TV for the changes to apply.
On older Samsung TVs, you will need to update the firmware using a USB drive.
Solution 6: Perform a Picture Test
If you still can't see the whole picture on your Samsung TV, perform a picture test.
Press the Home button on your TV remote and go to Settings. Navigate to Device Care > Self Diagnosis and select Picture Test. On some Samsung TV models, you will need to go to Settings > Support > Self Diagnosis to get the Picture Test option.
During the picture test, you will be shown an image. If the image is clearly visible without any dark screen, it means there is nothing wrong with your Samsung TV. The half black screen problem is likely caused by any of your external devices or the streaming software.
Solution 7: Reset Your TV Picture Settings
The next thing you can try to fix the half black screen issue is to reset the picture settings on your Samsung TV.
Tap the Home button on your TV remote and go to Settings. Now, go to the Picture option and tap on Expert Settings. Scroll down to the Reset Picture option and tap the OK button on your remote.
If the Reset Picture option is grayed out, close all background apps. Now, go back to the home screen and press the menu button on your remote. Select Live TV from the bottom menu.
Go back to Expert Settings, and now you should be able to select the Reset Picture option.
Solution 8: Reset Your Samsung TV
If you tried all the aforementioned solutions but to no avail, we'll now move to a slightly advanced approach. We'll be resetting the TV in this solution. It will reset all the settings to their default values. So, if the half black screen issue is there because of incorrect settings, the problem should get fixed.
It will remove all your saved data on the TV including your Wi-Fi passwords, photos, videos, and documents. You can transfer them to another device and then proceed to factory reset.
Press the Home button on your remote and go to Settings.
Select General & Privacy.
Now, select the Reset option.
Enter the pin. The default reset pin is 0000.
Select Reset again.
If you have an older Samsung TV, the above steps may not work. In that case, you can go to Settings > Support > Self Diagnosis > Reset, enter the reset pin (0000) and select the Reset option again.
After the TV is reset, you will need to set it up again. Do that and check if the problem is fixed.
Solution 9: Contact Samsung Support
If your Samsung TV still has half black screen or dark screen, most likely it's because of some hardware failure. You should contact Samsung support or a certified technician to get your television repaired.
Conclusion
Samsung TVs with half back screen or dark screen won't give you a good watching experience. That's not even good for your eyes. Fortunately, there are ways to fix it which we have mentioned above along with all the steps. We hope this guide was useful to you. Were you able to fix the display issues on your Samsung TV? If yes, which solution worked out in your favor? Do share you thoughts in the comments below.