Sometimes we all have stuck for a document because we can not carry a document everywhere. While we all have wondered that if we carry a document on our smartphone to proof or if we require a hard copy, we can print it off using scan documents. Meanwhile, Carrying a document on our smartphone worth and sometimes it appears to be a lifesaver in case of emergency.
Apple last year announced there iOS 13 and iPadOS 13 with a feature Files app, initially it doesn't seem like a just standard file app. However, it is quite useful because it allows you to access external files and SMS shared locations. On the other hand, it also supports a direct scan of a document and saves it to the document later on the folder within a format of PDF. Previously, we have to use a third-party scanning application. Additionally, it gives you a more seamless and workflow experience because it also not just only scan and saved to your store, but it also syncs with iCloud storage.
This means your document can be more accessible across your Apple devices. Not to using third-part apps means there would not more phishing of your scanned documents or app folder. Even, Some third-part apps used to store your document on Dropbox or Google Drive means if you are in the Apple ecosystem, then they are no need to restore the third-part apps. Today we are going to teach you how you can scan and save the document as PDF on your iPhone or iPad.
How to Scan Documents in Files App in iPad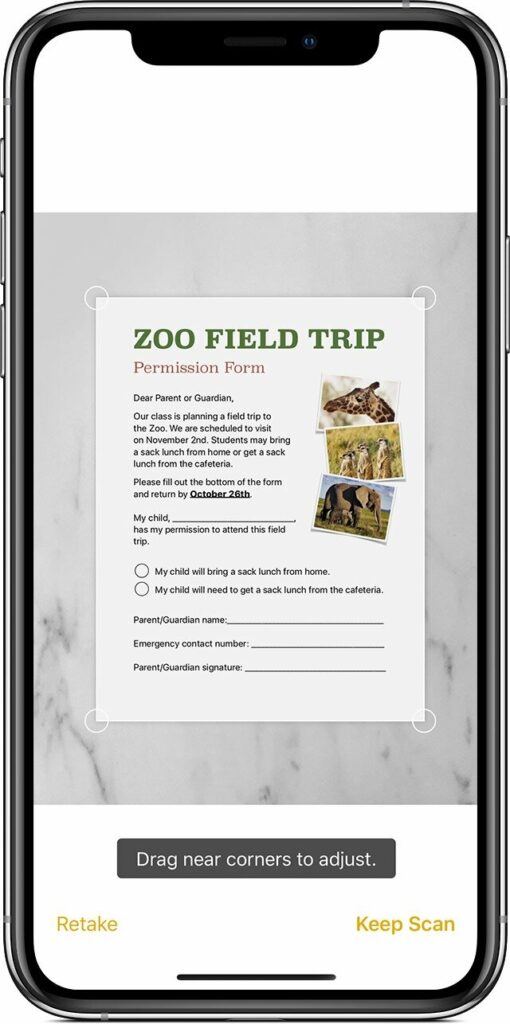 If you have the latest version of iPadOS 13 then can scan documents in the file app.
Tap the "…" button.
(Which is placed on the top-right corner of the Browse section, corner of the device.)
Tap on the "Scan Documents" button menu.
(It is a first menu option to appear in a pop-up window.)
Now, Place your documents on the flat surface and re-position it accordingly.
(The Viewfinder on your iPhone or iPad guide, Make sure your documents in a flat surface because it automatically shows a circular capture button when it matched.)
Then, Tap on "Circular Capture" button to capture the image on your iPhone or iPad.
Drag the corner to fit the shape of the documents, Tap "Keep Scan" to move on.
(You can also Retake if you correctly scan the documents.)
Hold because it takes a minute to process until you can scan any other documents page with the same process.
(However, you have to select the location to save the scan documents and then tap "Save" again. Also, you can create a new folder by taping "New folder" or "Save" to save the image.)
That's it, and the documents will save in PDF format on your iPad.
How to Scan Documents Directly to Files App on iPhone
This feature only available in the latest version of iOS 13.
Open the "File" app on your iPhone?
Tap on the "Browser" option.
(Placed on the bottom right side of the display.)
Not Choose ellipsis icon "…"
(Placed on the top-right corner of the screen.)
There is a pop-up window with some Option, Click on the first option with "Scan Documents" option.
It opens the "Scan Documents" window.
(Here you will find the "flash option" and another absolute filter alongside flash icon, Choose to light condition or Leave at Auto Mode.)
Place the document on the surface and aligned the borderline by adjusting the box.
Once it aligned, Tap on "Keep Scan" and tap on "Save."
It will ask for a folder to save, select the folder, and the document will save as PDF Format.
(Also, Click on "Retake" if there is a mistake or capture another document at the same place.)
That's it.
How to View, Edit and Some other changes?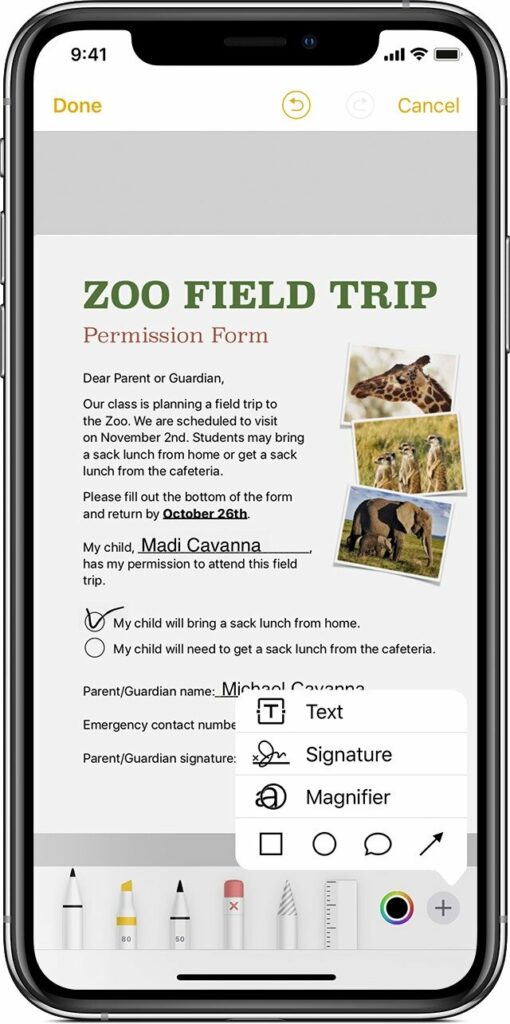 There were specific changes you can do after opening a document on your file app, Or you can instantly view from a thumbnail of the screen taken, which might be placed at the bottom of the screen. Moreover, you can click on edit for quick edit gives you options such as rotate, apply some filter. Then you can save it in the same place but remember the edited files will be, and the original files remain in the file app. So you can delete original and save or share documents.
If you want to know the details of the documents, then you need to long-press on the file to open the file information. Where's, you can also add the signature on your documents details. It is the best way if you have to take quick documents as images or documents render by completely different processing based on their importance. Likely, it is quite a powerful and capable file manager on the iPhone and iPad.
Hopefully, this article helps you to save documents in PDF format successfully. We like to know your experience if any queries. Please share it with us in the comment section down below.