Sky is a popular and well-known brand that manufactures various electronic products including Smart televisions. They offer better build quality, outstanding features, ultimate performance, standard display picture and much more. But in order to use some applications and streaming channels on these screens, a remote control is all that is required. The Sky Q remote control is an essential for enjoying your favorite shows and navigating the Sky Q system seamlessly.
However, like any piece of technology, most televisions remote encounter issues and this is the same happened with Sky Q remote control. Most Sky users complained that they are unable to access their TV by using the remote control. Well, if you find yourself in such a situation, don't brood, you're not alone. In this article, we will let you know how you can troubleshoot and resolve the problem by attempting our mentioned solutions. We will also discuss the common reasons why it happens. So, let's get into it.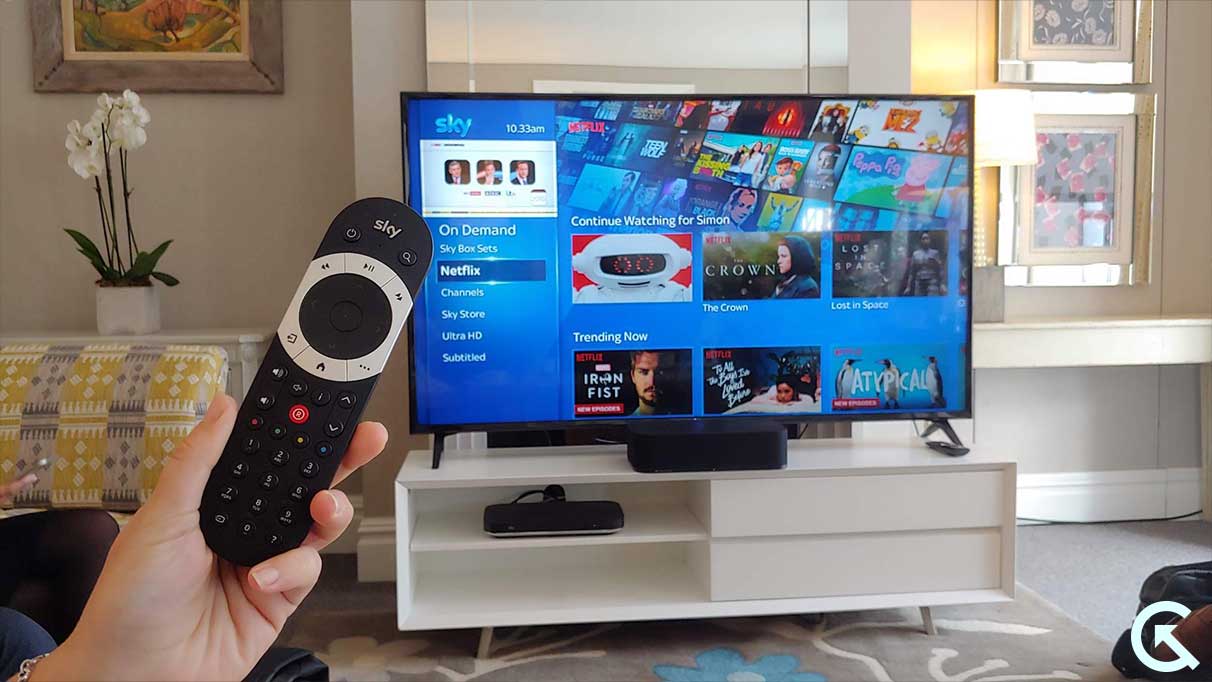 Why Is My Sky Q Remote Not Working?
Before moving to the troubleshooting fixes, it is essential to know the reasons why your Sky Q remote control is not working or responding. There are numerous reasons why your Sky Q remote control is not working. Most of the time, the remote is not working or functioning properly due to dead batteries which may need to be replaced at the right time. Also, there may be a chance that you are too far from your TV and that's why the TV isn't getting a signal, causing the issue. In such a scenario, you have to be close with your television and again access it with the help of remote control.
There also may be a chance that the infrared sensor on the remote control or Sky box is dirty, which can cause signals to be messed up. However, it could be also possible that your remote control could have a problem either with the hardware or software that might need to be fixed by an expert or technician team. Therefore, these were some of the reasons why the remote control is not working properly. In case, if there is an issue with the hardware, ensure to contact the support team for help. But before, try the below mentioned solutions.
Fix: Sky Q Remote Not Working Issue
Try these below troubleshooting to fix the Sky Q remote control not working issue. Make sure to pay attention to each and every single solution before contacting the support team or visiting the local store.
Fix 1: Reboot Your Smart TV
If you are having an issue with your remote control, the first thing you have to do is reboot your Sky Smart TV. This method works for the most times and several users fixed their problems whether it is related to hardware or software. As there are more chances that sometimes, due to random bugs or glitches, the remote control is not able to make a proper connection with your television. And that's why rebooting is the most powerful solution that allows you to fix these kinds of errors and software issues.
You can use the power button on your Sky television or Sky Box to perform a reboot. This is pretty simple to do. However, many users reported that they fixed the problem by rebooting the television and the remote again started working automatically. Therefore, we suggest you give it a try to check whether it really works or not. If it doesn't work, try the next solution.
Fix 2: Check the Remote Batteries
The next thing you have to do is check batteries on your remote control. There may be a chance that the remote batteries are weak and need to be replaced in order to function normally. Therefore, replace the batteries in your remote control with a new one and ensure it is compatible. Once you have replaced the battery, check with your television by opening any application or navigate to stream channels. In case, if the issue has been resolved, then the issue would probably resolve itself automatically.
Fix 3: Move the Remote Close to the Sky Box
If the batteries on the remote control are working or you have changed it and still the remote isn't working or functioning, make sure to move the remote control close to the Sky Box. Moving your remote closer to the Sky box (approximately within two meters) will be advantageous when it comes to accessing your television by using the remote control.
Fix 4: Reset the TV Remote Controls
You can also try resetting your TV remote control if you have tried the above solutions and they didn't work, since resetting the remote method worked for many users in the past. It's worth it and you should give it a try. However, you can reset the remote by pressing and holding the "select" and "backup" buttons simultaneously for about 10 seconds, or until the lights illuminate. This will reset the remote control and fix the connectivity problem.
Fix 5: Reset Your Sky Box
You can also try to reset your Sky Box and check if it's working for you. However, it could be possible that your Sky Box isn't working or taking a proper signal from the remote. If you have replaced the battery and still the remote isn't working, resetting the Sky Box is all we need to do. Here's how you can reset your Sky Box by following the steps below:
Turn off your Sky box directly at the mains.
Next, turn off all devices connected to the Sky box. (This might include television and router).
Check that all the lights on the box have disappeared.
Leave the Sky box and connected devices off for about 5 minutes.
Next, turn on your device.
If the reboot was successful, you will see the green light indicator on the Sky box.
Fix 6: Check For Damage
Have you checked your remote control for any physical damages such as crack or issue with the buttons. Generally, this kind of issue arises when we accidentally drop our TV remote, resulting in damage to its hardware components. Therefore, if your remote control is physically damaged, you will have to change or replace it by visiting the nearby service center or local store.
Fix 7: Power Cycle Your TV
If you have rebooted your television directly via Sky box or the in-built buttons and still are unable to access your television by remote, you should power cycle your TV. Doing a power cycle method may help you to solve any technical and software issues whether it is bugs or glitches, they may all fix the problem. The method to perform a power cycle is pretty straightforward to do.
To power cycle your Smart TV, shut down your TV first and then unplug all the cables from the wall socket including HDMI cables and wait for a few minutes. After that, plug the cable back you have unplugged before and turn on the switch. Now turn on your TV and access with the help of control and check if it's working.
Fix 8: Try a New Sky Q Remote
If you have tried the above workarounds and it doesn't work, you will have to try a new Sky Q remote as it could be possible that there is an issue with the remote itself. Make sure to buy a new compatible TV remote for your Sky television. You can easily buy a new remote from the online store, the official website, or via the offline store. Once you have changed your TV remote, you will find that the remote not working issue automatically gets resolved.
Wrapping Up
A non-functional Sky Q remote control can be frustrating especially when you want to watch your favorite shows and movies at the right time, and you can't access it by using the remote. However, the issue can be easily resolved with a few simple and effective solutions which we have mentioned in this article. Make sure to try each and every solution until you have fixed the problem. If all else fails, don't hesitate to contact Sky's customer support for expert assistance. If you have any other queries, let us know in the comments section. Thanks for reading till the end.