Last year, Google has released the Android 11 OS version publicly and it brings plenty of system improvements, privacy features, etc. Talking about the Realme brand, it's also known for its budget to mid-budget segment Android smartphones. Realme UI 2.0 is currently running on Android 11 for its Realme devices globally. If you're one of the Realme users, you may ask What is Sleep Capsule in Realme 2.0? How to Use it in Realme?
We all know that Realme UI is basically inspired by Oppo's ColorOS skin that also includes a stock-like Android user experience for its users. In this kind of tech generation where everything becomes online and cloud-based, where everyone getting busy with their smartphones most of the hours. It basically increases loneliness, reduces direct human interactions, etc.
Due to this mobile and internet era, we (people) are lacking behind in what we should do. During the COVID-19 pandemic, we've understood within a year that our family life, self-timing, and getting stressed out are more important for a healthy and happy lifestyle. Realme UI and the team are also trying to provide a way for their users to get out of a stressed environment.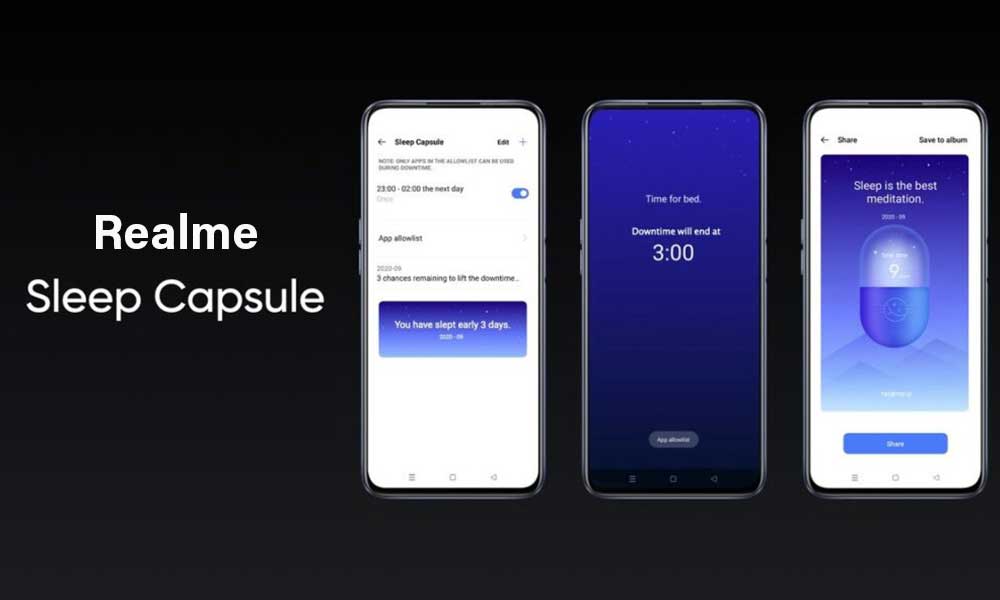 What is Sleep Capsule in Realme 2.0?
It's needless to say that most of us use our smartphones in the night-time while going to bed or before sleeping at night. Whereas most smartphone users are getting addicted to mobile gaming, streaming media, or chatting online. So, users are getting affected or indirectly we can say that our sleep is getting affected due to this kind of habit.
Realme has developed a new useful feature or an option in Realme UI 2.0 (Android 11) called 'Sleep Capsule' that offers you to sleep better and use your device as little as possible during bedtime. It basically allows users to select and use only a limited number of apps before sleep time for a limited timeframe when the feature is enabled.
So, it'll keep you away from the addictive apps and help you to restrict the phone from using it freely. That means once you activate the Sleep Capsule option on your Realme device, it'll help you to put down your handset quickly during bedtime to fall asleep earlier or you may focus on your real-life things or relationships or even work much better.
How to Use Sleep Capsule in Realme?
It's worth mentioning that Realme has already included this particular feature on a couple of its devices. It's most probably under the testing phase and can be found in the 'Realme Lab', also known as 'Realme Laboratory'.
Whenever you turn on the Sleep Capsule mode on your Realme device that runs on the Realme UI 2.0 based on Android 11, your device goes into a deep freeze kind of status for a specific period of time. Therefore, you won't be able to open unnecessary apps, sending text messages, can't change device settings, or can't perform other tasks freely.
However, you can always add a couple of necessary apps to the list to use them even while the Sleep Capsule mode is turned on. Here we've shared a few easy steps to turn it on and use it.
Open the 'Settings' menu on your Realme device.
Scroll down to the bottom of the screen.
Tap on the 'Realme Lab' option > Select the option called 'Sleep Capsule'.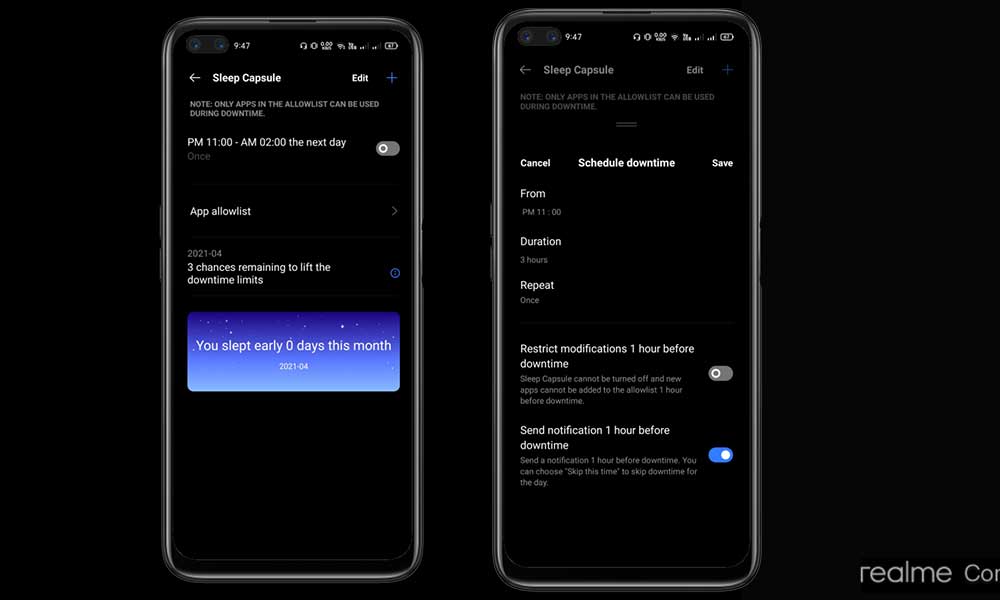 Now, make sure to set the time when you want to sleep.
Also, ensure to select the sleep duration.
You can also repeat the same timing on a daily basis if you want.
Enjoy!
One of the best parts of this option is that you'll see a banner that shows the number of nights you've slept early this month.
If you want to share it with your friends or family members, just tap on the banner on full screen, and select the 'Share' button at the bottom of the screen.
Please Note: Once you turn on this feature, you can't turn it off even after restarting your device. The default active time is 1 hour. So, you'll have to wait for at least 1 hour, and then you'll be able to turn off this feature if you want.
Steps to Allow Necessary Apps in Sleep Capsule
Well, if you want to add some of your useful apps in the Sleep Capsule mode to use them. You can also customize the 'List of allowed applications' like WhatsApp, Gmail, Settings, Messages, or Calendar, etc.
That's it, guys. We hope you've found this article useful. For further queries, you can comment below.