As time goes on, most of the smartphone users are getting to know and understand a lot that updating the software version on their devices is a good idea whether you're using an Android or an iOS. The official software update (OTA) is quite easy to download and install via using the cellular data or Wi-Fi network. But there are some of the reasons available that you may face during the OTA update. If you're facing OTA Software Update failed error on iPhone 11, 11 Pro, and 11 Pro Max, check the guide below.
Insufficient device storage, slow internet connection, low battery level, server downtime, corrupted update file, and more can be reasons behind a software update failure on your iPhone 11 series. Additionally, users can also face connection timeout, unable to verify/check update, update not completed issue, etc. In order to fix or troubleshoot the issue, you have to check out all the possible solutions below.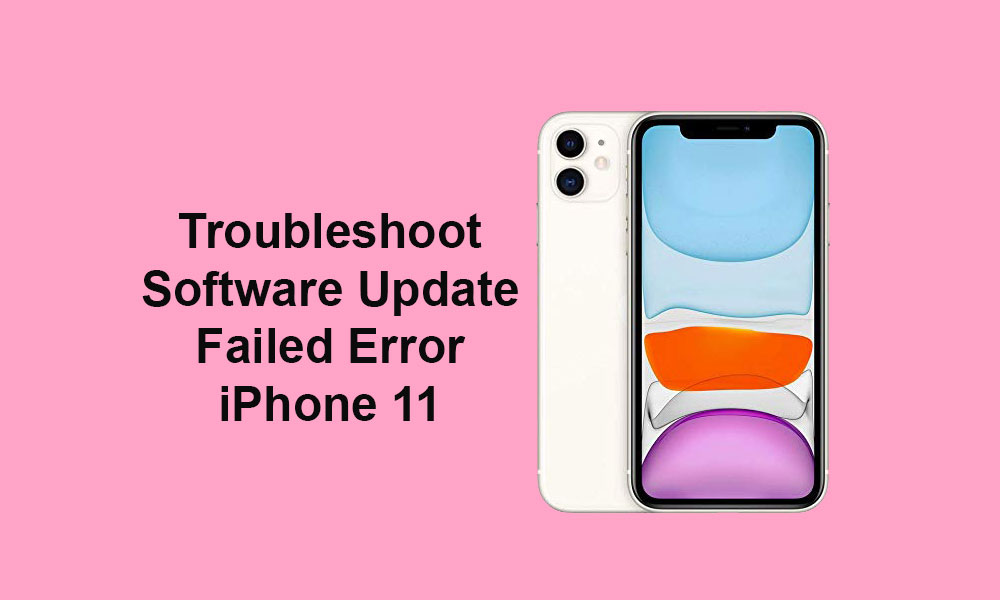 Steps to Fix OTA Software Update failed error on iPhone 11, 11 Pro, and 11 Pro Max
Mostly, one of the common issues during software update error is low storage on your iPhone. You need to address that thing first. Make sure that your iPhone has enough storage so that it can install the system update and its files. Whereas, you should also check out whether your phone battery is low on charge or not. If yes, then charge it fully before updating the new software version.
1. Restart your iPhone 11
Long-press both the Power/Side key and Volume Up key for a few seconds.
Then release both the keys whenever the Slide to Power off bar appears on the display.
Slide/drag the bar to turn off your iPhone 11.
After a couple of seconds, press and hold the Power/Side button.
The Apple logo will appear and then release the button.
Your device will boot into the system.
Then try to update the software version on your iPhone via Settings > General > Software Update.
2. Reconnect Mobile Data or Wi-Fi
Some times, it may happen that your iPhone may face downloading or installing related issues for both the mobile data or Wi-Fi connection. Make sure to turn off and then turn on the respective connection that you use.
Head over to the Settings > Select Wi-Fi or Mobile Data > Turn off the toggle and turn on back.
Then try to check the software update whether it's working fine or not.
3. Forget Wi-Fi Network/Password
Open iPhone Settings > tap on Wi-Fi and turn it on.
Scroll down to the list of available networks and select your Wi-Fi network.
Tap on the "i" icon to get details.
Next, tap on the Forget this network option.
If prompted, tap on the Forget network again to confirm.
4. Reset All Settings to fix Software Update failed on iPhone 11
Form the home screen, go to the Settings > General > Tap on Reset.
Tap on Reset All Settings.
If asked, enter the passcode and continue.
Confirm again by tapping on Reset All Settings.
Restart your handset.
5. Install iOS Update via iTunes or Finder App
Launch the iTunes app or the Finder app on your PC.

For Windows and older Mac, it will be iTunes. While the new macOS Catalina has the Finder app.

Connect your iPhone to the PC via the stock or Apple certified lightning cable.
Once connected, you will get an iPhone icon.
Next, locate your device > click on General or Settings.
Then click on Check for Update.
If the new update is available, click on Download and Update.
You may have to enter your device passcode to get verified.
Wait for the complete update process.
Your device reboot into the new system automatically.
Finally, disconnect your handset.
That's it, guys. We hope you've found this troubleshooting guide useful.