MIUI is the official stock ROM or you can say stock UI for Xiaomi Mi and Redmi series devices including Poco lineup. It's designed and developed by Xiaomi itself that runs very smoothly and users love this ROM for day to day usage. Just like the OxygenOS from OnePlus, the MIUI also polished and improved for better user experience. However, some times users may face battery-related issues on MIUI 11 that's the latest version right now. If you're one of them, check how to solve the battery drain issue on MIUI 11.
Last year in October, Xiaomi has officially released MIUI 11 global stable update timeline for its eligible devices which is typically inspired by Android 10 features. But the MIUI 11 firmware is available for plenty of Xiaomi devices that are running on Android 10 or 9.0 Pie. This is one of the highlighted features of any custom skin that you don't need to upgrade your device to the latest Android OS version in order to get most of the latest features.
The MIUI 11 brings dark mode, improved gesture navigation, increased system stability, natural sounds, Mi Share, Screen Casting, New Panchang, New Game Turbo mode, Wireless Print, Nature Alarm, Dual Clock, improved icons/themes/battery mode, Always-on display (AOD), improved app vault, custom font, Mi Work Suit, Screen Time Management, Status Bar optimization, and more. Now, let's jump into the troubleshooting guide below.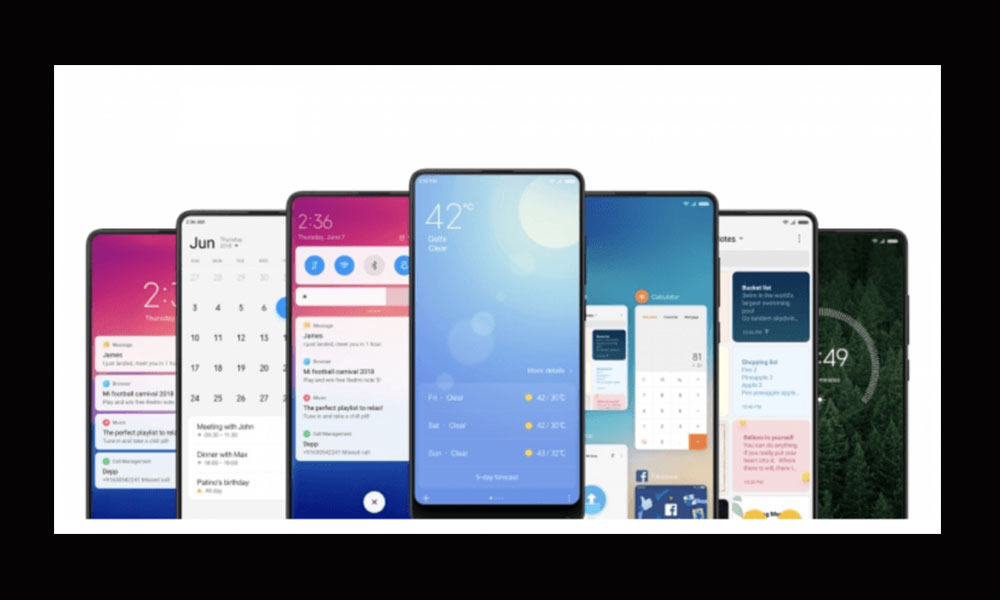 How to Solve Battery Drain issue on MIUI 11
Here we've shared some of the possible solutions that can be helpful for you if you're facing battery draining problems on your Xiaomi device running MIUI 11. As most of the time, after updating to the latest software version, most of the devices go through with the battery draining issue which is quite common and can be fixed easily by a software update.
Meanwhile, some of the device users may face battery draining issues due to any third-party app, pending app updates, background running apps, outdated software versions, cache-related issues, etc.
1. Check MIUI Software Update
First of all, you will need to go to the device Settings > About Phone > System update option to check whether any new software update is available or not. If available, make sure to download and install it by using Wi-Fi or mobile data.
We hope that the pending software update can also cause battery draining which should be fixed after installing the latest update. If not fixed yet, then check out the next step.
2. Update All Pending Apps & Games
Just like the software update, we install so many apps & games on our devices but mostly we forget to update them. However, some users update some of the essential or daily using apps but what about the rest of the apps or games. You will need to check and update all the pending apps & games whenever you will receive the app update notification.
Just head over to the Google Play Store app > Tap on the menu icon (hamburger) > My app & games > Tap on Update all.
3. Clear Cache of your phone to Solve Battery Drain MIUI 11
The cache is the temporary data of your system and apps that are also stored which can cause battery draining, RAM management issues, and more. So, it's a better idea to clear cache manually from the device Settings > Storage > Tap on Cached data > It will ask you to Clear cached data? > Tap on OK.
Once done, reboot your handset and check whether the battery draining issue has been fixed or not. Additionally, you can clear the cache of any particular app if you think that only a particular app is causing the issue or slowing down your phone. In order to do this, go to Settings > Apps & notifications > Installed apps > Type and search for the particular app > Tap on the app name > Go to Storage > Clear Cache.
4. Uninstall Rogue Third-Party Apps
Due to some of the bad third-party apps, the battery juice and RAM management can be affected hugely. So, you will need to find out that unnecessary and high battery consuming apps on your device. Head over to the Settings > Battery > Power > Battery use. Here you will find which apps or services are taking too much battery juice.
Except for the system services and stock apps, you can easily point out which apps you can disable or delete from your device if not necessary. Simply long-press on that app from the home screen or app drawer and tap on Uninstall.
5. Turn Off Wake lock screen for notifications
This option is enabled by default on your Xiaomi device. Whenever you receive a notification on your handset, the lock screen turns on automatically and you can see all the received notifications at a glance. This feature runs in the background and may take a lot of battery juice.
In order to turn off this feature, head over to the device Settings > Lock screen & password > Turn off the Wake lock screen for notifications toggle.
6. Turn Off Connectivity Options to Solve Battery Drain MIUI 11
Make sure to turn off all the extra connectivity options like Bluetooth, NFC, Location services, Wi-Fi Hotspot, roaming, etc. (if any) If you use an internet connection all day, just make sure to only enable mobile data or Wi-Fi whatever you use. This will reduce the battery draining issue drastically.
Also, make sure to turn off Scanning always available toggle under the Wi-Fi > Advanced settings. It will also prevent your device to scan for any nearest available Wi-Fi networks all the time.
7. Enable Auto-Brightness Feature
The display brightness feature should be set to automatic to reduce the battery draining issue if in case you stay outside for hours under sunlight or even a low lighting conditions. In both cases, the automatic brightness feature will adjust the screen brightness level according to the environment. It basically saves a lot of battery juice and you can easily see the display contents without manually adjusting it.
Head over to the device Settings > Display > Brightness level > Turn on Automatic Brightness.
8. Use Dark Mode
The system-wide Dark mode has been introduced on MIUI 11 which gives a soothing cool look to the whole system and it saves a lot of battery juice as well if you're using an AMOLED display device. Meanwhile, the dark mode also reduces eye strain in low light conditions.
In order to do this, go to the Settings > Display > Dark Mode > Turn on the toggle. You can also turn on the Global dark mode if you want.
9. Reduce Sleep Time
Head over to the device Settings > Lock screen & password > Sleep > Set it to 15 seconds or 30 seconds. If you set the timing in minutes, the battery will drain faster.
10. Perform a Factory Reset to Solve Battery Drain MIUI 11
If in case, you didn't find all of the solutions useful for your device, you can simply do a factory reset your handset for optimal results. In order to do this, let's head over to the Settings > Additional settings > Backup & reset > Factory data reset. It will take some time to delete everything on your device including app data, apps, internal storage, etc.
Once done, your device will reboot automatically in the system which can also take some time. Now, proceed to set-up and start using your device again.
11. Check Battery Health
Some times, older device batteries or improper way of charging the battery can cause internal damage to the battery. In most cases, battery health gets decreased hugely which can also cause frequent battery draining. Make sure to check the battery health status by installing any of the best-rated battery health status apps from the Google Play Store.
That's it, guys. We hope you've found this guide useful. If you've any queries, let us know in the comments below.