If you are a flasholic like me then you may have definitely came across a common problem while installing custom ROM using TWRP called status 7 error. This error is very common while installing custom ROM. So don't get panic. Here we will guide you on how to solve status 7 error while installing any custom ROM using TWRP recovery.
As of now LineageOS is an awesome os which is quite famous around all the android lover. Well to be honest, I'm running LineageOS 14.1 on my OnePlus 3T. When I first tried installing the LineageOS I came across installation failed with Status 7 Error message. I was frustrated and scratched my head to solve this issue. So I started googling and you may have done the same.. Well yes! But I could not find a good solution for Status 7 error problem. Today found a solution to status 7 error problem myself.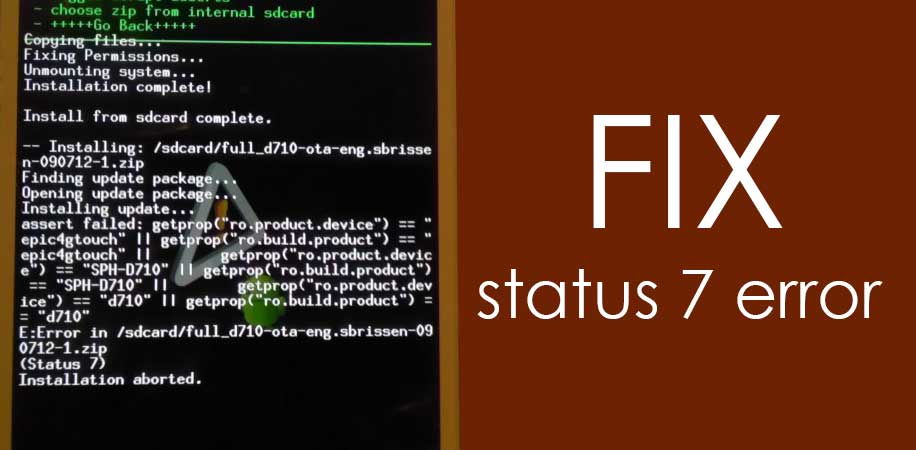 There are lot of reason to get this kinda error message such as an old version of recovery, old bootloader, flashing any rom without wiping data and system and more. We will fix LineageOS status 7 error today.
Well, today in this guide we will solve lineage OS status 7 error while installing. So first you need to check if you have latest released TWRP, bootloader etc. So follow the method one by one..
Guide to Fix/solve status 7 error
Fix status 7 error by checking Outdated Recovery
Make sure you have the latest released TWRP RECOVERY on your phone. As we said, status 7 error pops up most of the time when you are using old outdated recovery on your phone. To install new TWRP recovery : Download and upgrade TWRP recovery.
Outdated Bootloader :
Another solution to fix the status 7 error is to upgrade your bootloader. To upgrade you need to install the latest released firmware on your phone. We have many guides for all different brands on the subject how to install stock ROM. Once you install latest firmware over the earlier version, your bootloader will automatically upgrades. Before you flash any custom rom, we always do recommend to wipe all data, cache, system etc but not internal storage.. So make sure you wipe the data. To wipe data — boot into twrp —> wipe —> advanced wipe —> select system, data, cache —> swipe to wipe. That's it. Now try installing the ROM again to see if you can pass the status 7 error message.
Check for latest Stock ROM