Sons of the Forest's abundance of distinctive survival characteristics makes for a deeply immersive horror-survival experience. Your survival instincts are always being pushed, whether it's being watchful of cannibal predators, making weapons, or gathering food. Even though that is the intended experience, using cheats and console commands occasionally increases the enjoyment of a game.
If you are someone who is looking for the cheat codes for the game, then don't worry because this guide will help toy. We are here with a guide, in which we will discuss about the cheat codes of Sons of the Forest. So, read the complete guide to know about them. And now, let's check the guide without any further ado.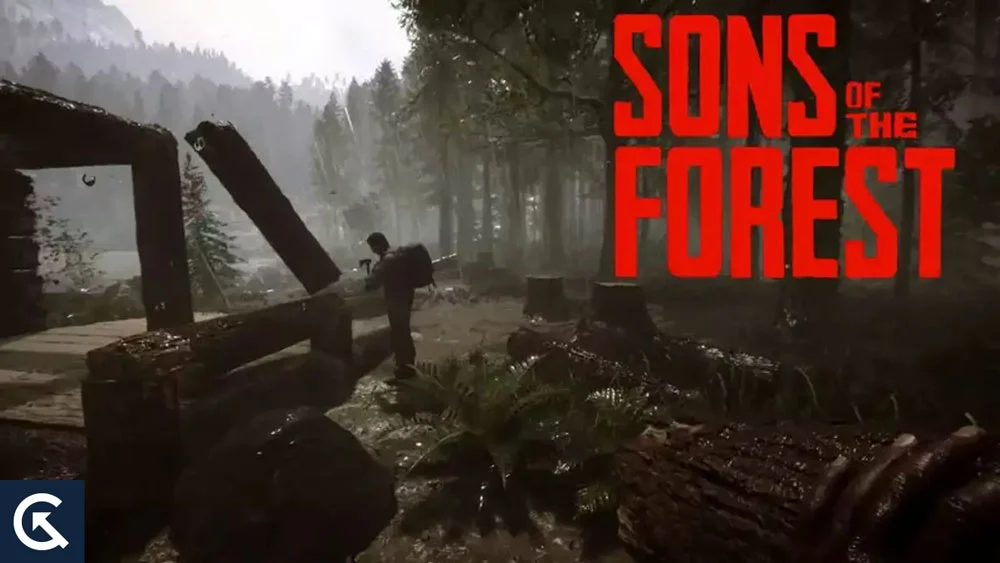 What Are The Player's Cheat Codes in Sons Of The Forest?
Below down we have mentioned all the player cheats with their in-game effect.
addallitems: This code is used to give yourself all items
additem [item name]: This code adds an item (like a shovel, or chainsaw)
buffstats: This code helps to refill hunger, thirst, and stamina
cavelight off: This code turns off illumination around you
cavelight on: This code illuminates the area around you
createlight: This code adds a light source to the world
forcerain heavy: This code changes the weather to rain
forcerain sunny: This code changes the weather to sunny
godmode off: This code turns off god mode
godmode on: This code turns on god mode
instantbookbuild off: This code turns off instant build cheat
instantbookbuild on: This code builds anything selected from the book
locktimeofday morning: With this code, the time remains morning
regenhealth: This code refills health
removeallitems: Thi code helps to remove most from the inventory
save: This code is used to save your game
season autumn: This code changes the season to autumn
season spring: This code changes season to spring
season summer: This code changes season to summer
season winter: This code changes season to winter
settimeofday [1-24]: This code changes the time of day
settimeofday morning: This code is used to change the time to early morning
settimeofday night: This code is used to change the time to night
showhud off: This code turns HUD off
showhud on: This code turns HUD on
spawnworldobject x: This code spawns the item specified (like stick, rock)
speedyrun off: This code turns off fast run
speedyrun on: This code lets you run faster
superjump off: This code is used to turn off super jump
superjump on: This code lets you super jump
What Are The NPC or Enemy's Cheat Codes in Sons Of The Forest?
Below down we have mentioned all the NPC and Enemy cheats with their in-game effect.
addcharacter robby 1: This code is used to spawn an extra Kelvin
addvirginia: This code is used to spawn an extra Virginia
aidisable: With this code, the AI entities (including companions) gets completely vanish
aighostplayer off: With the help of this code, the enemies are able to see you
aighostplayer on: with this code, the enemies ignore you
aigodmode off: This code helps to turn off god mode for companions
aigodmode on: This code helps to turn on god mode for companions
aipause: With this code, the AI entities (including companions) get freeze in place
aishowthoughts on: This code helps to display AI paths or thoughts
killradius [number]: This code kills everything within chosen range (like 10)
A complete list of cheat codes in Sons of the Forest
visualdebug
unlockseason
unloadunusedassets
unloadscene
treeradius treescutall
treeocclusionbonus
treefallcontactinfo
treecutsimulatebolt
trailer3
toggleworkscheduler
togglevsync
togglesuperstructurerooms
togglestructureresistancedebug
toggleplayerstats
toggleoverlay
toggleocclusionculling
togglegrabsfacedebug
togglegrabberdebug
togglego
togglefpsdisplay
togglefiredebug
togglebeamdebug
timescale
timeofdayconnectiondebug
timeofday
testingsamplefps
testeventmask
terraintessdist
terraintess
terrainrendersimple
terrainrender
terrainpixelerror
terrainparallax
targetframerate
survival
superjump
sprinttoggle
speedyrun
spawnworldobject
spawnrenderspheres
spawnpickup
spawnitem
spawnfallingtree
spawnedobjectstats
slapchop
showworldposfor
showworldobjects
showui
showtriggercollision
showstimuli
showprojectiletrails
showobjectlocation
showmeshtrianglecounts
showmeshobjectnames
showmeshmaterialnames
showinworldui
showhud
showfps
showdebugzones
showcollisionobjectnames
showbutterfly info
showactivelights
setworldobjectstaterange
setwindintensity
settimeofday
setstrengthlevel
setstat
setspeakermode
setsetting
setproperty
setplayerrace
setopeningcrash
setlookrotation
setlayerculldistance
setinventorypercent
setgametimespeed
setgamesetupsetting
setgamemode
setexitedendgame
setdifficultymode
setcurrentday
sendmessageto
season
saveplayer
save
rumbletest
robbyincutscenes
robbycarry
revivelocalplayer
resetsettings
resetinputaxes
reportwarningsnow
reportlogsnow
Reporterrors
replaceshader
renderspheres
removeshader
removeliving
removeitem
removedead
removeallstoryitems
removeallitems
regenhealth
refreshentities
refillcontainers
radiodebug
qualitytexture
profilersnapshot
profilersample
postprocessingcomponent
playgameover
playervisibility
playernetanimator
playerinterruptkeys
playerdebugcamera
playeranimparams
playdeathmarkerindex
playdeathmarker
playdeathcutscene
playcutscene
physicsupdatetime
openmacrosfolder outputsnappointstofile
netspawnplayer
netskinnedbones
netanimator
navgraphforceupdate
mouseysensitivity
mousexsensitivity
mipmapstreamingdiscard
mipmapstreamingbudget
mipmapstreaming
logvirtual
logtextures
logshowwarnings
logshownone
logshowinfo
logshowerrors
loghack
logging
lodforce3ddistance
lodforce2ddistance
loddebugranges
loddebugmaterials
loddebugbillboards
locktimeofday
loadscenesingle
loadscene
loadplayer
loadmacros
loaddebugconsolemod
listobjects
listitemswithtags
listitems
listgowithlayer
listdeathmarkers
listactiveentities
lightninginterval
lightninghittreemustbeinfrontplayer
lightninghittreechance
knockdownlocalplayer
killradius
killlocalplayer
kickplayers
jumptimeofday
joinsteamlobby
invisible
invertlook
instantrespawnhere
instantbookbuild
inspectgo
importlinkedstructuresfromfile
igniteradius
hitlocalplayer
hideworldposfor
help
heallocalplayer
greebledrockscollision
gravity
grabsgeneratebuilt
gotozone
gototag
gotoforce
gotocoords
godmode goto
getlayerculldistance
getgamemode
gccollect
gamepadysensitivity
gamepadxsensitivity
gamepaddeadzone
gameoverdelaytime
gainstrength
freecamera
forceremovetrees
forcerain
forceplayerexpression
forcecloudprofile
forcecloud
footstepdebug
followstop
follow
firstlookforce
findobjectswithshader
filteraudio
exposuresetspeed
exportlinkedstructurestojson
energyhack
enablestructureghosts
enablescene
enablego
enablecomponent
enablecollisionbasedkillbox
enablecheats
dynamicresolutiontarget
dynamicresolutionoverride
dynamicresolutioncycletest
duplicateobject
dumplobbyinfo
dismemberradius
disconnectplayers
disconnectplayer
disablescene
disablegowildcard
disablego
disablegameobjecttester
disablecomponent
diggingclear
diagrenderers
destroywildcard
destroyragdoll
destroyfreeformstructure
destroy
demomode
debugplayermelee
debugplayerhitlog
deathcount
damagefreeformstructure
damagedebug
creepyvillage
createlight
counttag
countlinkedstructures
countgowithlayer
count
combatteststart
cloudshadowsenable
cloudenable cloudfactor
clearmidactionflag
clearbushradius
clearaudioparameters
clearallsettings
clear
checkfrozenentities
checkexitmenu
checkattachedentities
characterlods
cavelight
capsulemode
camerafov
cameradiss
buildhack
buildermode
buffstats
breakobjects
blockplayerfinaldeath
billboardignorechanges
billboardenabled
audioplayevent
audioparameter
audiodescription
audiodebugstates
audiodebug
audio2dtest
astar
areashadow
applydefaultmaterials
Anisominmax
anisoenabled
animstatesgui
animalsenabled
animallimitmult
ammohack
allowasync
aizonestats
aiworldstats
aiworldeventstats
aivillageclosest
aiverboselog
aivailstats
aithoughtnocooldown
aithought
aitestsleep
aistructurelog
aistatadjust
aishowthoughts
aishowsurvivalstats
aishowstats
aishowplayerinfluences
aishowpaths
aishownavgraph
aishowhealth
aishoweventmemory
aishowdebugcamera
aishowdebug
aishowanims
airunworldevent
airadar
aipoolstats
aipause
aimemoryadjust
aiknockdowndisable
aijumpdebug
aigodmode
aighostplayer
aiforcestrafe
aidummy
aidodgetest
aidisable
aiarmortier
aiarmorlevel
aianimspeed
aiangerlevel
addvirginia
addprefab
addmemory
additemswithtag
additem
addcharacter
addallstoryitems
addallitems
addallbookpages
Conclusion
This was all for the guide on the cheat codes of the Sons of the Forest. We hope that with the help of this guide, you were able to get to know about it. If you have any queries or questions, then do let us know in the comment section below. So that, we can try our best to solve them and provide you with a guide on it. Also, for more such helpful guides, do check out our website.