In India, SonyLiv is competing against industry leaders Netflix, Amazon Prime Video, and Disney+ Hotstar. In spite of the lack of prominent originals in its catalog (other than Scam 1992), the app does include a variety of live channels, including sports. It's inevitable that OTTs will be plagued by errors, and Sonyliv is no exception.
A number of factors could go wrong, including your internet connection or hardware/software issues on Sony's or your end. But, there are some users who complain that they are facing some problems with their SonyLiv app. Yes, they report that SonyLIV Buffering or Keeps Loading on their device. Well, that's the reason why we are here. In this article, we will tell you some important steps that will help you resolve this problem. So, let's get started with the guide.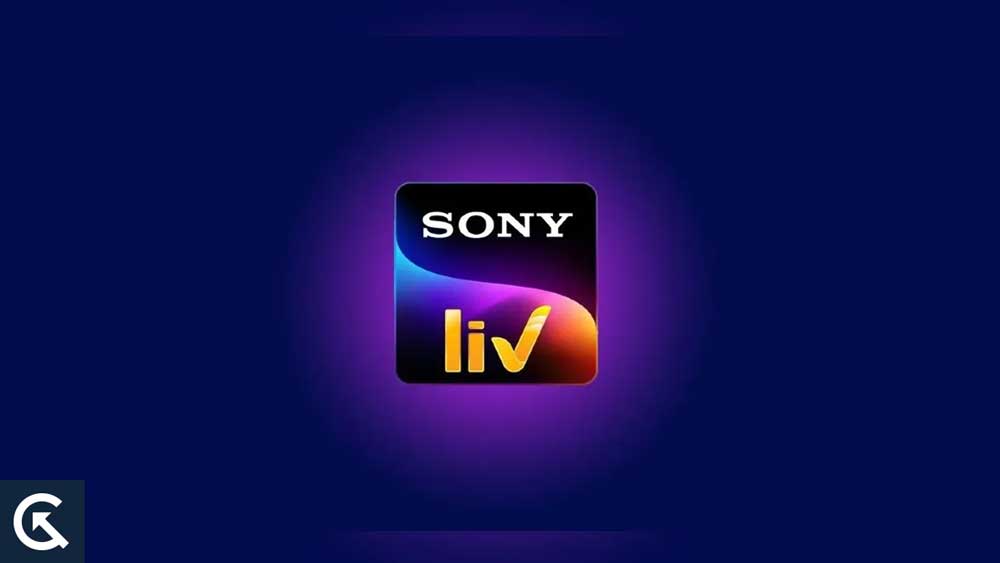 How to Fix SonyLIV Buffering or Keeps Loading Issue
So, here are some fixes that will help you resolve the SonyLIV buffering or keeps loading issue:
Fix 1: Rerun Your App or Reboot Your Device
If you receive a SonyLIV buffering or keeps loading error, there is a possibility that some temporary cache files have been stored on your device. Sometimes, these files get damaged for a variety of reasons. However, these files will be automatically removed after restarting your application.
If the issue persists, you can rerun the SonyLIV app on your TV and check if it gets resolved. Meanwhile, if the problem remains unresolved, we recommend rebooting your device. By doing this, you'll be able to unclog those cache files and give your device a fresh start.
Fix 2: Update Your Device OS
Most of the time, we ignore minor patch updates because they might not affect performance. Nevertheless, these fixes enhance your device's performance and fix some temporary bugs. Therefore, regularly checking for updates is highly recommended, and if you find any updates available, installing them is easy. Once that's been done, reboot your device to see if your SonyLIV app now works. However, the issue is likely to be resolved automatically this time.
Fix 3: Disable Adblocker
Adblockers block tracking cookies to prevent OTT platforms from using an account in more than one location. There is also the possibility that some adblockers will prevent video playback due to a blocked Javascript. However, there are some difficulties with Sonyliv even operating the elementary functions of an adblocker.
Disabling the adblocker is the best way to fix SonyLIV buffering or keeps loading on Chrome error and enjoy uninterrupted video playback. If this doesn't fix the issue, you can try clearing Chrome's cache and cookies using the instructions below. After you disable the adblocker, restart Chrome to see if it resolves the issue.
Fix 4: Disable VPN
Sonyliv not working on Chrome may be caused by one of the OTT platforms that block VPNs if you are using one. Using a VPN might cause Sonyliv login or video playback issues, so you might want to temporarily disable it.
Fix 5: Clear the Cache of the SonyLIV App
Therefore, to fix a Sony Liv app issue, you need to clear the cache of your Android or iPhone device's Sony Liv app. If you want to clear the cache of the Sony Liv App, follow these steps:
On the device, open the "Settings" menu.
Choose "Apps" or "Application Manager" from the list.
To clear an app's cache, tap on it.
On the left, tap "Storage" or "Storage Usage".
Then you will see two options: "Clear Data" and "Clear Cache". Tap on "Clear Cache".
To confirm, click "OK".
Fix 6: Update The App
Have you checked if your SonyLIV app is up-to-date? Obviously, this error is caused by an outdated application on your device, and you could be using one. It would be a good idea to check if there is any update available. Some users, however, reported that this issue was resolved after updating their SonyLIV app. Thus, you should also perform it and see if the SonyLIV app starts working again.
Fix 7: Server Issue
There is a large possibility that the SonyLIV server may be down, preventing you from accessing it. In order to find out if other users have reported the same problem in the last 24 hours, we suggest you go to DownDetector. Also, be sure to click on the button I Have a Problem With SonyLIV Network.
Furthermore, you can stay up to date by following their Twitter account. This will provide you with all the information you need about their upcoming shows, events, and current server issues. In order to get all the necessary information, you must follow them and keep an eye on Twitter. Once the server issue gets resolve the SonyLIV buffering or keeps loading problem gets automatically gets resolved.
Fix 8: Check Internet Connection
Have you checked whether your internet works? There is a possibility that a poor internet connection is to blame for this type of error. Therefore, your network connection may not be stable, which is causing you to experience this problem.
Thus, you can test your internet speed by hovering over the Ookla speed test site. In the meantime, if your WiFi isn't working properly, try power cycling your modem/router to see if it will resolve your issue. When the error persists despite power cycling your router, you should contact your ISP to have them resolve the network issue.
Fix 9: Reinstall The App
Do you still have no luck? There's no need to worry! Despite the error, there are still a few things you can do to fix it. In that case, your next step should be to reinstall the SonyLIV app on your device if nothing else has helped.
Once that has been done, check whether the SonyLIV buffering or keeps loading issue has been resolved. It has been reported, however, that users are able to resolve this error automatically by reinstalling SonyLIV. It would therefore be a good idea to try this too.
Fix 10: Contact Support Team
The best thing to do is to contact the support team if you still receive the error. Then, you can explain everything that you are experiencing to the support team. Then, if possible, they will assist you in eliminating this problem. If that doesn't work, they roll out another patch update.
So, that's all we have for you on how to fix SonyLIV Buffering or Keeps Loading Issue. We hope that this guide has helped you. For more info, comment below.