When you need a comprehensive solution for your OST conversion needs, then Stellar Converter for OST Technician is your go to software. This software can easily convert OST file – be it orphaned or inaccessible – to PST and various other file formats, such as MSG, EML, RTF, HTML, and PDF. It seamlessly converts all the OST data, including emails, calendars, contacts, notes, and tasks.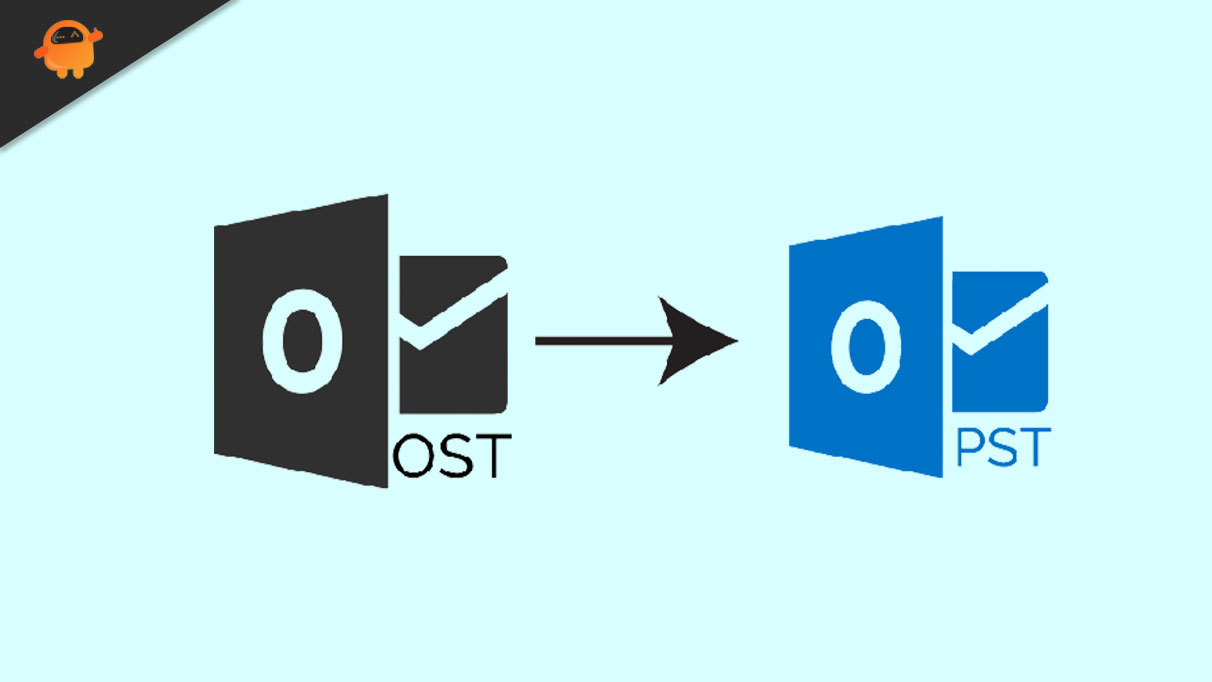 This tool extracts data from the OST files without Exchange or IMAP server and exports it to PST, Microsoft 365, or live Exchange Server. It can also convert multiple OST files in one go and split large converted PST files. The tool is recommended by Microsoft MVPs and administrators. It can convert OST files created in Outlook 2003 to 2021.
Features of Stellar Converter for OST Technician
Here are some outstanding features that Stellar Converter for OST Technician offers.
#1. Converts all the OST File Items

The software easily extracts all the items, like emails, attachments, contacts, calendars, tasks, notes, journals, etc., from the OST file of any size and saves them to PST or other file formats. In addition, the software is advanced enough to extract deleted mail items. If you only want to convert Outlook OST to PST, use Stellar Converter for OST corporate version.
#2. Auto-Locates and Lists Outlook Data Files
The software can easily detect OST files stored at the default location on your system and lists them on the interface. It also allows you to select OST files stored in another folder (internal or external). If you do not know the file location or the name of the file, use the 'Find' option.
#3. Previews the Mailbox Data
After the file conversion, the software displays a detailed preview of all the mailbox items. In the left pane of the Preview window, you will find a list of all the folders, calendars, notes, journals, tasks, etc. The details of these items are displayed by clicking on them, including email body text and hyperlinks. The software highlights the deleted mail items in red color.
#4. Allows to Split the PST File
You also have the option to split the output PST file into smaller pieces in sizes ranging from 1 to 50 GB. This feature helps make the large mailboxes manageable.
#5. Compacts and Compresses the PST File
With this tool, you can compact or compress a large converted PST file. Furthermore, it allows extraction, compression, and saving of attachments into a separate folder.
#6. Option to Relink the Attachments
Stellar Converter for OST Technician supports relinking of compressed emails to their attached files. You can also create links to attachments after saving the attachments in a separate folder when compacting the resultant PST.
#7. Migrate Hosted Exchange Data to Microsoft 365
OST files can also be exported to Microsoft 365 accounts using the Technician edition. To export the OST data to Microsoft 365, just select "Export to Microsoft 365" while saving and enter the password and login ID.
#8. Converts OST Files in a Batch
You can convert multiple OST files to PSTs at once. It also allows to create and manage batch files containing details about the OST file, such as location, destination path, and start and end date.
#9. Advanced Filter Options
You can include or exclude emails from the 'Junk Emails' and 'Deleted Items' folders when converting the OST to PST using the advanced filter options. Additionally, when exporting to Office 365 or live Exchange Server, you can include email addresses and save mail items based on a date range from the converted OST file.
System Requirements to Run This Software
Processor:

Intel-compatible (x86, x64)

Memory:

4 GB minimum (8 GB recommended)

Hard Disk:

250 MB for installation files

OS:

Windows 11, 10, 8.1, 8, 7
Download and Install Stellar Converter for OST Technician
Stellar Converter for OST Technician runs on Windows operating system, just like any other executable program. Here are the steps to download and install the software:
You can download the free demo version of Stellar Converter for OST Technician by clicking on the

download

button on the official website. However, you will only be able to convert a maximum of 20 emails per folder if you use the free trial version.

Within a few minutes, the setup will be on your system.

D

ouble-click

on the installer and follow the on-screen instructions to install the software.

You can change the default installation path, which is

C: Drive,

on your computer, when asked for approval.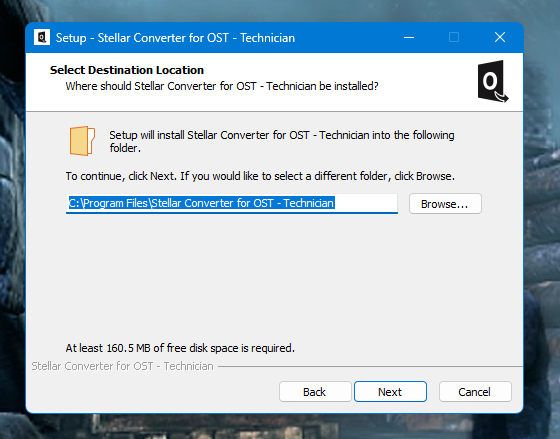 Click on Install and you're done. The software is now installed on your computer.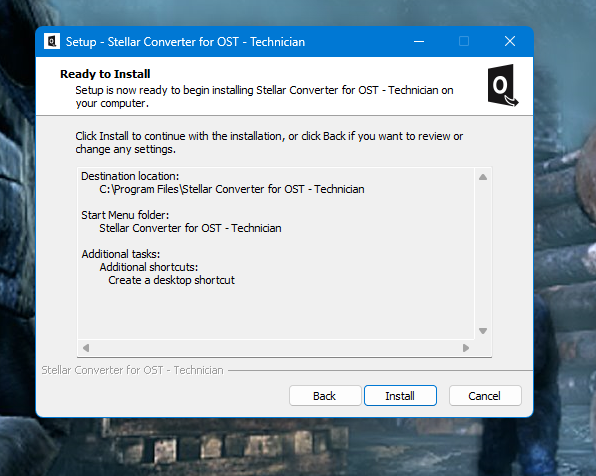 How to use Stellar Converter for OST Technician Edition?
Here are the steps that you need to perform to convert the OST file:
Run

Stellar Converter for OST Technician. If you do not know the location of the OST file, you can use the

Find

option to search and select the

OST file

.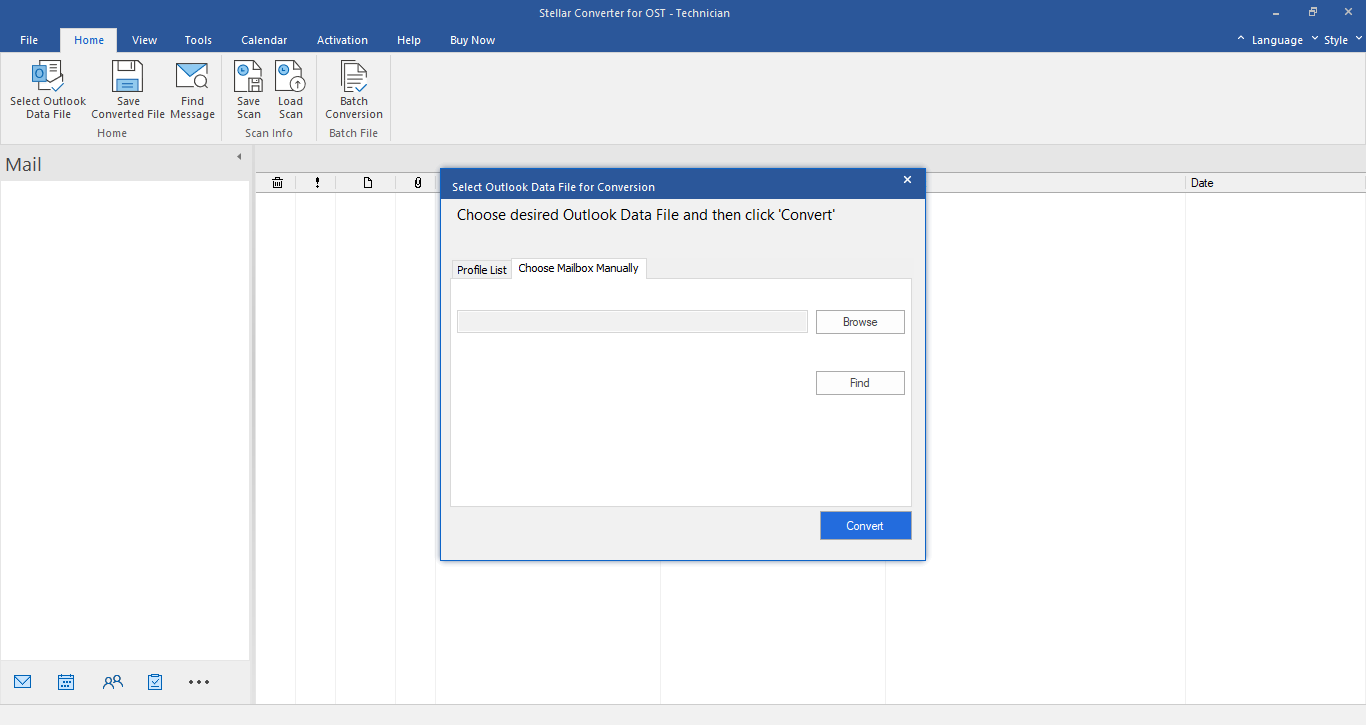 2.From the Profile List tab, select the List Profiles option to view all the OST files associated with your Outlook profile. After selecting the file, click Convert.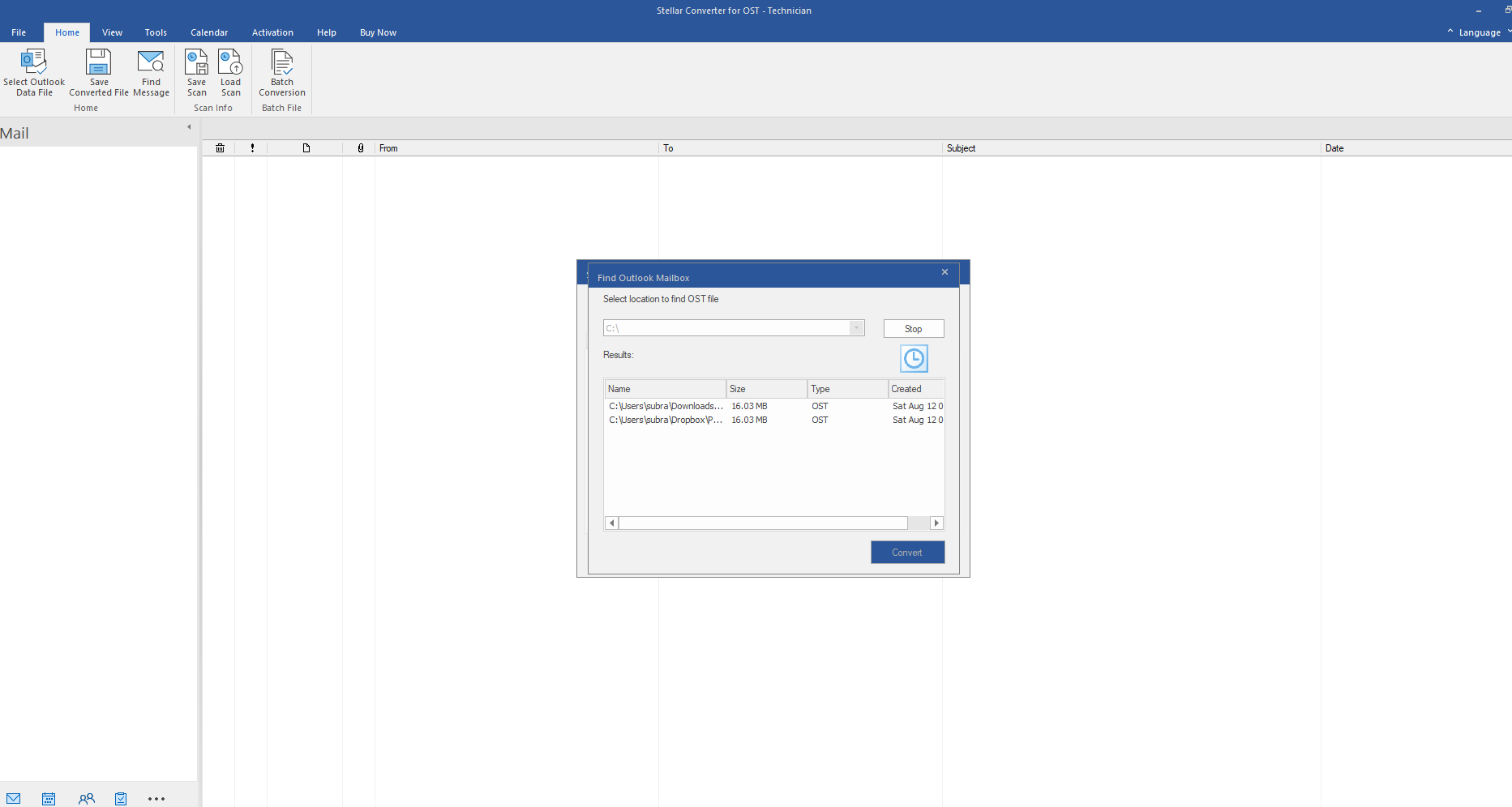 3.On the left panel, the software displays the Outlook mailbox folders and deleted items (red color) after the conversion is complete. You can preview the mail items.
4.In the Messages section, you can search by 'To,' 'From,' 'Subject,' 'Date,' etc.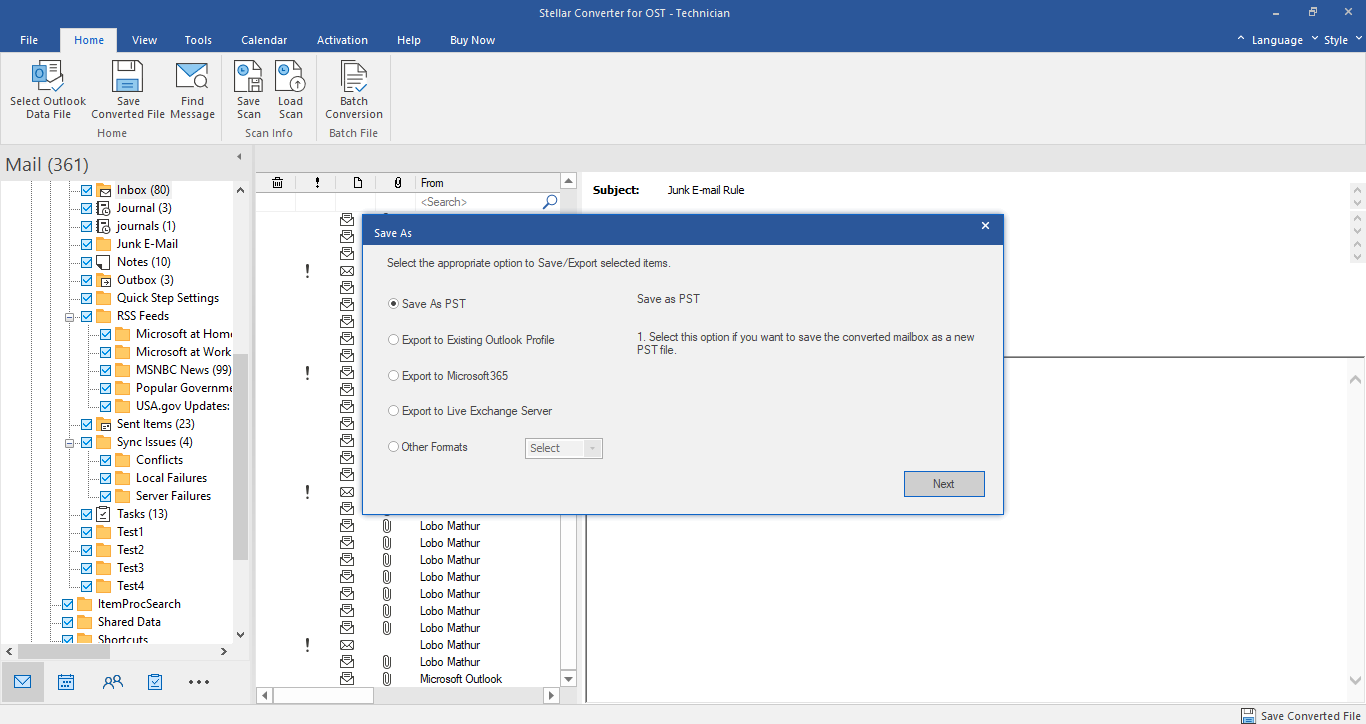 5.To export OST data to live Exchange Server, Microsoft 365, or an existing Outlook profile, click Save Converted File under the Home tab.


6.If you want to save mail items in PST file, choose Save as PST option. In addition, you can choose to compress the PST file or split it into smaller slices by choosing the Split and Save PST option.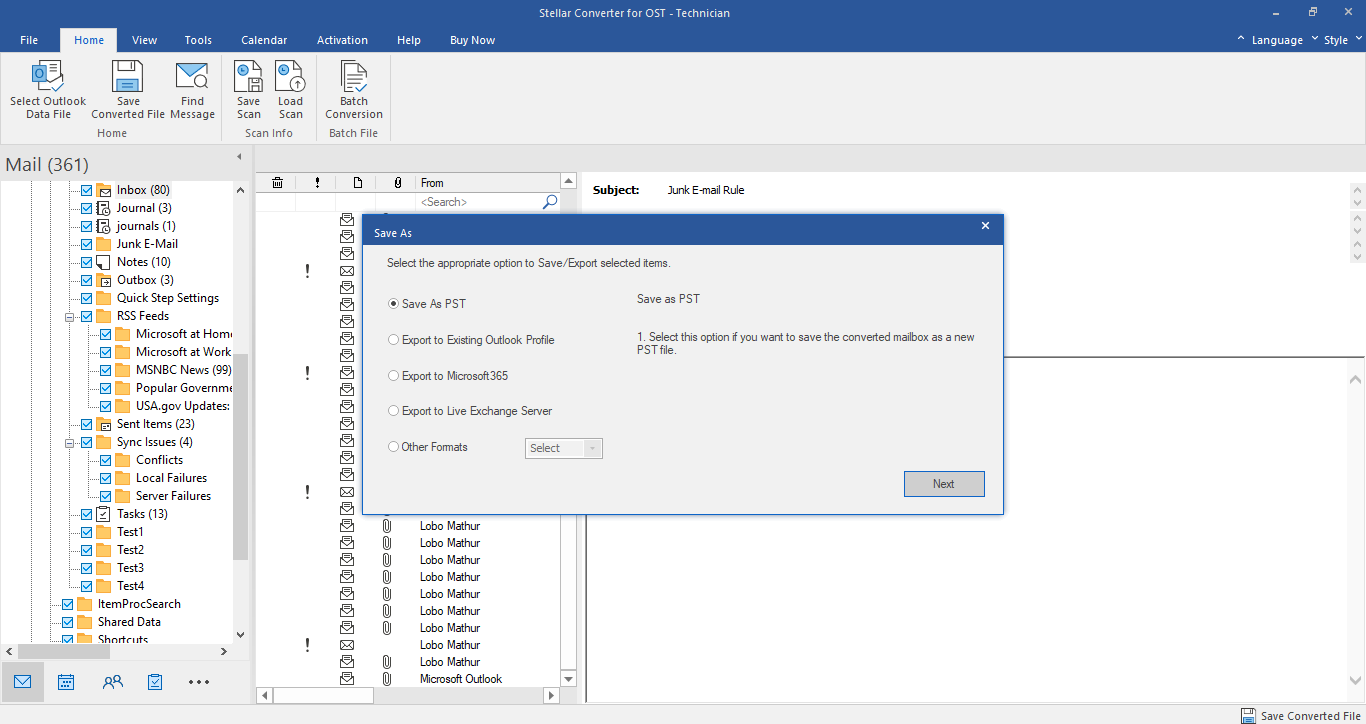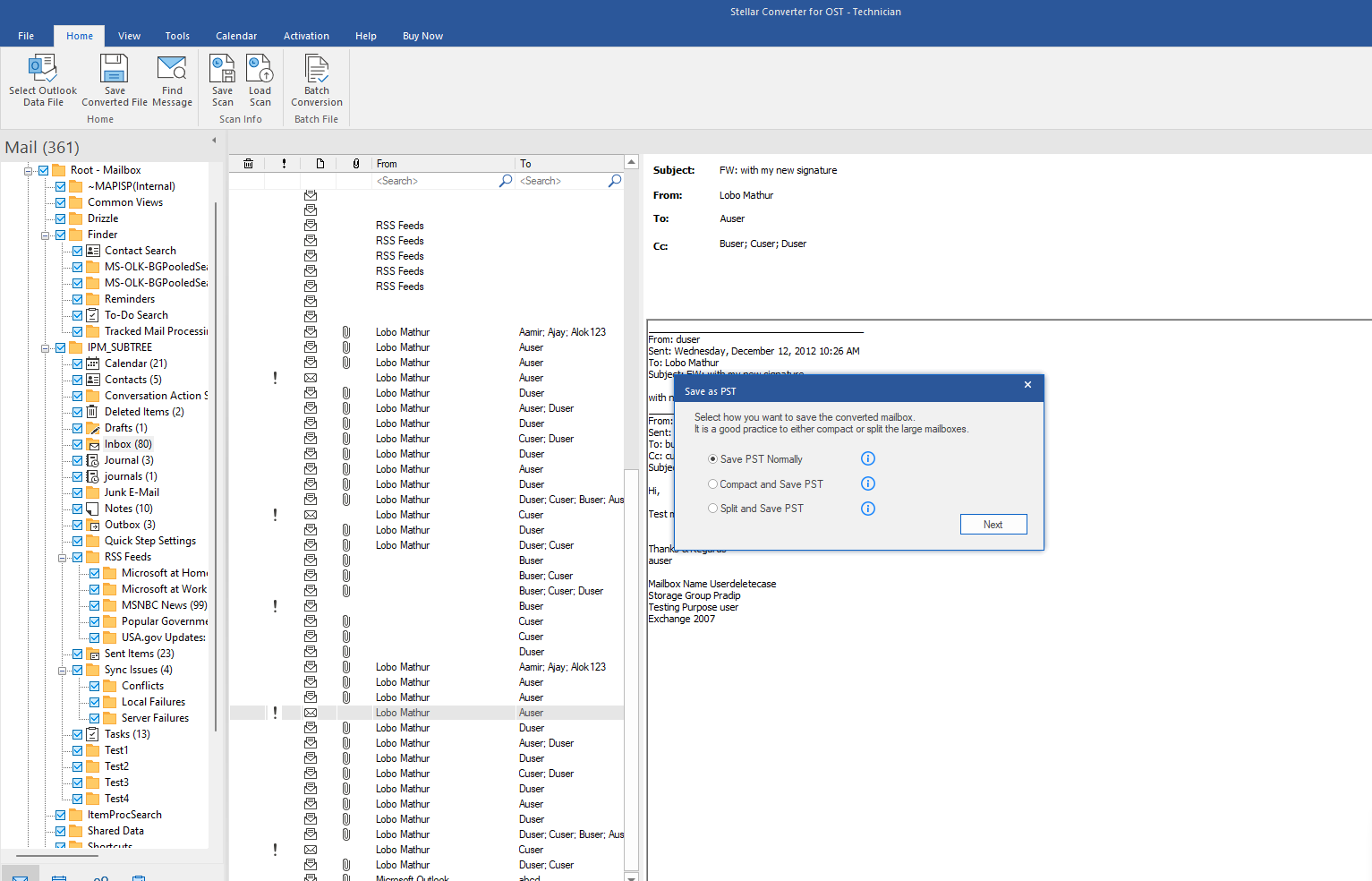 7.You can also choose to recover deleted items and auto-split PST file. Click Browse and select the destination to save the PST file. Click the Apply Advanced Filter link to apply filters and then click OK.
The converted PST file will be saved at the selected location.
Conclusion
Most third-party tools usually lack features when it comes to converting inaccessible or orphaned OST files to PST. However, Stellar Converter for OST Technician can easily convert inaccessible or orphaned OST files that too without size limitation. It can also convert multiple OST files simultaneously or Import the OST file to Outlook & Microsoft 365. The software has some useful features, such as advanced filtering options, compacting and compressing large PST file, directly exporting OST data to live Exchange or Office 365, and many more. We recommend this software if you need a powerful solution to convert your OST file to PST.