When it comes to PST (Personal Storage Table) that's a file format for Microsoft programs for saving files to the local storage on your Windows computer like calendar events, contacts, email messages, etc including, Windows Messaging, and Microsoft Outlook. But if you're facing issues with your PST file then you can check out this review on Stellar Repair for Outlook – Best in class PST Repair Tool.
By saving PST format files on your computer from the mail server is always a better idea to have a backup of those files as well as keeping your Outlook updated. But it also has some flaws and one of the main issues with the PST file is that they get easily corrupted unexpectedly. That means even a small error can corrupt the PST file and it'll become inaccessible irrespective of how important it is.
Therefore, keeping them safe and always accessible by repairing the corrupted PST files is quite necessary to the users. That's why Stellar Repair for Outlook (Outlook PST Repair Tool) is one of the most powerful and easy-to-use repair software that runs on Windows & repairs/restores corrupted PST files and easily rebuilds them to their default original state. This tool supports Outlook 2019, 2016, 2013 & older versions and works precisely.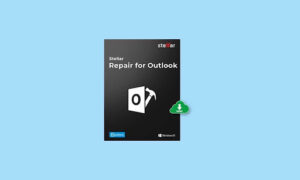 Stellar Repair for Outlook – Best in class PST Repair Tool
It's worth mentioning that Microsoft Outlook offers a free PST repair tool called 'Inbox Repair Tool' which is also known as Scanpst.exe but it doesn't work precisely and can't repair every error of your PST file. Here Stellar Repair for Outlook tool comes in handy because it fixes all corrupted PST files without any second thought.
If you want to know more about this powerful tool then check out this full review and we'll provide you how to use it too. So, without wasting any more time, let's get started.
Stellar Repair for Outlook Features
Let's take a quick look at some of the highlighted features of this tool that you always look for.
Repairs corrupt or Damaged Outlook PST File
This tool can easily repair hugely corrupted or damaged Outlook PST files in no time due to its deep integration and precise nature. It easily repairs large PST files which is better than scanpst.exe because Outlook's default repairing tool freezes a lot while repairing a large PST file or alters the repaired Outlook Mailbox data. While the Stellar repair tool runs without any limitation and technical issues.
Previews Outlook Mailbox Data Post Repairing
Once repaired the PST file, the software shows you a preview of the repaired Outlook PST data file with all its items in a preview window so that you can take a look thoroughly before saving them. You can check out all items, email body text, contacts, calendar events, hyperlinks, etc from the preview mode.
Recover Deleted Emails & Outlook Mailbox items
This software scans the PST file 'Restore Deleted emails & other Outlook Mailbox' data which were previously deleted. It's a powerful tool that recovers even those Email items that were deleted before the corruption of the PST file. The software displays a preview of the deleted Outlook mailbox items after the repair process is completed.
Repair the PST File at Your Convenience
Once the scanning process is completed, the tool will help you to repair the PST file by just pressing the 'Repair' option. The tool easily repairs the corrupted PST file and allows you to save the scanned information in the DAT file format. You can then load the DAT file in the software and try repairing the PST file & recovery process without requiring to re-scan the PST file. It'll also help to repair tasks in two different stages at different times.
Split & Compact Outlook PST File [Technician Edition]
Well, apart from repairing, you can also use the Stellar Repair for Outlook tool to split and compact Outlook PST files if you have the Technician Edition of the software. Splitting and compaction of Outlook PST files help in optimizing Outlook performance, increase manageability, and reduces the chances of corruption due to the larger PST file size.
Export PST to Office 365 [Technician Edition]
The Technician Edition of the software can also export the PST file to Office 365 easily. It's another useful feature if you're using the cloud email and need to export the mail items from your PST file to Office 365.
Supported Languages:
The tool offers a couple of language support for the users such as English, German, French, Italian, Spanish, etc.
System Requirements:
It requires an Intel-compatible (x86, x64) processor that runs on the Windows 10, 8.1, 8, 7 operating system with at least 4GB of RAM and 250MB of storage to install the software on your computer. So, in terms of the system requirements, this tool is really lightweight and doesn't ask for higher configuration.
Installation and Steps to Use
Just download the tool from the official Stellarinfo website for free on your Windows computer. You can also buy the Professional or Technician or Toolkit package according to your usage and preference. Obviously, the paid plans do have more number of repairing PST files, no file size limits, free technical support 24/6, and more.
So, after downloading the tool on your computer, just click on it > If prompted by UAC, click on Yes to run it as an administrator > Then follow the on-screen instructions to complete the installation process just like other Windows programs whatsoever. It's really easy to install with no additional configuration required.
Once you've successfully installed the Stellar Repair for Outlook tool on your Windows PC, launch it.

Click on

Browse

or you can use the

Find

option to locate & select the PST file that you want to repair.

This software will automatically detect the location of the PST file once opened in the default location.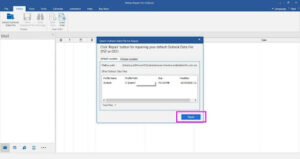 Click on the

Repair

button and wait for some time to completely repair the corrupted or damaged PST file that you've selected. [The repairing time also depends on the damaged PST file size and amount of emails saved in it]

Once the PST file is repaired, it'll appear on the dashboard. Here you can select any file to see the preview.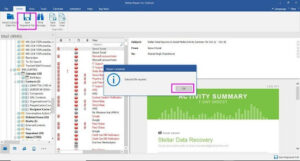 Next, you can click on

Save Repaired File

to save it on your computer. Make sure to choose a different location to save the file.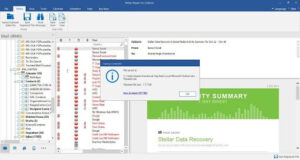 Note: DO NOT save the repaired file to the same location where the corrupted file was stored previously. It may overwrite the previous file in some scenarios.
Finally, you can import the saved repaired PST file to your Outlook to view its contents.

Enjoy!
For additional info with installation or using this tool, you can check out the User Manual Guide here.
Pricing
At the time of writing this article, you can get the Stellar Repair for Outlook tool at a discounted price. The Professional version will cost $99 and the Technician version $249. While the Toolkit version will cost $299 and all three plans has lifetime license validity.
Conclusion
If you're one of the active Outlook users for your business or profession or for your clients and encounters corrupted or damaged PST file issues quite often then there is no better alternative than the Stellar Repair for Outlook (Outlook PST Repair) tool. It'll not only repair PST files but also split and compact them if you're using the Technician or Toolkit plan. Meanwhile, if you want to give it a try then you can grab the free trial version as well.