A year ago, Google launched Google Allo and Duo as its primary chatting and Video calling apps respectively. The duo was a success indeed but the same thing cannot be said for Allo. Their many reasons for this failure of Allo, first and most important is that the world is already addicted to apps like WhatsApp and Messenger. Even if Allo comes off with some cool features like amazing stickers, self-destructing messages and incognito messaging it was unable to compete with WhatsApp because it lacked some basic features like a desktop client. But recently Google has also launched a web version of Allo just like WhatsApp, which allows the user to use it on Mac and PC. Here i will show you the steps to use Google Allo on PC or MAC.
In this article, you will be guided to how to use the web version of Allo app and will also be given some tips on how to convert web version of the app into a standalone app for your desktop. So if you are someone who can't use Allo just because there is no desktop version for it then this article is just for you.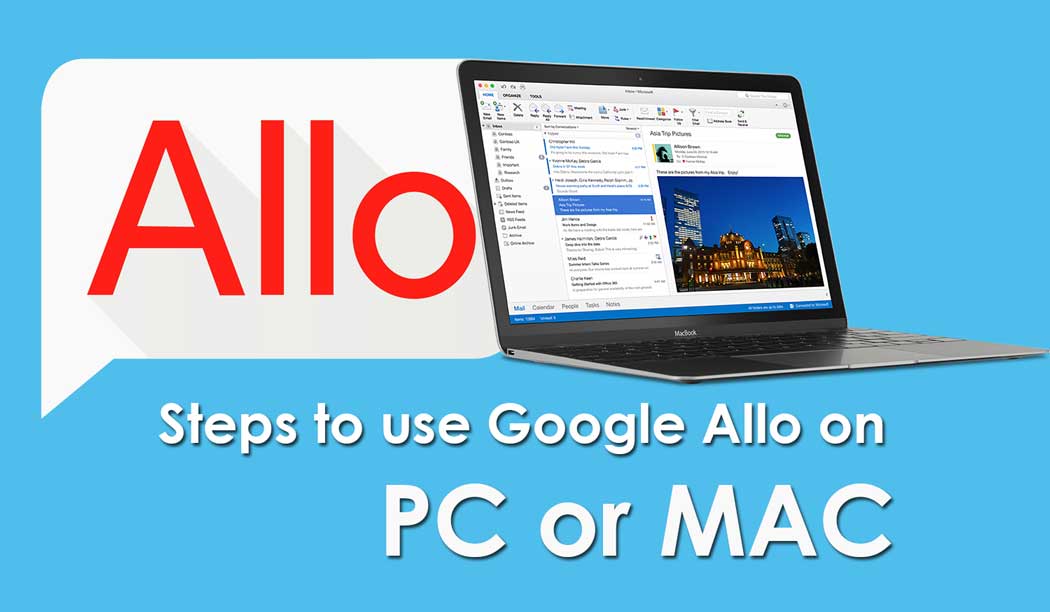 How to use Google Allo on PC or MAC
Things to know before using Allo on the web
Google has indeed launched a web version of Allo but it comes with many restrictions. At the time, the web version of the Allo can only be accessed if have an Android phone. However, very soon it'll come for iPhone as well. This is not it, the web version only works on Google Chrome which is also one of its drawbacks.
Use Allo on Chrome
No matter what kind of OS you are using, the method for chrome will be same on all.
Open the Google Chrome web browser and visit Allo web page site.
Open the Allo app on your phone and tap on the Hamburger menu, then go to the option that says "Allo for The Web".
Then, scan the QR code present on the computer screen with your phone by tapping on "SCAN QR CODE" tab on your phone and pointing the Camera at the computer screen.
As soon as you will scan the QR CODE you will be logged into the web version of the app on your PC or MAC.
Create Allo Web App for Windows
As it was promised here are the steps to create a standalone web app for Allo that will work on the Chrome.
To create a standalone app, first, you'll have to login in the web version of Allo o your Chrome web browser.
Now, in the tab where Allo is logged in click on the 3 dot menu which is present on the top right corner of the window and go to More tools,> add to desktop and hit the mouse.
Now, a pop-up card will appear that allows you to rename the app, but before you click on the Add button keep in mind the "Open as Window" option must be checked.
Just after clicking on the Add button you will see an Allo app icon on your Desktop screen. To open it, double-click.
You can right-click on the icon to pin it to start menu or on the taskbar for quick assess.
Create Allo for Mac
Due to restriction, same this as Windows cannot be done on MAC. So here we'll have to use a third party app to do it.
You'll have to download "Coherence 5" app and launch it.
Fill the required fields, and the name of the app should be filled in the name column. In the URL field, copy and paste the URL of the Allo web.
Before clicking on the next button, click on the "get fevicon" button and it'll fetch the logo of Allo app. It also allows you to upload your own logo.
After that keep on clicking the next button until you reach a page with a "Standart App" button to create the app. After clicking on it, a pop-up card will appear declaring that your app has been created.
After that, an Allo app shortcut will appear along with other apps. You can find it inside the application folder and will be opened by clicking on it.
When you'll open the created app you'll have to login by scanning the QR Code to use the app.
The web version of Allo app is not so cool, but at least it's a small step in right direction. Till the apps by Google are launched these mentioned steps can be used to create personalized desktop apps for Allo. It is same as using WhatsApp on PC or MAC but it is something on which PC users can rely on.